Learn the Art of Buying
Whether you are looking for a new painting or a piece of jewelry for that special someone, we have you covered. Alex Cooper combines the personal care of a family business with the technical sophistication and world-class online platform that you'd expect from a global company.
Learn more about bidding with us below.
Three Types of Alex Cooper Auctions
1. Gallery Auctions are typically split into two day sales. Our Thursday auctions feature the finest selection of jewelry, silver, luxury accessories and coins & currency. Our Saturday auctions highlight exceptional pieces of fine & contemporary art, period & modern furniture, fine rugs, decorative arts and militaria. Bidding takes place live in the Alex Cooper Gallery and on the Alex Cooper bidding platform. Preview for Gallery Auctions is held at the Alex Cooper Auction Gallery. There is a 23-25% buyers premium added to the hammer price. Click here to learn more about the Terms & Conditions.
2. The online-only Discovery Auctions feature an array of items with bidding opening at $20. All bidding takes place on the Alex Cooper bidding platform. Preview for Discovery Auctions is held at the Alex Cooper Gallery. There is a 25% buyers premium added to the hammer price.
3. Alex Cooper's online-only In-Home Auctions feature collections from single family or estate sales. Items include antique, contemporary, designer, and reproduction furniture and decorations, artwork, porcelain and glass, jewelry, rugs and collectibles. All bidding takes place on the Alex Cooper bidding platform. Preview for In-Home Auctions is held at the home or location where the items were consigned.
Step by Step Guide: How to Bid in a Gallery Auction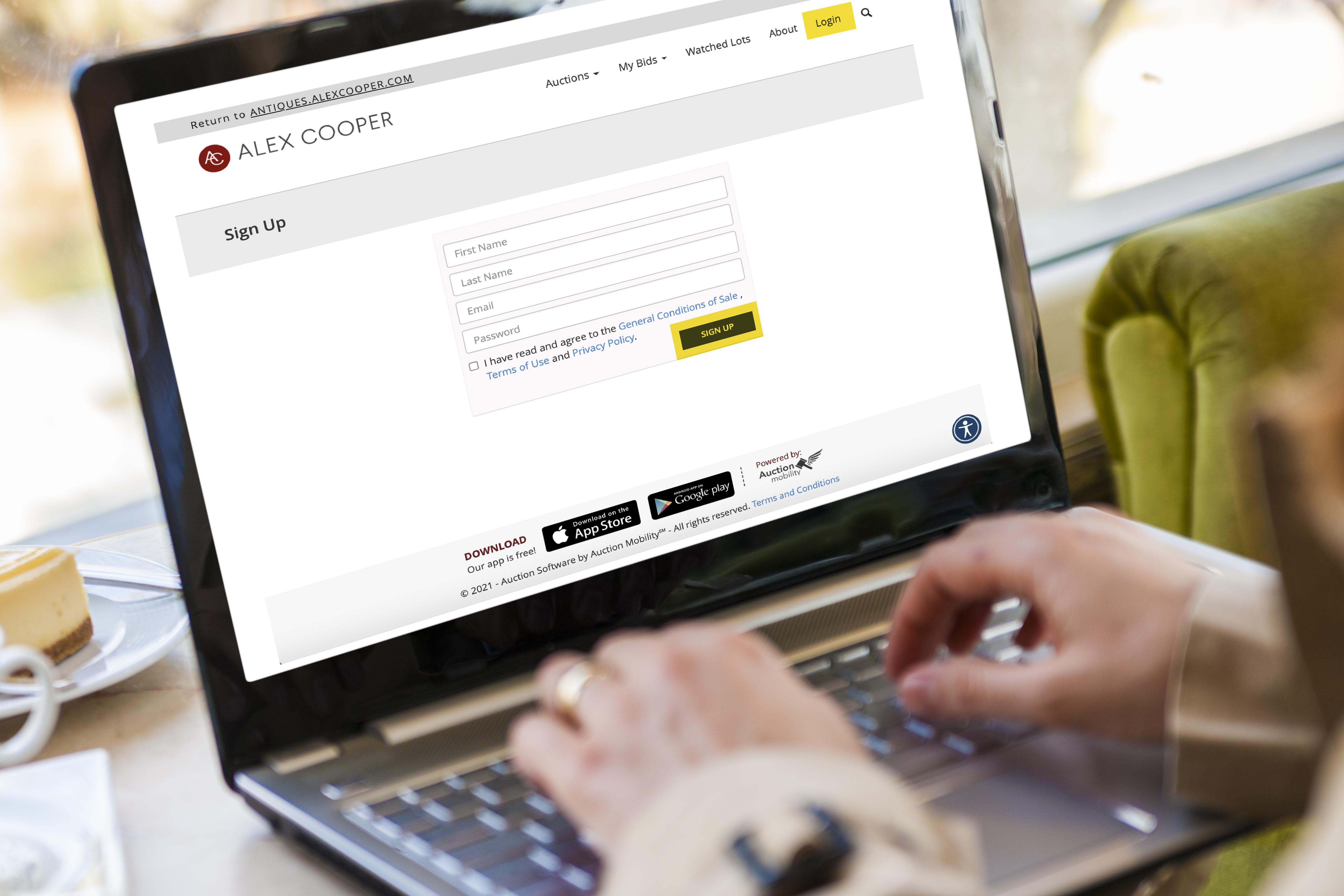 1. Make an Account
In order to participate in an auction, please make an account by following the link below. Fill out the prompted information until you have completed your account. If you are using your cell phone, visit our website as previously shown, or download our app for Apple or Android.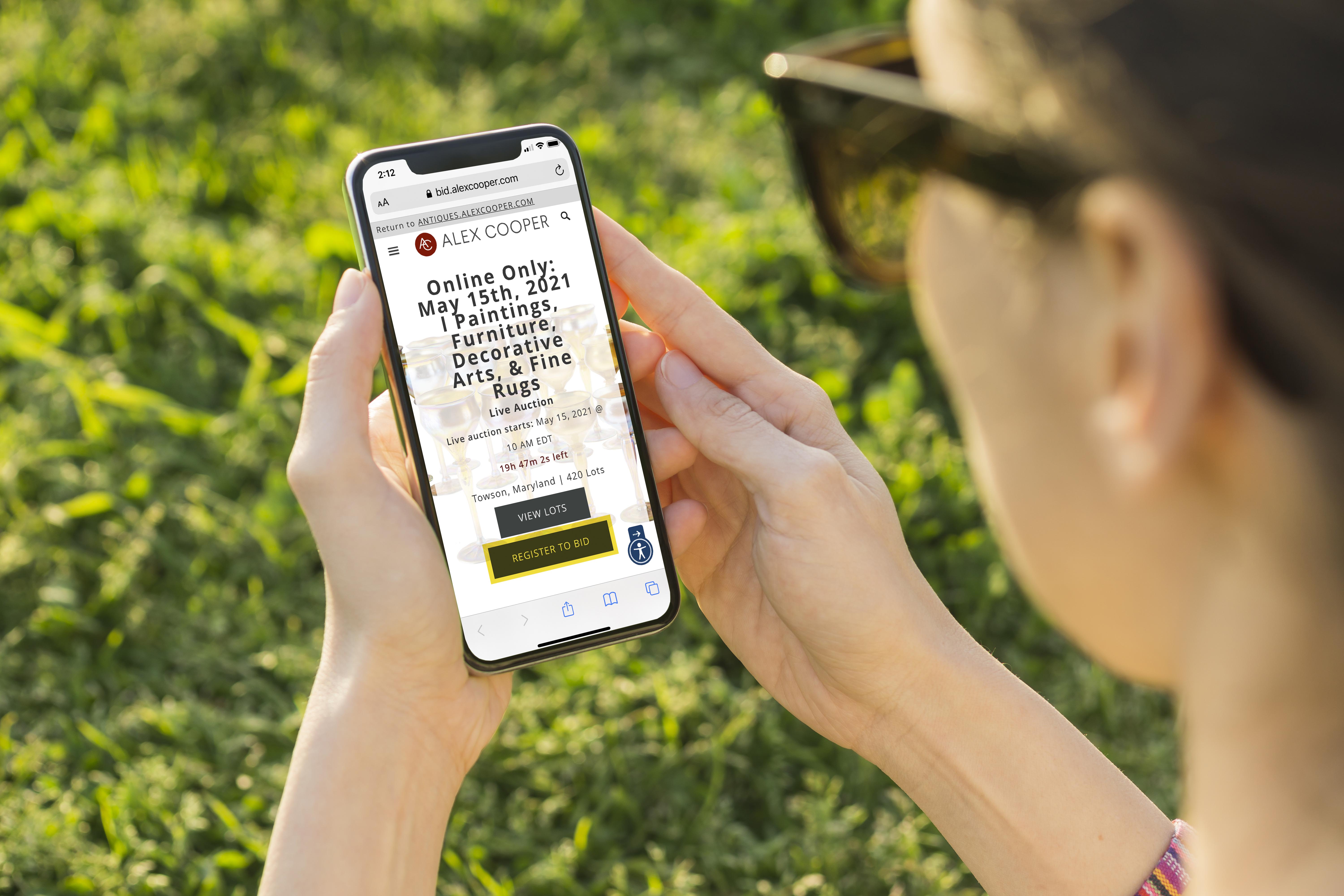 2. Browse the Auctions
bid.alexcooper.com is our bidding website that houses all of our live auctions. Explore our online auctions by scrolling through the cover banners. When you click into an auction feel free to browse through our extensive range of items. Our Gallery auctions are always divided into two days, The first day includes Jewelry, Handbags & Luxury Accessories, Sterling Silver, Coins & Currency. The second day is comprised of Fine Art, Furniture, Collectibles and Rugs. When you find a lot you like, please be sure to register for the auction. Registering will assign you a paddle number to enable you to bid. Please make sure to register at least 24 hours before the day of the auction to allow ample time for your account to be processed.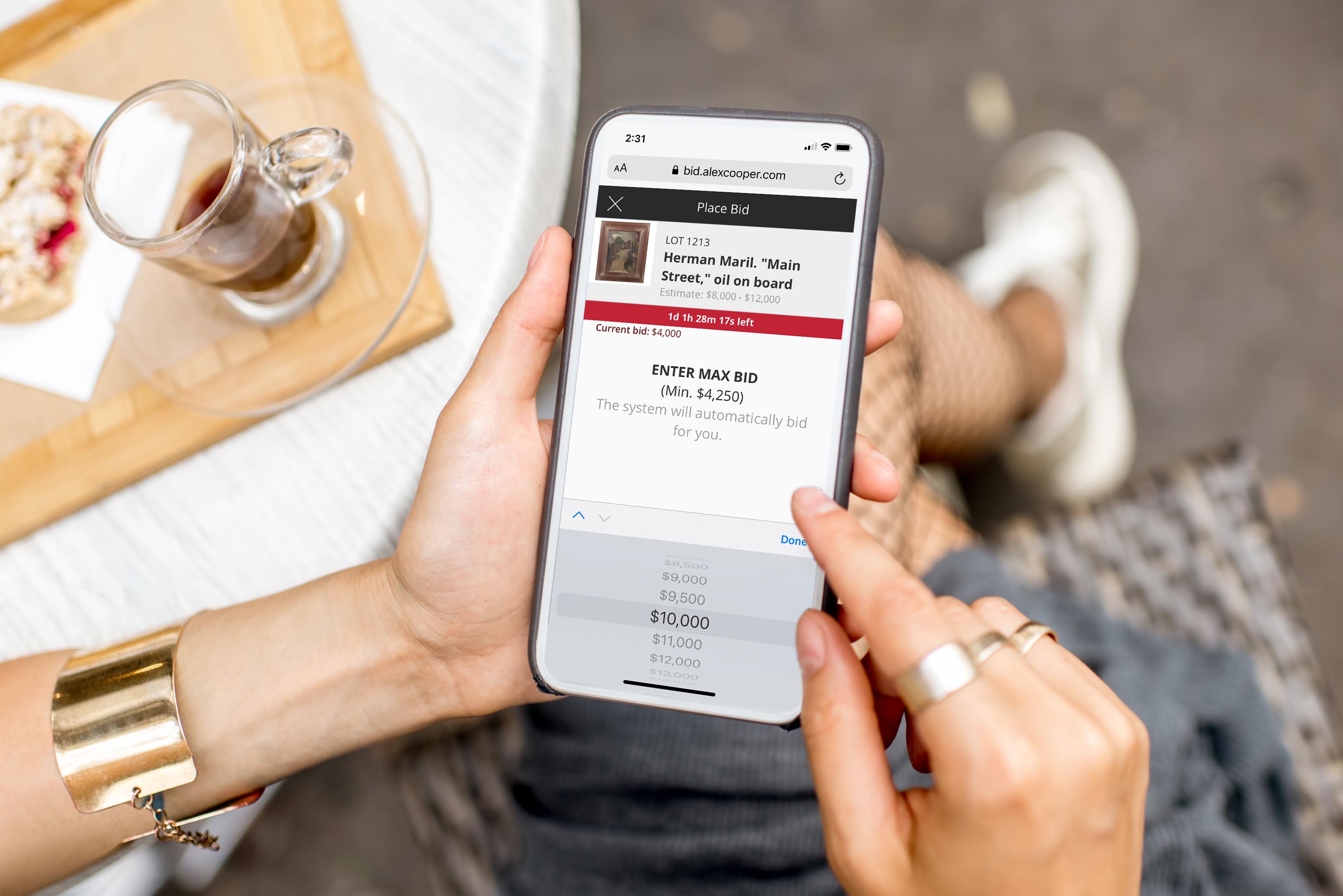 3. Pre-Bidding & Setting Maximum Bid
Gallery auctions are uploaded to bid.alexcooper.com approximately two weeks before the day of the live auction. During this time you can pre-bid, meaning you can place your bid against other bidders before the live auction commences. To place a bid, click place bid and select bid amount. You can also choose to set a maximum bid. This means our system will place bids on your behalf following the bid increments to ensure you are the highest bidder until the maximum bid is reached. If you are outbid, you will receive a notification through email or the app.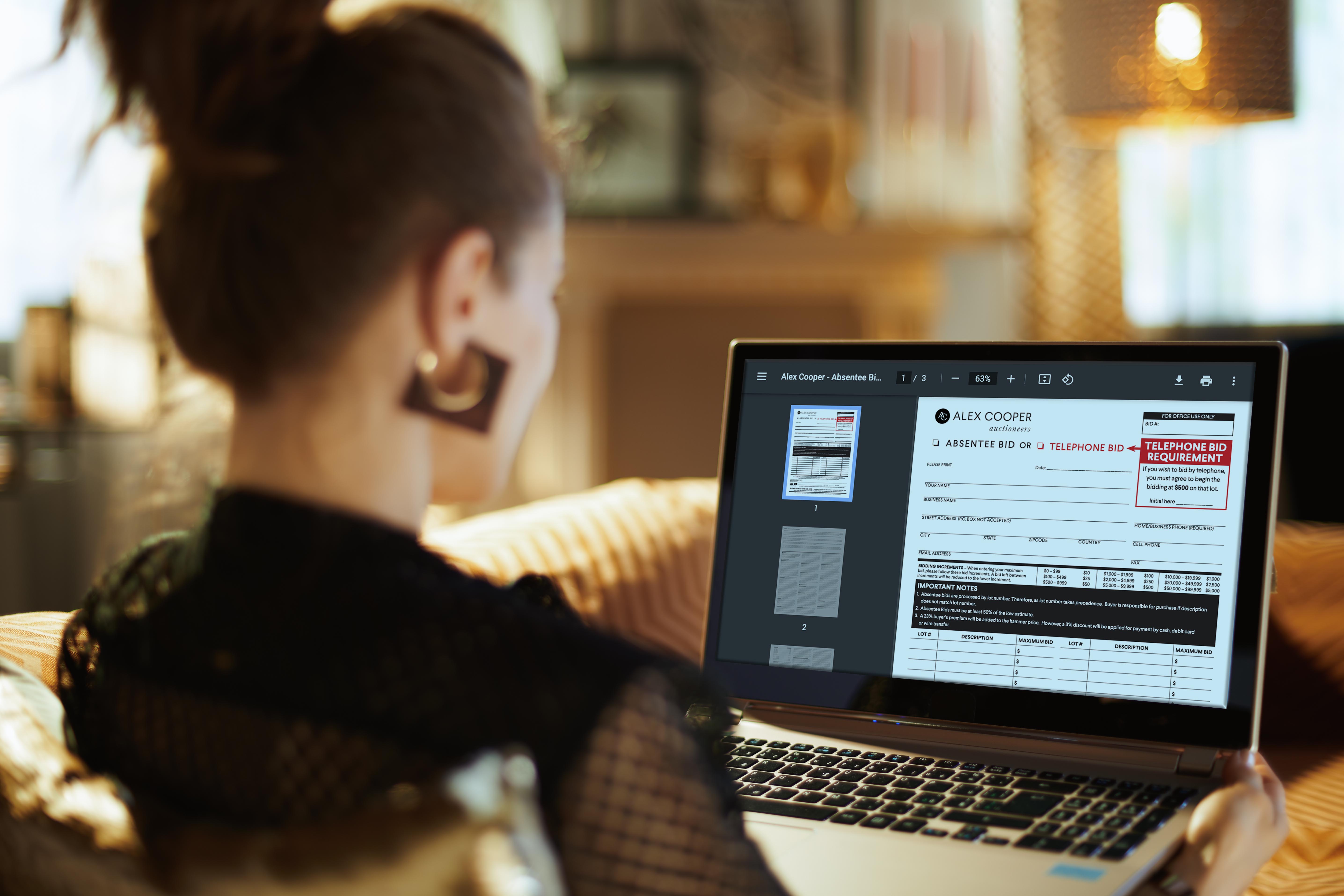 4. Other Ways to Bid
Alex cooper offers an absentee bid form, which can be found on alexcooper.com. This is a digital document that allows you to place your maximum bid without participating in the live auction. Once the form is completed and sent back to the auction house, the auctioneer will bid on your behalf up until you maximum bid. We also offer phone bidding, where a member of our team will call you to facilitate bidding when your lot is up for auction. This is only available for items with a $500 opening bid. Lastly, joining our auction in person is highly recommended, for the full auction experience.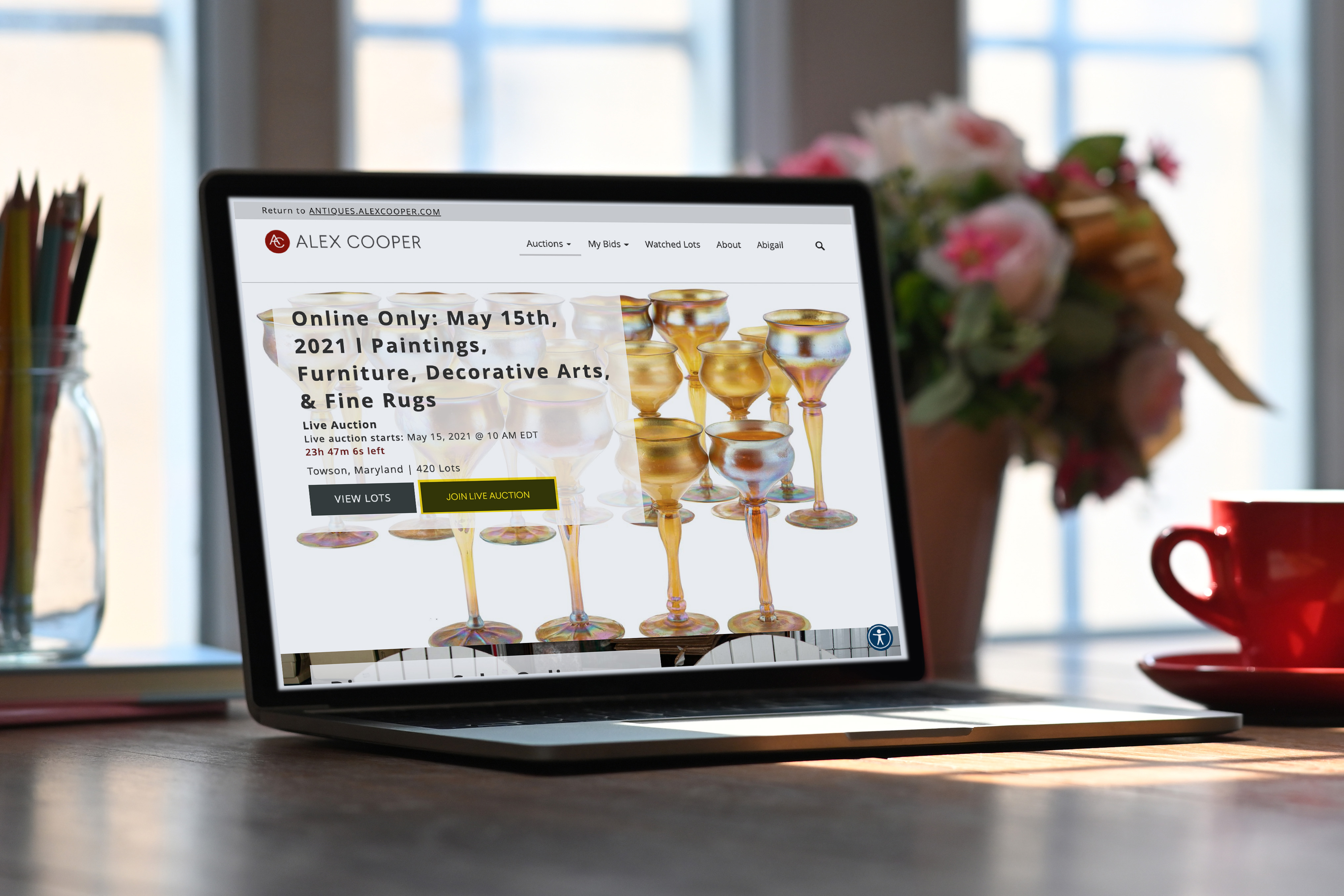 5. Day of the Auction
On the day of the live auction, if you are bidding online, you will select "Join Live Auction". This will open the auction to the lot that the auctioneer is currently conducting. You will be able to see the bids coming in, in real time and will see a notice for last call before the lot is closed. Our auctions are posted on multiple bidding platforms including, bidsquare.com, liveauctioneers.com and invaluable.com. Alex Cooper monitors each bidding platform and will report bids from all sites to the auctioneer. All bidding from online, absentee bid forms, phone bids and live bids are consolidated and reported online at this time. The benefit to bidding through our website or app is that we offer the lowest buyers premium. Please also note that our platform is the only site where you can see bids from other bidding platforms being placed.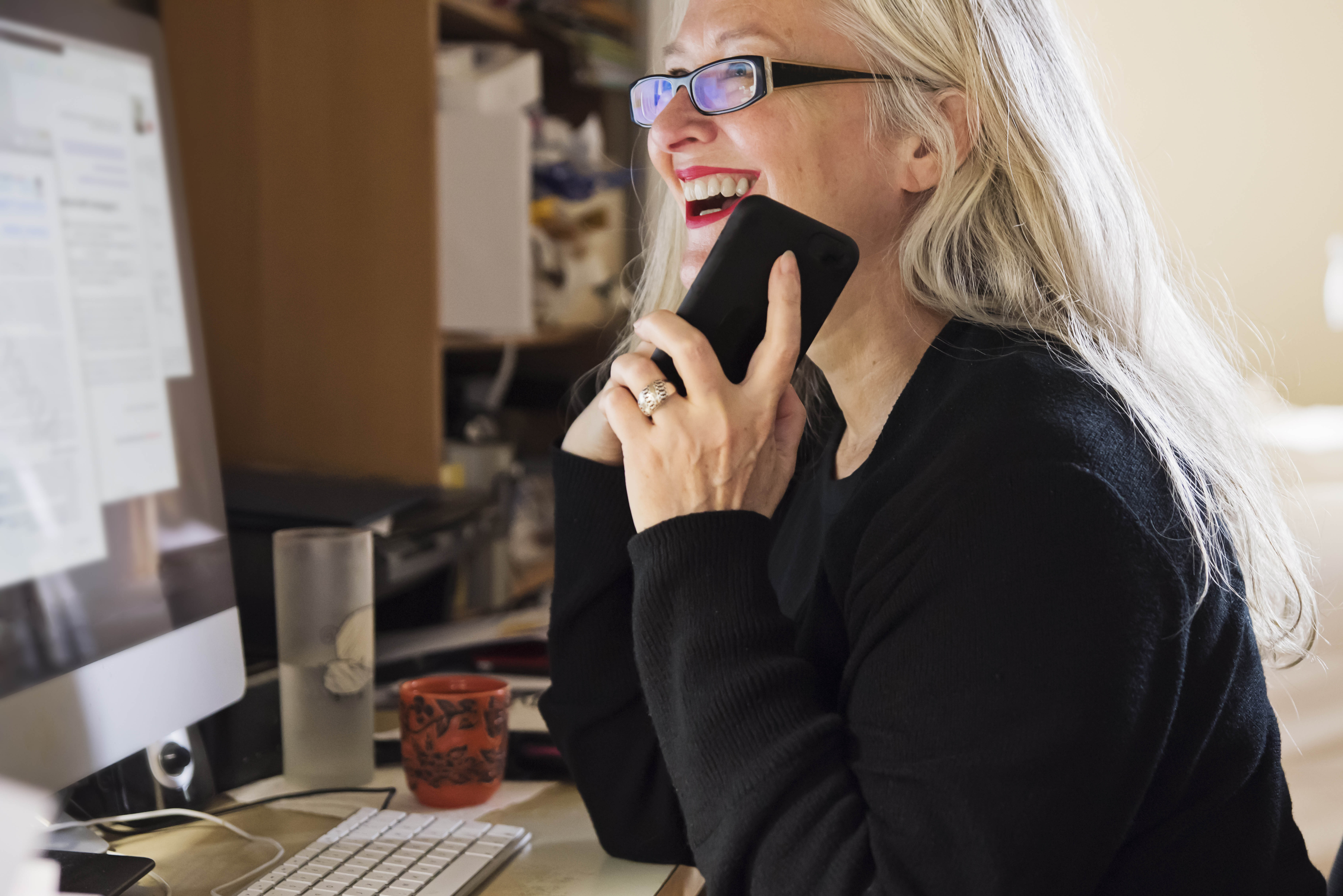 6. You've Won
Once you've won, you will be sent an invoice through email or the app. You can also settle your invoice during pick-up at our office. We look forward to seeing you at the auction!
Video Guide: How to Bid in a Gallery Auction
Bid Live Now
Download our app to participate in our live auctions, no matter your location.