Much Ado about Dali…
This month we are highlighting one of my personal favorites, Salvador Dali (Spanish, 1904-1989). He is arguably the most famous of the Surrealist artists easily recognized by his melting clocks and handlebar mustache. He was highly imaginative and prone to wild, eccentric behavior. The biographer, Saladyga, in "The Mindset of Salvador Dali," states that, "his actions sometimes drew more attention than his artwork, to the dismay of those who held his work in high esteem, and to the irritation of his critics." He was a memorable force to be sure.
I love that Alex Cooper is able to consistently offer incredible work by Dali, often including approachable pieces for the novice collector. Fans like me love to see the variety and breadth of his work. The November auction brings a diverse collection of Dali's and the lots are presented here.
Dali was commissioned to produce watercolors to illustrate Dante's "Divine Comedy." They were not initially very well received by the public and can be dark in subject matter. However, they are lovely with beautiful colors and striking compositions. They are reproduced from the original via woodcut. Here we have "Ascent to Venus," "Farinata," and " The Smoke of Irascibility."
Lot 1054: "The Immaculate Conception" color lithograph.
This lot offers a very vibrant color lithography depicting the religious scene of the conception of Jesus. The Madonna image in the piece is taken from the sculpture, "The Blessed Ludovica Albertoni," by Bernini. This piece is more representative of what we think of when we think of Dali. The eye-catching lithograph is pencil signed.
Lot 1055: "Don Quixote" gold plated bas relief.
This Martin Lawrence limited edition, (hors commerce ed. 102/125) metal bas relief depicts a figure on a horse carrying a shield and spear (Don Quixote). Whimsical and unusual, it is presented in a lined box.
Lot 1056: "Lincoln in Dalivision" bronze bas relief.
"Lincoln in Dalivision" was created in a way that only Salvador Dali could have imagined. At first, one sees the image of Gala looking into the horizon, but upon stepping back from the piece, a new image appears and the piece transforms into the portrait of Abraham Lincoln. This is a conversation piece for sure and is presented in a lined box.
Lot 1102: "La Danse" color lithograph.
I find this piece to be very interesting with an intriguing back story. "La Danse" was issued separately as an additional/extra image for the Divine Comedy series. This sizable piece is both pencil signed and signed in the plate. It has a lot of movement and color and since it was created as an add-on to the series, you do not often see this piece.
Lot 1103: Two unique woodblocks, The Divine Comedy Series.
We complete our Dali auction offerings where we began, back at the Divine Comedy. Here we have "Greed, Purgatory, Canto" and "Dante Purified, Canto #33." This duo is beautifully framed and the perfect start to a collection of Dali's.
The November 11th auction is currently live online—bid now to make these amazing pieces yours!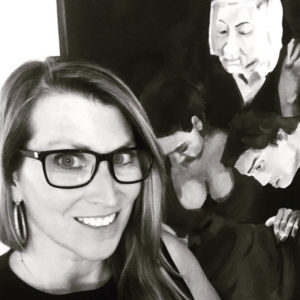 Kathleen Hamill: Contemporary Art Specialist