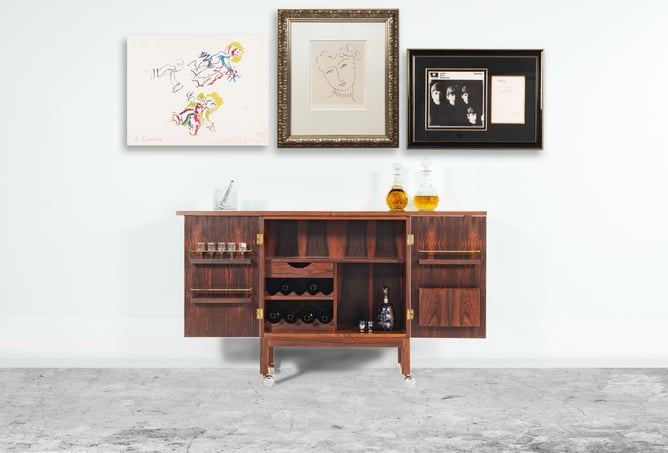 Our monthly can't miss art auction feature is a bit different this month as our October auction is different as well. Alex Cooper will be presenting one of our biggest Contemporary Art auctions to date. We have amassed a cannot miss collection featuring Warhol, Picasso, Motherwell, Chagall, Bearden, Miro, de Kooning and Lichtenstein, and the list goes on. Whether you are a seasoned collector, or just building your art collection, this auction will have something for you. Below we've highlighted a number of works, but this month, we can't choose! If you live in the Baltimore/DC area, please plan to join us at our Preview Party, September 28, 5:30-7:30 to view it all in person. Learn more and RSVP here.
Andy Warhol
Warhol, the leading figure in the Pop Art movement, has an impressive showing in this auction. His works explore celebrity culture and commercialism and the lots below are excellent examples.
Lot 955 "Rebel Without a Cause" screenprint
Auction Estimate: $90,000-$100,000
Lot 975 "Mobil" screenprint
Auction Estimate: $70,000-$90,000
Lot 986 "Presidential Seal" silkscreen
Auction Estimate: $6,000-$8,000
Lot 987 "Marilyn Monroe I Love Your Kiss…" lithograph
Auction Estimate:$1,200-$1,400
Motherwell
Robert Motherwell was a member of the New York School, a new movement of Abstract Expressionism, which also included Rothko, Guston, Pollock, Hartigan and de Kooning (also in this auction, lots 953 and 954). An uber talented American painter and printmaker, we are pleased to present two.
Lot 951 "The Wave" lithograph
Auction Estimate: $25,000-$30,000
Lot 952 "Music for J.S. Bach" lithograph
Auction Estimate: $3,500-$4,500
Miró
Joan Miró, The Spanish artist whose work has been interpreted as Surrealism, has a large presence in the auction. Here are a few of note.
Lot 959 "L'Invite du Dimanche III" etching and aquatint
Auction Estimate: $7,500-$8,500
Lot 994 "Untitled" aquatint
Auction Estimate: $4,500-$5,000
Lot 995 "Sculptures" lithograph
Auction Estimate: $2,750-$3,500
Bearden
Romare Bearden, one of the most influential African American artists and considered "the nation's foremost collagist," is represented in this auction by one very significant piece.
Lot 997 "Girl in the Garden" lithograph
Auction Estimate: $2,750-$3,500
Lastly, the auction features numerous amazing pieces by Pablo Picasso. The one below is a favorite.
Lot 1011 "Figure and Dove" lithograph
Auction Estimate: $8,000-$12,000
The October 3rd & 7th is currently live online – bid now to make these amazing pieces yours!