Spring is here! Alex Cooper's May 12th Gallery Auction has some exceptional jewelry perfect for ringing in the new season.
Lot 108, a plique-à-jour enamel, diamond, and ruby ring by Masriera, features a nature theme befitting spring. Founded in 19th-century Barcelona, Masriera has carried forward their traditional Art Nouveau style into the 21stcentury. Popularized during the Art Nouveau period, "plique-à-jour"—a French term that roughly translates to "letting in the daylight"—refers to a translucent enamel technique in which enamel is set into a frame without any backing—similar to a stained-glass window. The plique-à-jour dragonfly-like wings in Lot 108 display pastel enamel colors harmoniously integrated into the openwork design. The ring is accompanied by a Masriera catalogue detailing the story behind the historic jewelry company.

Lot 108: An 18K Masriera Plique-à-Jour Diamond & Ruby Ring
For more springtime pastel colors, we have Lot 110, an intaglio bracelet by Elizabeth Locke. The soft green, blue, and pink glass stations are engraved with animal intaglios and set in 19-karat frames with a hammered finish. Inspired by the ancient jewelry of the Etruscans, Greeks, and Romans, Locke creates pieces in high-karat gold that often utilize ancient art forms such as intaglios and micromosaics.

Lot 110: An Elizabeth Locke Intaglio Bracelet in 19K
If you want to make more of statement, a Hammerman Brothers piece will do the trick! Lot 121 is an 18-karat textured yellow gold bracelet by Hammerman Brothers boasting 3.50 carats of pavé diamonds. After serving in World War II, three brothers—Benjamin, Hyman, and Bernard Hammerman—returned to New York City to start what would become one of America's most successful jewelry manufacturing companies. Still family-run and based on 57th street in New York City, the Hammerman Brothers company continues to use some of the finest gemstones and craftsmanship for their unique and bold jewelry.

Lot 121: A Hammerman Bros Pavé Diamond Bracelet in 18K
Art Deco jewelry is always a favorite—no matter the season—and the May auction features two very fine old European-cut diamond pieces from the Art Deco era. Most old European-cut diamonds were fashioned between 1890 – 1930 and deliver outstanding flashes of multi-color light known as fire. No exception, Lot 116, a large platinum Art Deco brooch, sparkles with an impressive 10.00 carats of old European-cut diamonds. Lot 206 is lovely Art Deco ring comprising three old European-cut diamonds set vertically in a hand-pierced design. Both pieces would be wonderful additions to any antique jewelry collection.

Lot 116: An Art Deco 10.00 ctw Diamond Brooch in Platinum & Lot 206: A 1.80 ctw Art Deco Diamond Ring in Platinum
For more springtime jewels, browse our auction catalogue here.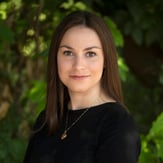 Erin Riggins-Hartlaub
Specialist, Fine Jewelry, GIA AJP & GD
erin@alexcooper.com