On June 16, Alex Cooper Auctioneers will bring a diverse array of fine jewelry to the auction block. Among the over 180 jewelry lots are several noteworthy antique and vintage pieces representing important jewelry eras across a century—approximately 1870 – 1970. From chunky 19th-century old mine-cut diamonds to a timeless Cartier Tank wristwatch, there's something for every admirer of historical jewels.
Lot 133 is a Victorian pendant dating to around 1870 and featuring approximately 5.00 carats of old mine-cut diamonds. Old mine-cut diamonds mostly originated from the "old mines" of India and Brazil prior to Africa's diamond rush. They have a squarish—or cushion—shape and display much smaller tables and higher crowns than today's round brilliant-cut diamonds. Cut entirely by hand, each old mine-cut diamond is a unique work of craftsmanship.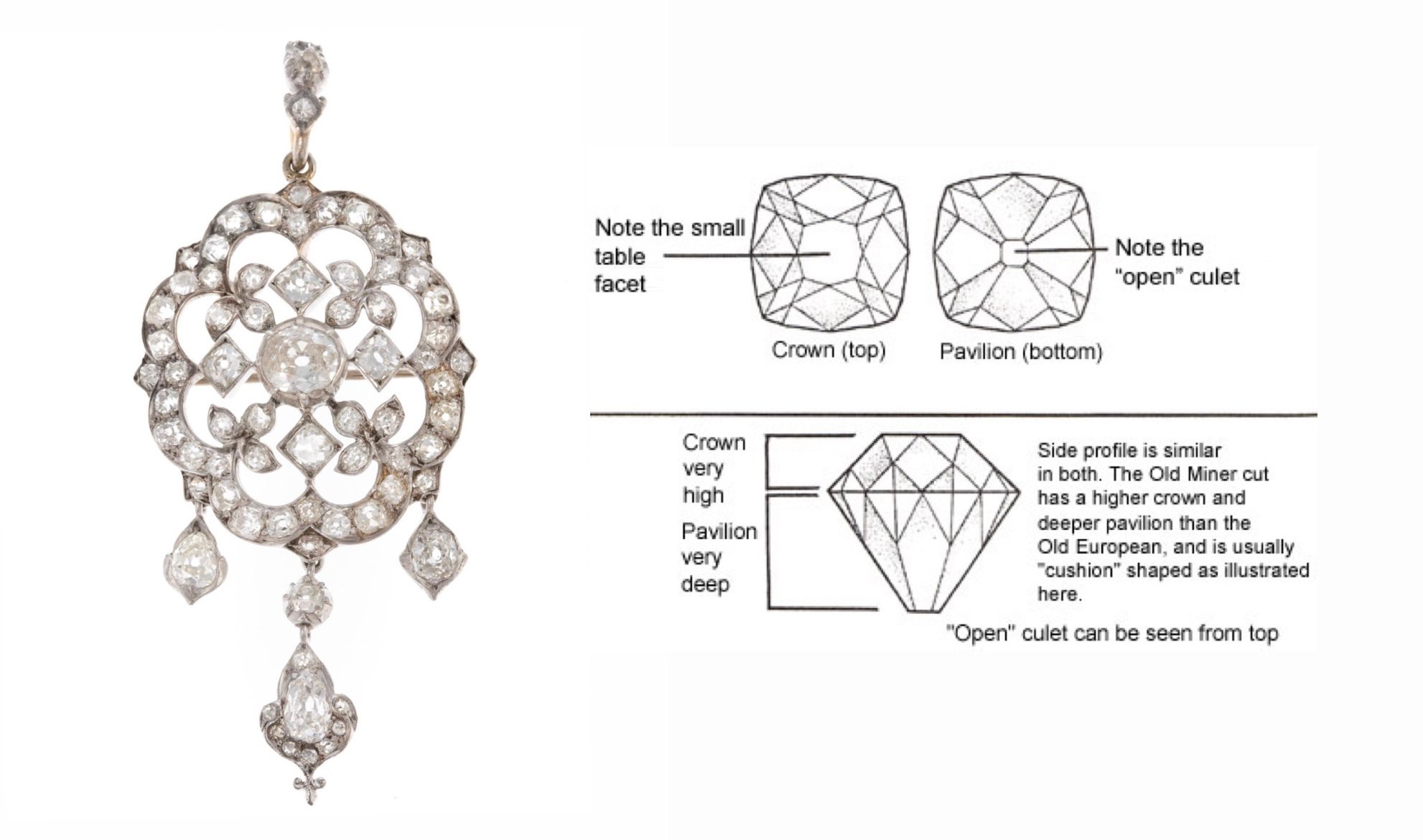 Lot 133: A Victorian Old Mine-Cut Diamond Pendant/Brooch, Old Mine Cut Diamond Diagram, image c/o Earth Treasures Fine Jewelry
The pendant originally belonged to Elizabeth Cashin King (1852-1938) of Augusta, GA, and has been passed down through her family over a period of 80 years. The King family's long history in Georgia dates back to the early 19thcentury, when John Pendleton King (1799-1888), an influential judge and U.S. Senator, helped to develop important infrastructure projects, including the Georgia Railroad, the Georgia Railroad Bank, the Augusta Canal, and the Augusta King Mill. Cashin King's descendants went on to establish the historic Pendleton King Park and bird sanctuary located in the center of Augusta. She wears the Victorian pendant in the well-known portrait below.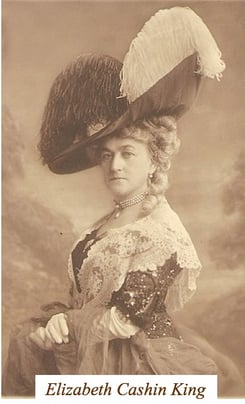 Elizabeth Cashin King wearing lot 133, image c/o pendletonkingpark.com
Crafted approximately 30 years after our Victorian heirloom, Lot 261 is a quintessentially Art Nouveau brooch. The brooch centers an oval-cut amethyst bezel set among six old European-cut diamonds. The textured yellow gold leaf-like motifs embody the free-flowing, curvilinear lines so characteristic of Art Nouveau designs, which imitate organic shapes found in nature.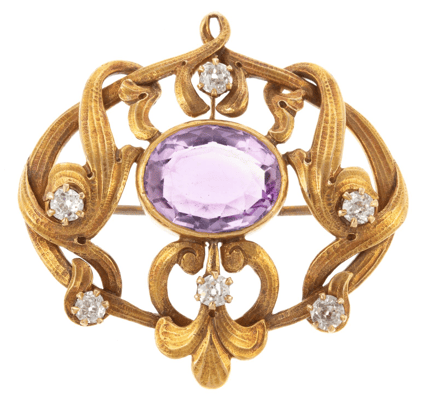 Lot 261: An Art Nouveau Amethyst & Diamond Brooch
Shining bright since around 1930, Lot 111 is an impressive Art Deco bracelet boasting approximately 9.00 carats of old European-cut diamonds, with French-cut sapphire accents contouring the central diamond. This delicately crafted bracelet features milgrain-studded, hand-pierced openings throughout its dazzling architecture—a holdover from the light and airy pieces of the Edwardian era. However, the French-cut sapphires' sleek, straight lines reflect the Art Deco style's modernist geometry.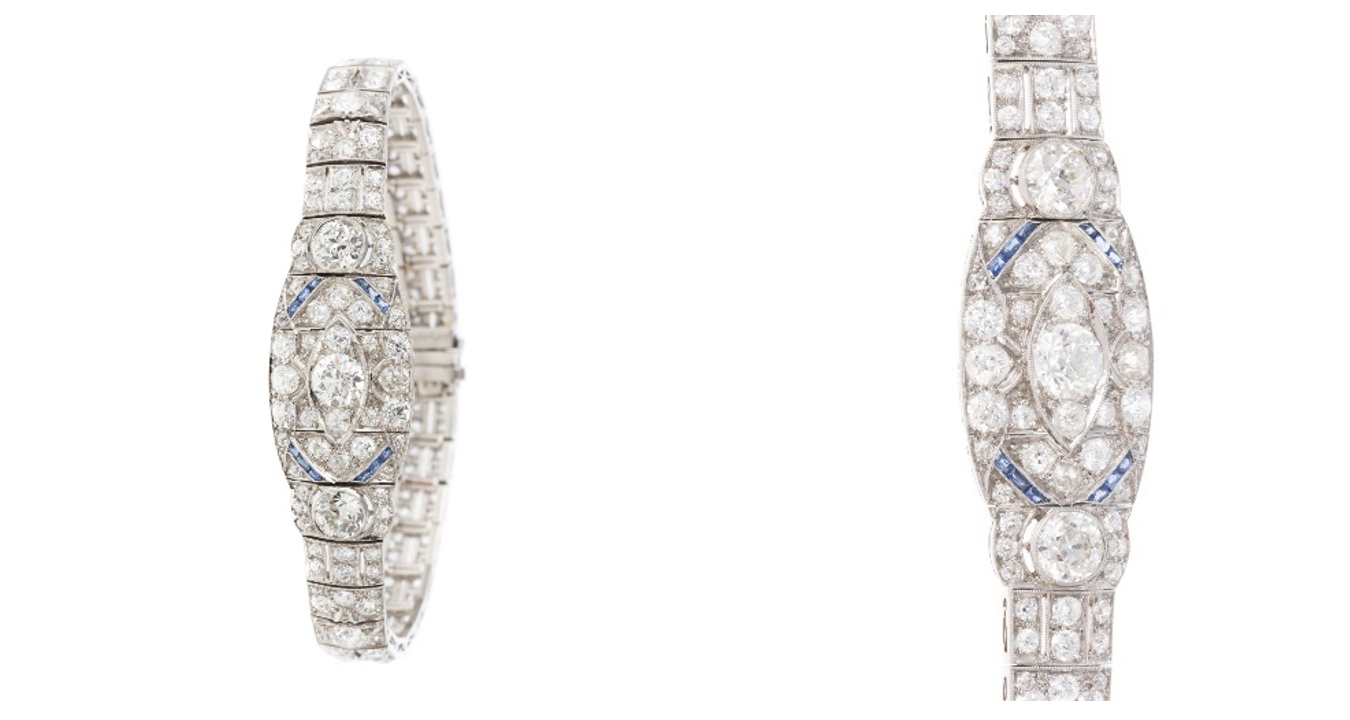 Lot 111: A 9.00 ctw Art Deco Diamond & Sapphire Bracelet
Lot 238—a pair of diamond and ruby clip earrings—brings us to the 1940s Retro era, when jewelry often featured bows, scrolls, and ribbon motifs crafted in rose and yellow gold. The rose gold scrolls and arrow-like form lend a refreshing sense of movement to the earrings. Set with approximately 1.50 carats of diamonds and accented by calibré-cut rubies, these earrings are a vintage jewelry collector's dream!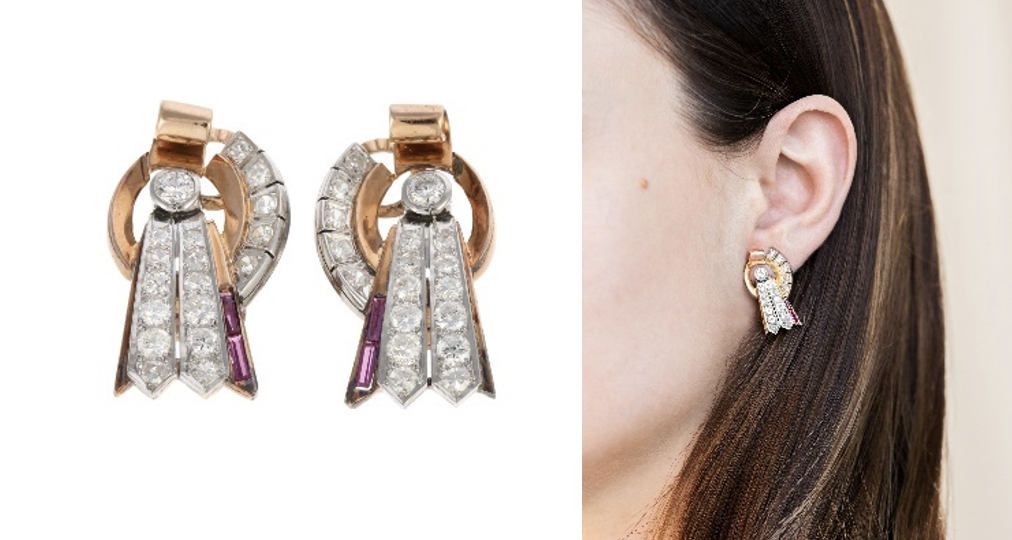 Lot 238: A Pair of Retro Diamond & Ruby Clip Earrings
Featuring 4.00 carats of baguette, marquise, and round-cut diamonds set in a sweeping platinum design, Lot 141 exemplifies the glamour of mid-century jewelry. One could easily imagine this diamond beauty among the opulent jewels that adorned legendary 1950s movie stars like Audrey Hepburn and Grace Kelly. As Marilyn Monroe told us in her 1953 film Gentlemen Prefer Blondes, "diamonds are a girl's best friend!"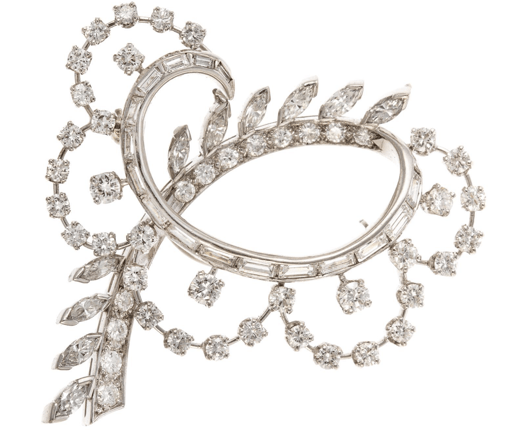 Lot 141: A Mid-Century 4.00 ctw Diamond Brooch in Platinum
Representing the 1970s is Lot 129, a Cartier Tank wristwatch in 18-karat yellow gold. Cartier's Tank wristwatches are among the most iconic timepiece designs on the market. Invented by Louis Cartier in 1917, the watch's name and design pay tribute to the Renault FT-17, a French WWI tank. Particularly rare, Lot 129 comes from a limited production of watches that renowned Swiss watch manufacturer Audemars Piguet made for Cartier in the early 1970s.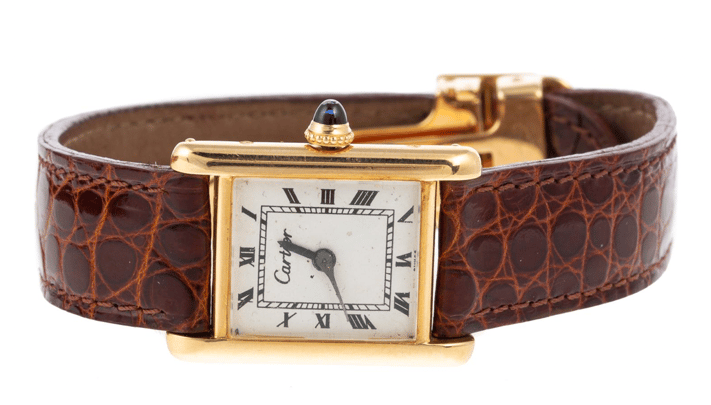 Lot 129: A 1970s Cartier Tank Wristwatch with Audmars Piguet Movement
From the sinuous lines of Art Nouveau period, to bold Retro-era curves, to sparkly 1950s diamonds, the June 16th auction's antique and vintage jewels are a testament to our centuries-old fascination with sparkly gemstones and shiny gold. Browse Alex Cooper's auction catalogue for more jewelry from eras past.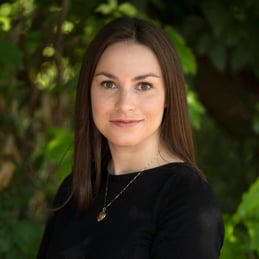 Erin Riggins-Hartlaub
Specialist, Fine Jewelry, GIA AJP & GD
erin@alexcooper.com