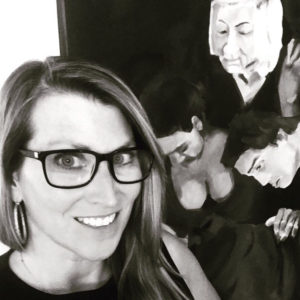 Kathleen Hamill earned a BA Degree in Art History from Vanderbilt University in Nashville, Tennessee. She then went on to pursue a BFA in Art and Interior Design at the former American College of Art and Design in Atlanta, Georgia. Following a successful career encompassing event consulting, museum and gallery work, she went on to create her own company – k. hamill Fine Art in 2012. Kathleen specializes in contemporary art and plans to bring a new wave of prospective buyers to Alex Cooper.
It was during her time as Director of Corporate Development for the Contemporary Museum in Baltimore that she became integrated in the exploding Baltimore art scene and it has been a passion ever since.
She has been responsible for contemporary art acquisitions for both individual and corporate clients. Her guiding philosophy is to place Baltimore art into Baltimore homes, building collectors and supporters of emerging artists.
Kathleen has curated shows at City Hall at the request of the Mayor, Stephanie Rawlings Blake, and has also curated and installed shows for revitalized model homes in the inner city as well as local area Baltimore Restaurants.
Recently, she curated a show entitled, "What Love Looks Like," as part of the New Day Campaign. Kathleen also guest lectures on the business of art and the "Art of Selling Art" and is on the board of Maryland Art Place.
In working at Alex Cooper, Kathleen hopes to spread to the word to the Baltimore market and beyond, about the benefits of buying art at auction.