Alex Cooper is excited to offer four one-of-a-kind pieces of jewelry by Baltimore jeweler Betty Cooke in the November 12 auction. Born in 1924, Cooke helped to pioneer the mid-century modernist studio jewelry movement. In a style distinctly her own, Cooke's jewelry features simple geometric forms in materials such as gold and silver tubing, quartz, opal, and onyx. Her clean, architectural designs are pared down to their most essential forms, recalling modernist works by Bauhaus artists who sought to reimagine the material world through their art in 1920s Germany.
Cooke discovered her love of jewelry design while studying at the Maryland Institute College of Art, where she also taught for 22 years. In 1965, she and her husband Bill Steinmetz opened The Store Ltd at the Village of the Cross Keys. Still in business and operating under the guiding principle "sell only great design," The Store Ltd sells Cooke's jewelry, as well as a wide variety of contemporary home décor, furnishings, and apparel. Cooke's prolific career also includes designing clothes for Geoffrey Beene's New York and Milan fashion shows, decorating the interiors of Fair Lanes bowling alleys, and creating store fronts for the Rouse Company. She won the prestigious De Beers Diamond Today Award twice, and her work has been collected by major institutions such as the Museum of Modern Art, the Walker Art Center, and the Museum of Fine Arts, Boston. The Walters Art Museum's forthcoming exhibition, The Circle and the Line, will be the first major museum retrospective of Cooke's work.
A modernist masterpiece, lot 114 presents a truly iconic Betty Cooke design. The necklace is beautifully crafted in sterling silver with a drop pendant comprising a large bezel-set black onyx circle and two of Cooke's characteristic sterling silver discs that seem to float in mid-air like an Alexander Calder sculpture. I had the opportunity to discuss this piece with Cooke, who said, "It's a strong representation of my work in that it is simple and direct. It's a stunning neckpiece for a stunning person." Purchased directly from The Store Ltd in 1990, lot 114 is one of the November 12th Auction's standout pieces!
Lot 113 is another Betty Cooke classic. In this fabulous statement necklace, Cooke uses sterling silver tubing to create her distinctive architectural lines. While the tubing is rigid, the internal elastic string connecting the tubes provides a great flexibility and makes these pieces highly wearable. The necklace is finished with a large rose quartz bead and sterling silver disc bearing Cooke's signature.
Betty Cooke & Lot 114

---
Unlike some vintage brooches, Cooke's brooches have never gone out of style! Lot 116, a Betty Cooke "star" brooch, is composed of simple linear 14K yellow gold elements and a singular free-form black opal in an off-center bezel setting. This piece adds just the right pop of color to dress up any ensemble. For the more conservative dresser, lot 109 exudes a quiet elegance with high polish 14K yellow gold and earthy rutilated quartz.
Alex Cooper is proud to present these stunning statement pieces that exhibit the superb craftsmanship and iconic style for which Cooke is so well-known and admired.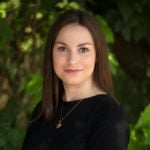 Erin Riggins-Hartlaub
Auction Coordinator & Jewelry Specialist
erin@alexcooper.com