Alex Cooper is proud to present A Lady's Natural Alexandrite and Diamond Ring.
This 14K yellow gold ring by A. Jaffe features an oval natural alexandrite weighing 1.23 carats with color changing from Dark Greenish Blue to Dark Reddish Purple and is accompanied by GIA Alexandrite Report #2121335511.
The chameleon-like alexandrite changes its hue from green in the sunlight, to red in artificial light. The stone's remarkable change has been described as "emerald by day, ruby by night*." The change in color is a direct result of how the mineral absorbs light.
I sat down with Selden Morgan, our director of Fine Jewelry, to learn a little more about the magical stone. "Alexandrite stones are extremely rare and are often not found over a carat in size. Lot 19 from our upcoming March 2nd auction weighs 1.23 carats and displays a large variation in color change. The more drastic color changes are the most sought-after stones. The size, coupled with the dramatic color change, increases the value and interest of this beautiful stone." She continued, "The classic 14k yellow gold, three-stone mounting really highlights the beautiful natural alexandrite."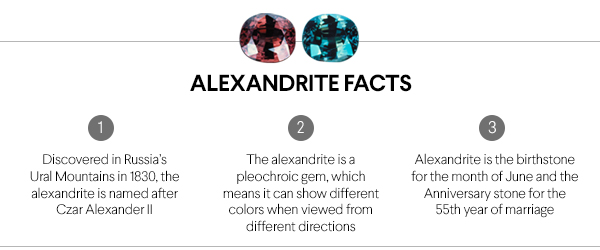 For more information about this beautiful ring, or any other auction items from our upcoming March 2nd & 4th auction, click here
*https://www.gia.edu/alexandrite