The Short Answer:
You can sell your Louis Vuitton bag through a local auction, using a resale website, or even directly using a tool like Craigslist. But you are not likely to get as much money for your Louis Vuitton handbag from each of these options. This article gives you guidance on how to choose the right place to get the. most money for your bag.
If you've never sold a designer bag before, it can be overwhelming to figure out where to sell your bag and earn the most money. It's true that some designers hold their value better than others, and one of those designer is Louis Vuitton.
Louis Vuitton is also one of the top searched designer names among shoppers looking for a designer handbag, particularly at auction houses like
Alex Cooper Auctioneers
. However, a lot of the value depends on the design and demand dictated by the resale market. So, which avenue is the best fit for your Louis Vuitton bag?
Selling a Louis Vuitton Speedy
The Speedy is a Louis Vuitton classic. It has vintage roots, but with the popularization of vintage fashion, this bag is having a comeback. There are many sizes of the speedy ranging from a 25 to 35. Generally speaking, smaller bags seek higher prices, as well as the bandoulière style, which includes a crossbody strap.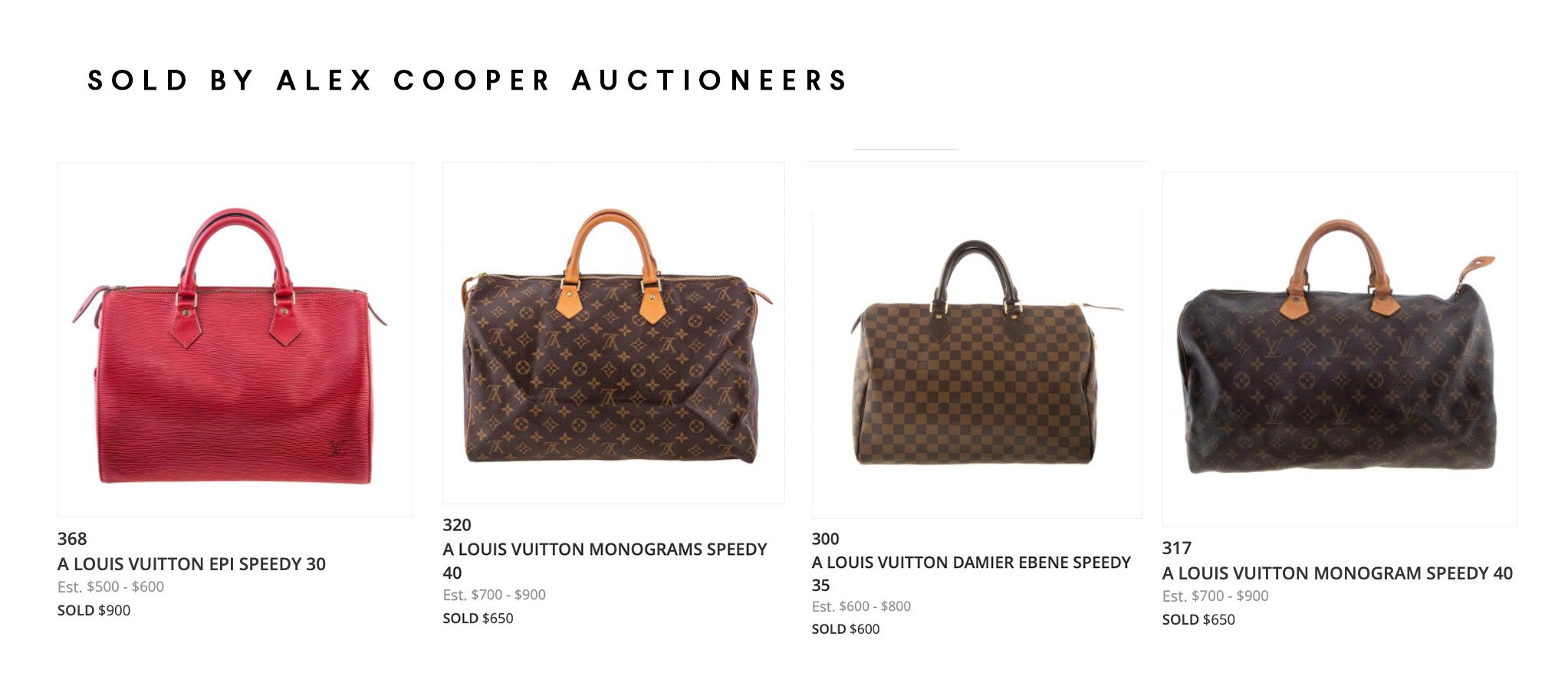 If you're looking to sell your Speedy, TheRealReal would be a strong choice. TheRealReal accepts consignments from vintage to brand new, so no matter the year of your bag or the interests of the shopper, they will find your bag while shopping on TheRealReal.
Despite being a strong choice, The RealReal is a very large reselling platform where items are processed quickly without consulting the seller. Therefore your item may be priced as you expect, or perhaps not. As seen above,
Alex Cooper Auctioneers
has sold many speedys with different, styles, sizes and materials. The auction estimates were decided upon during a meeting with the seller.
Selling a Louis Vuitton Wallet
Louis Vuitton wallets are known for their durability, especially when constructed from the iconic Louis Vuitton Monogram coated canvas. The styles range from the classic Sarah style to seasonal collaborations with artists like Yayoi Kusama and Jeff Koons.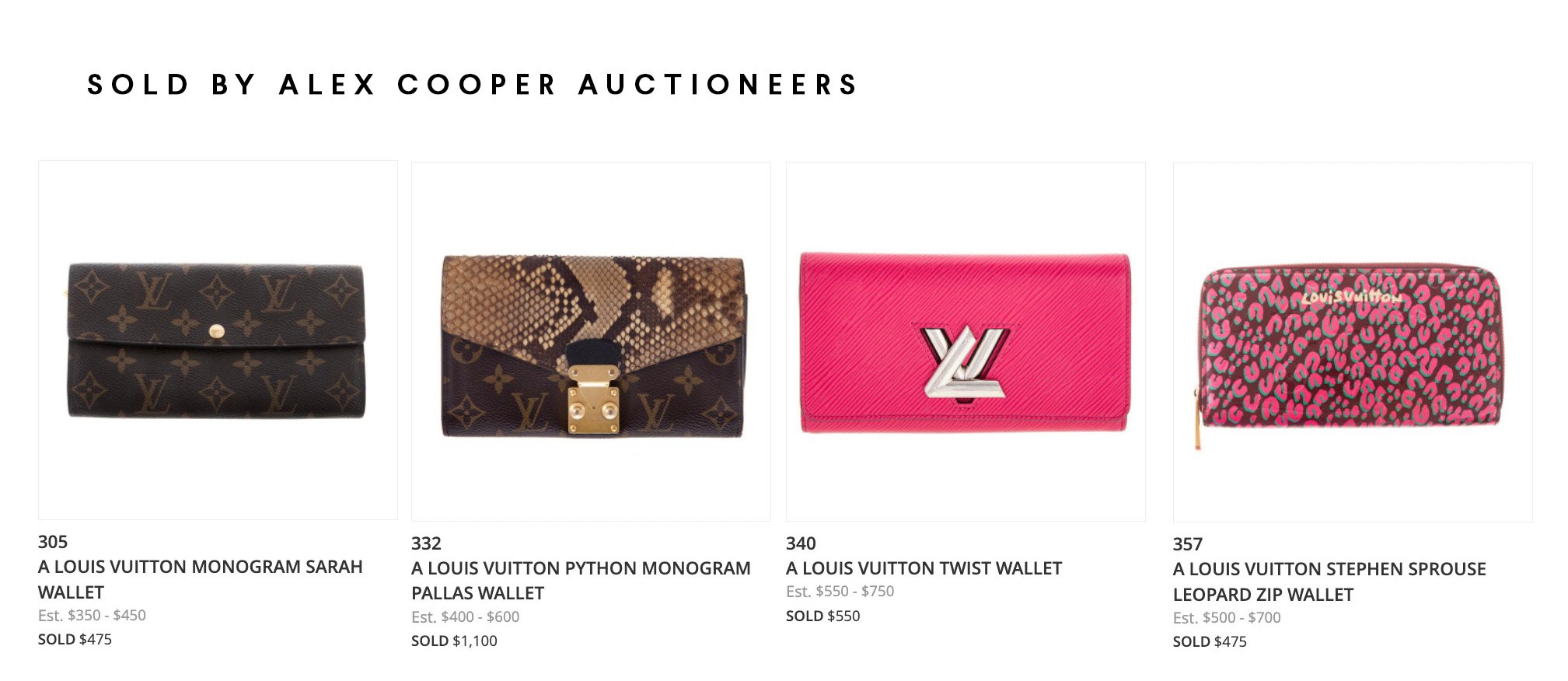 If you're interested in selling your Louis Vuitton wallet, Rebag is a great first place to look. Since Louis Vuitton wallets cover such a wide range and hold their value, they would fit right in at Rebag. They have a curated collection of handbags and accessories, which attracts a discerning buyer.
If you are local to Maryland, or the surrounding area, it may be reassuring to use a reseller, like Alex Cooper Auctioneers, that will you know you on a first name basis. As seen above, many Louis Vuitton wallets have been sold within or above the agreed up auction estimate.
Selling a Louis Vuitton Neverfull
The Neverfull is undoubtedly one of the most recognizable Louis Vuitton styles of the last few years, and for good reason. It's lightweight and has a simple streamlined style, and as its name suggests, never becomes full. This​ tote is a fan favorite, holds its value and sell quickly on the resale market.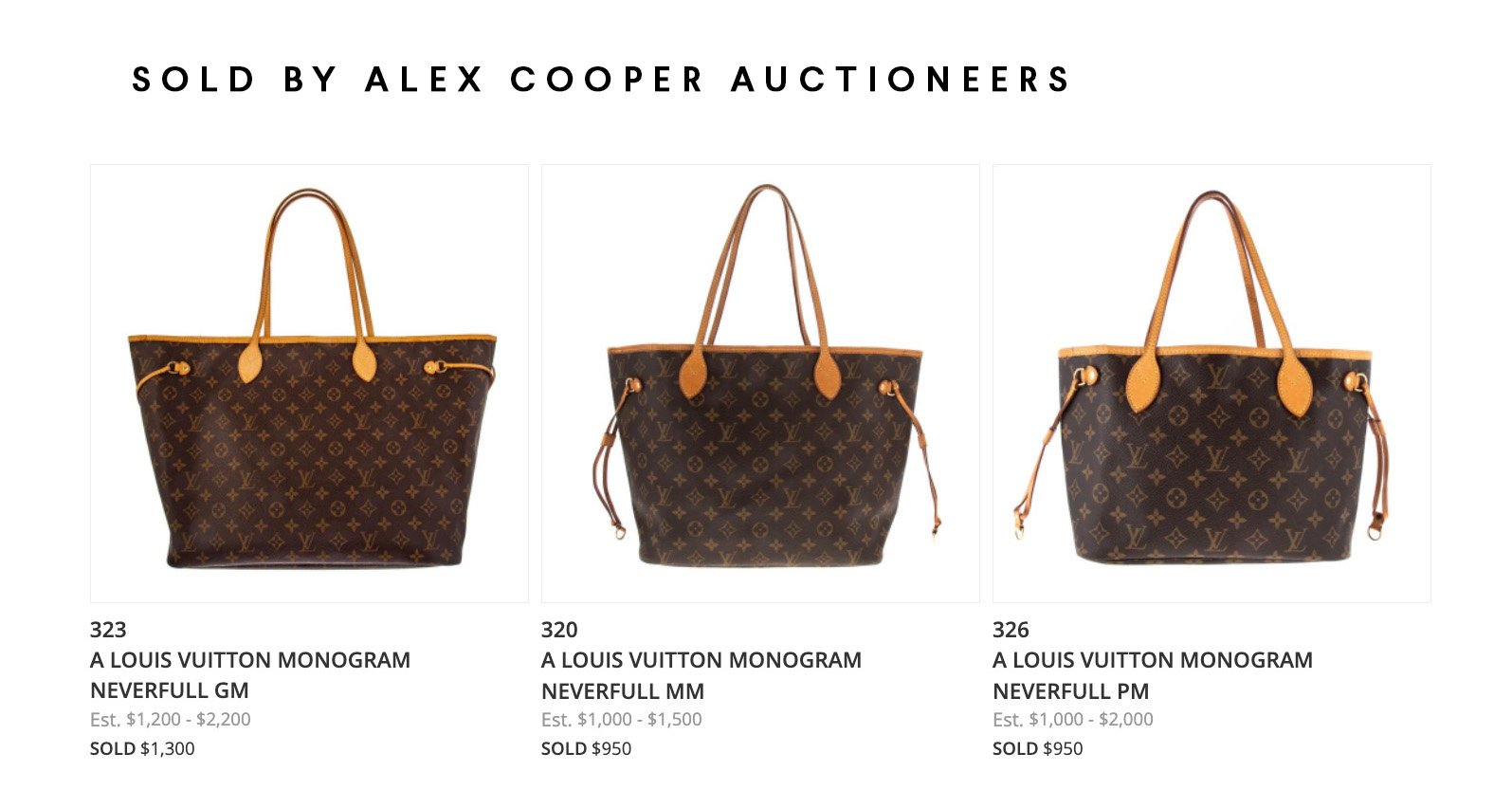 If you're looking to sell your Neverfull, eBay would be a great option. The Neverfull truly sells itself, so if you are willing to handle the photography and listing, eBay will offer you the lowest commission rate for the price point of a Neverfull.

Ebay can be daunting, so if you have a Neverfull and prefer to have all the photography, listing and marketing handled by professionals, Alex Cooper auctioneers can offer your Speedy at auction. As seen above, the Louis Vuitton Speedy is always a popular item.
Selling a Louis Vuitton Virgil Abloh Collection Bag
If you're a handbag or menswear enthusiast, you will recognize the name Virgil Abloh. He made waves at Louis Vuitton as the Men's Artistic Director and was the founder of Off-White. His bag designs for Louis Vuitton are iconic, as he took classic designs Louis Vuitton was known for and reimagined them in holographic PVC, black mesh and more. After his untimely death in 2021, his designs are still coveted on the resale market.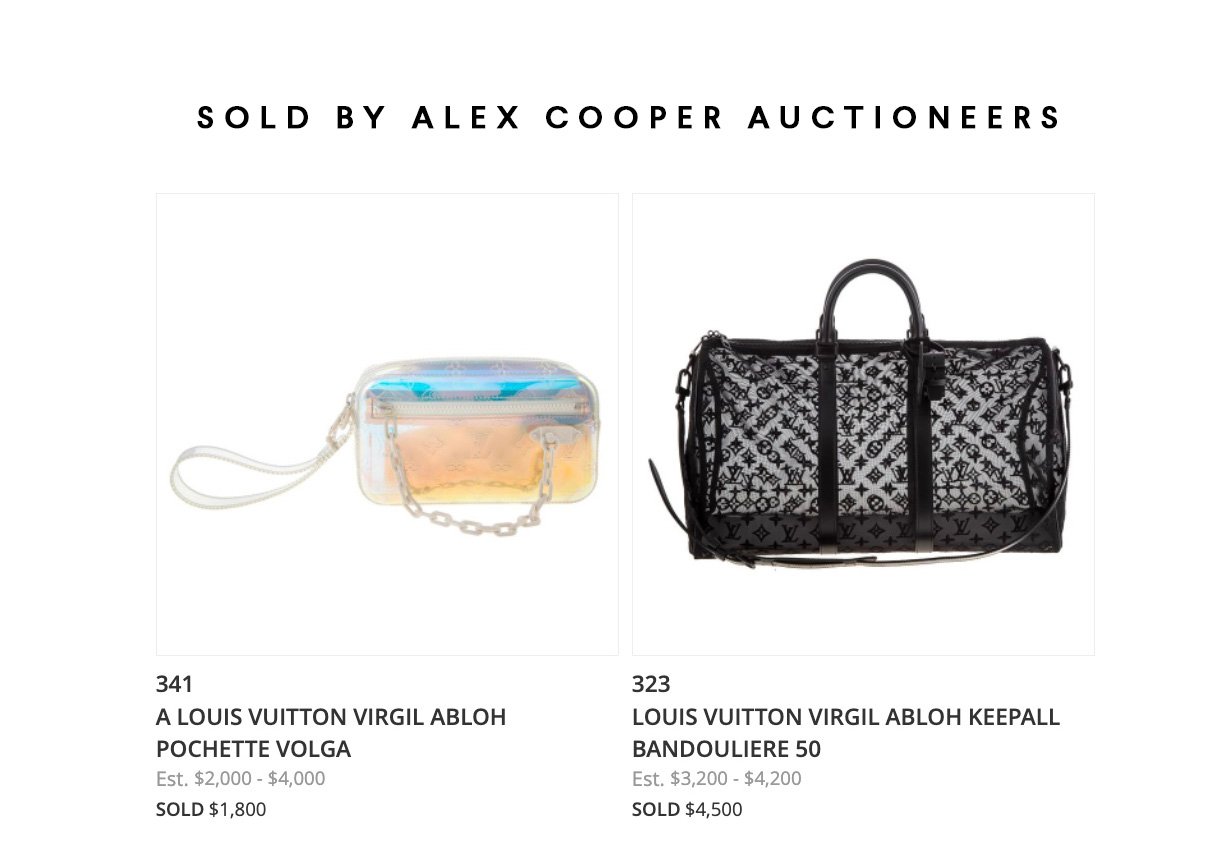 If you're thinking about selling a Virgil Abloh collection bag, consider Fashionphile. Fashionphile is known as accepting only the most desirable consignments and has a very trustworthy authentication department. Abloh bags are very highly replicated, so selling to a
website
that is
extremely diligent
in their authentication process
is important.
Although Fashionphile is known for having unusual and special edition items, they can start to blend together. At Alex Cooper Auctioneers, these special edition items standout and receive ample marketing attention. Seen above are two example of Virgil Abloh bags sold at an Alex Cooper Auctioneers auction.
Selling a Louis Vuitton Handbag?
If you have any of the handbags listed above, but still aren't sure which resale site to choose, an auction house could be a great choice. At Alex Cooper Auctioneers we have the buyers for all the bags mentioned in this article.
Wondering How Much Is My Louis Vuitton Bag Worth?
At
Alex Cooper,
we will provide you with an
auction estimate for your
bag
, meaning the auction estimate is what we expect your bag to sell at during the auction. However,
the best part about an auction is that there is no limit to the bidding. Competitive auctions lead to exceeding auction estimates, so why settle for a flat offer? The better we do, the better you do.
How to Consign a Louis Vuitton Handbag
Learn more about the consignment process here. Contact the Directors of the handbag department. Brooke Friendman and Abigail Goodman.
Buy Used Louis Vuitton Bags
Looking for your next Louis Vuitton and don't want to wait until the next auction? Check out our Buy New Louis Vuitton Bags and find your perfect bag.