Alex Cooper is pleased to offer several exemplary pieces of Retro jewelry in the September 30th Gallery Auction. A highlight of the sale, lot 220, a Retro Movado covered wrist watch, features 3.50 carats of very fine bezel set round and cushion cut rubies surrounded by 1.50 carats of round cut diamonds in a lush, foliate design with thick textured yellow gold links.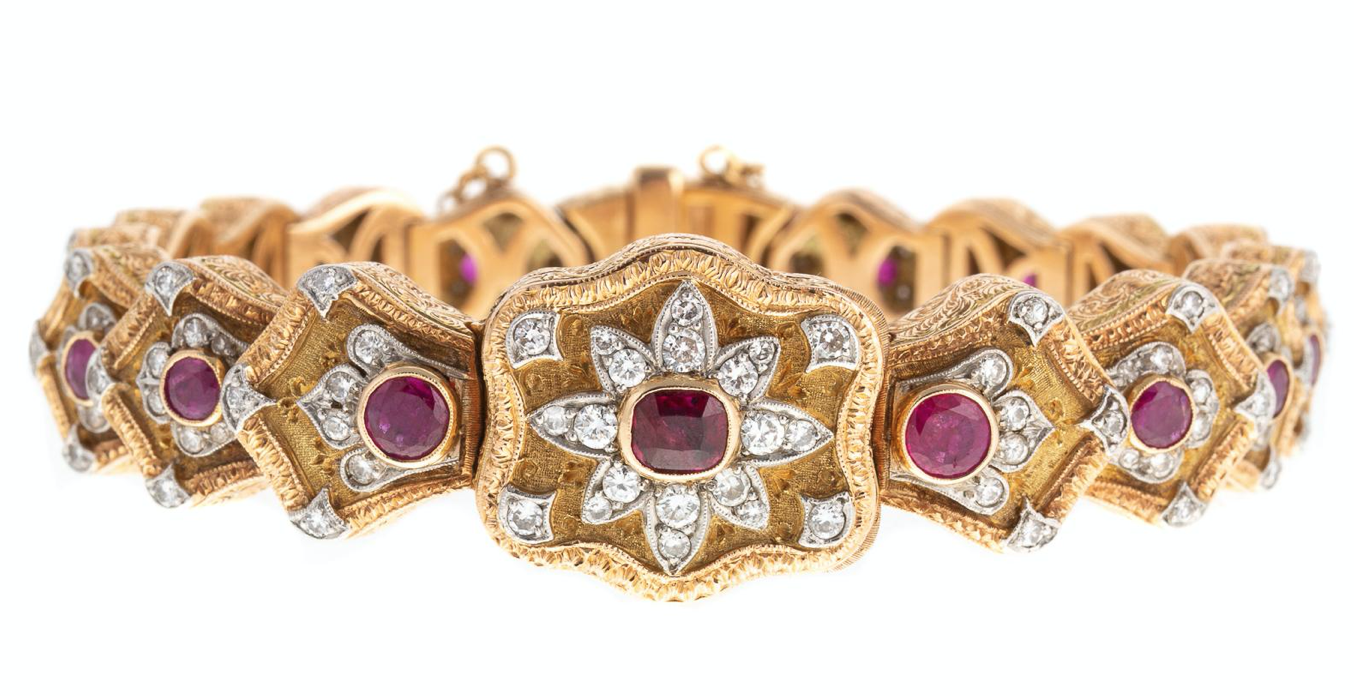 Lot 220, A Spectacular Retro Diamond & Ruby Covered Watch. Available in the upcoming September 30th Gallery Auction.
Jewelry of the 1940s and early 1950s—later coined the Retro era—is characterized by bold, colorful, and innovative designs. The light airiness of platinum Art Deco filigree was discarded in favor of voluminous yellow and rose gold jewelry with sweeping, rounded edges and large, multicolored gemstones. Popular Retro motifs include over-sized bows, scrolls, and ribbons, as well as flowers and birds. Big, juicy rubies paired with accent diamonds became a quintessentially Retro look for earrings, cocktail rings, and brooches.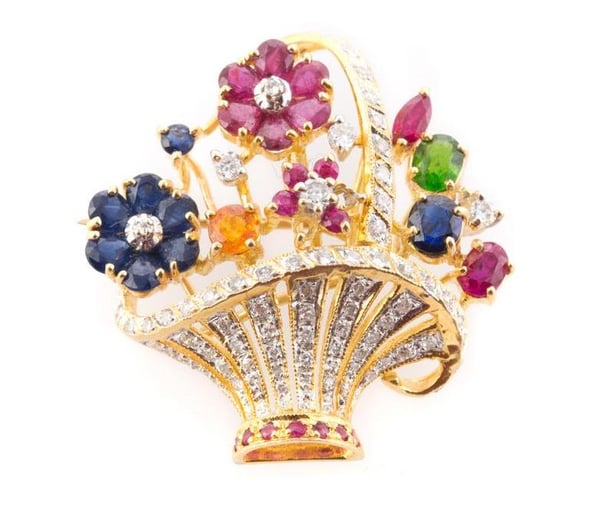 Retro Multi-Gemstone Floral Brooch. Sold at Alex Cooper on January 26, 2017.
With the onset of WWII, precious metals for use in jewelry became scarce. Platinum, in particular, was reserved for the manufacture of military arms, engine parts, and explosives, and was forbidden in jewelry making. Jewelers, however, were not deterred by limited resources and instead preserved gold by using an altered alloy with a high percentage of copper, resulting in yellow gold with a reddish tinge. Rose gold—also high in copper—gained popularity during this time, as well. The yellow gold in lot 171, a Retro ruby and diamond buckle ring, exhibits the red tinge characteristic of Retro jewelry.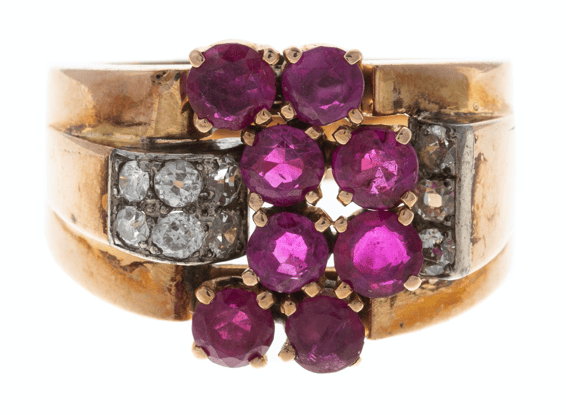 Lot 171, A Retro Ruby & Diamond Buckle Ring in 14K. Available in the upcoming September 30th Gallery Auction.
Additionally, the ring's bold rubies accented by diamonds in buckle design make this ring a classic Retro piece. Lot 233, a Retro demi-parure consisting of a brooch and matching earrings, features the rose gold scroll accents typical of the Retro era.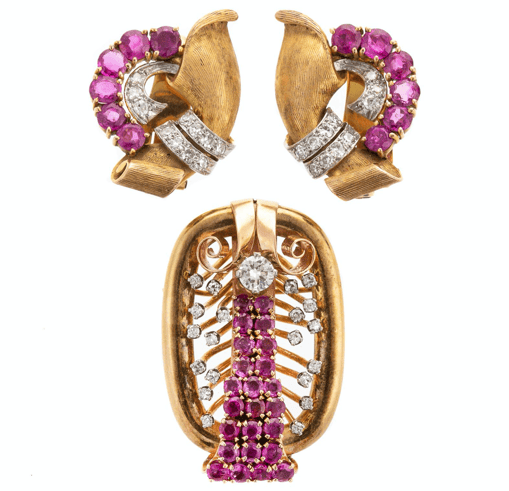 Lot 233, A Retro Ruby & Diamond Demi-Parure in 14K.Available in the upcoming September 30th Gallery Auction.

Innovations in jewelry making helped to define the Retro era's bold new designs. Invisible setting (also known as mystery setting), a jewelry making technique perfected toward the end of 1930s, gives gemstones the illusion of floating side-by-side within a piece of jewelry. To achieve this very precise and complex setting, each gemstone's base is cut with small channels that fit into the grooves of a metal lattice, which remains invisible underneath the stones. Van Cleef & Arpels patented the invisible setting in 1933 and their state-of-the-art designs popularized the technique in Retro jewelry.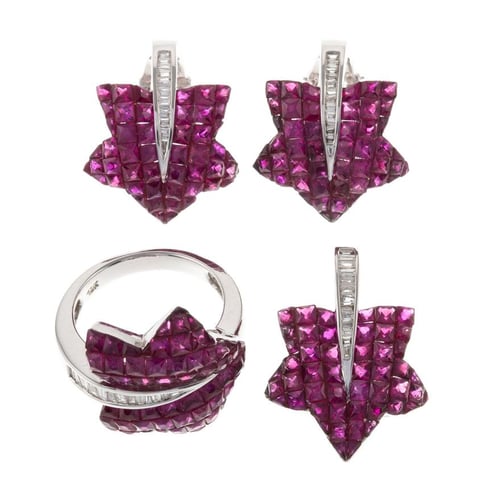 A Set of Invisibly Set Ruby & Diamond Jewelry
Most mining of traditional gemstones, such as sapphire, emerald, and diamond, was halted during WWII, leading to the use of lesser-known and less expensive semi-precious gemstones, like citrine, blue topaz, amethyst, and aquamarine, in Retro jewelry. The lower cost of these gemstones allowed for jewelers to set their pieces with larger stones, creating jewels with blocks of various colors inspired by the modern abstract works of artists like Mondrian and Rothko.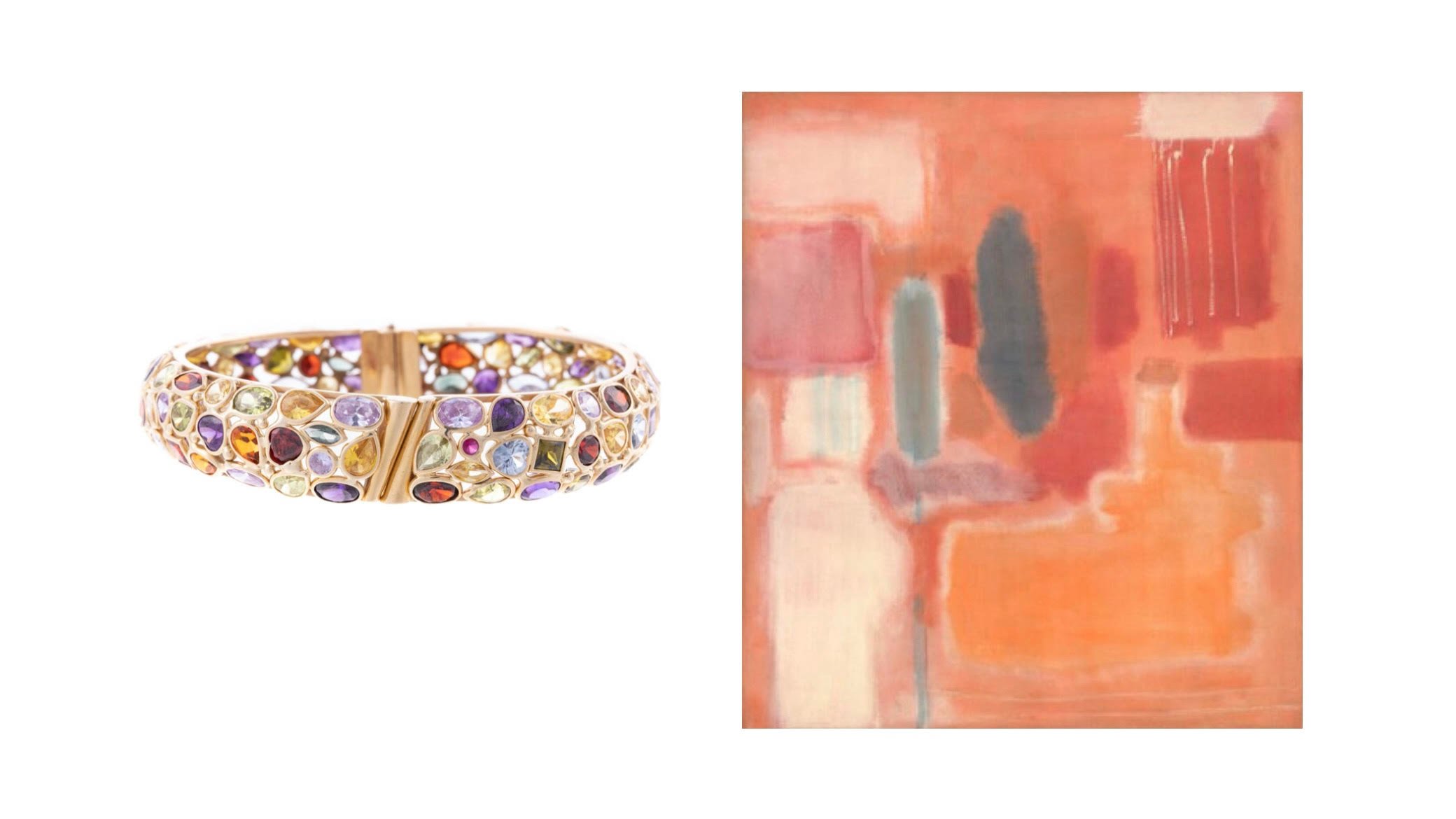 Multi-Gemstone Hinged Bangle in 14K. Sold at Alex Cooper on April 8th, 2021. Mark Rothko, Untitled (Multi-form), 1948, image c/o The National Gallery of Art, Washington, D.C.
Whether in disapproval or support, much of the western world was swept up in the royal scandal created when King Edward VIII abdicated his throne to marry American socialite Wallis Simpson in 1937. Showered in jewels by her groom, Simpson became a jewelry icon in the Retro era. Her jewelry collection consisted of big, custom-made yellow gold pieces dripping in colorful gemstones and her famous Cartier cross charm bracelet sparked the 1940s charm bracelet craze among women ranging from middle class to high society. From these bracelets dangle personalized yellow gold charms marking important milestones, such as a graduation cap or wedding bells. Lot 196 is a vintage charm bracelet boasting an impressive array of eighteen 14K charms, including a baby carriage, a cheerleader, a sewing machine, and a cocker spaniel.

Lot 196, An Impressive Vintage Charm Bracelet in 14K, available in the upcoming September 30th Gallery Auction. Wallis Simpson wearing a large Retro flower brooch, 1941, image c/o Financial Times. Wallis Simpson's Cartier cross charm bracelet, image c/o Sotheby's.
The September 30th Gallery Auction also features two impressive Retro cocktail rings: lot 179, a Retro 35.00 carat citrine and ruby ring in 14K yellow gold, and lot 182, an Retro 34.00 carat aquamarine and ruby ring in 14K rose gold.

Lot 179, A Retro 35.00 ct Citrine & Ruby Ring in 14K and Lot 182, An Impressive Retro Aquamarine & Ruby Ring, both available in the upcoming September 30th Gallery Auction.
For more jewelry in the September 30th Gallery Auction, browse our catalogue here.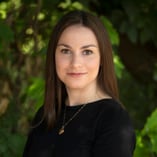 Erin Riggins-Hartlaub
Specialist, Fine Jewelry, GIA AJP
erin@alexcooper.com