Alex Cooper is pleased to offer a stunning 7.06 carat Fancy Yellow cushion-cut diamond ring (Lot 131A) in the April 7th Gallery Auction. Set in platinum with 18-karat yellow gold double-claw prongs and nestled between two sparkling trillion-cut white diamonds, this rare GIA-certified Fancy Yellow diamond will bring joy to any jewelry lover or newly engaged couple.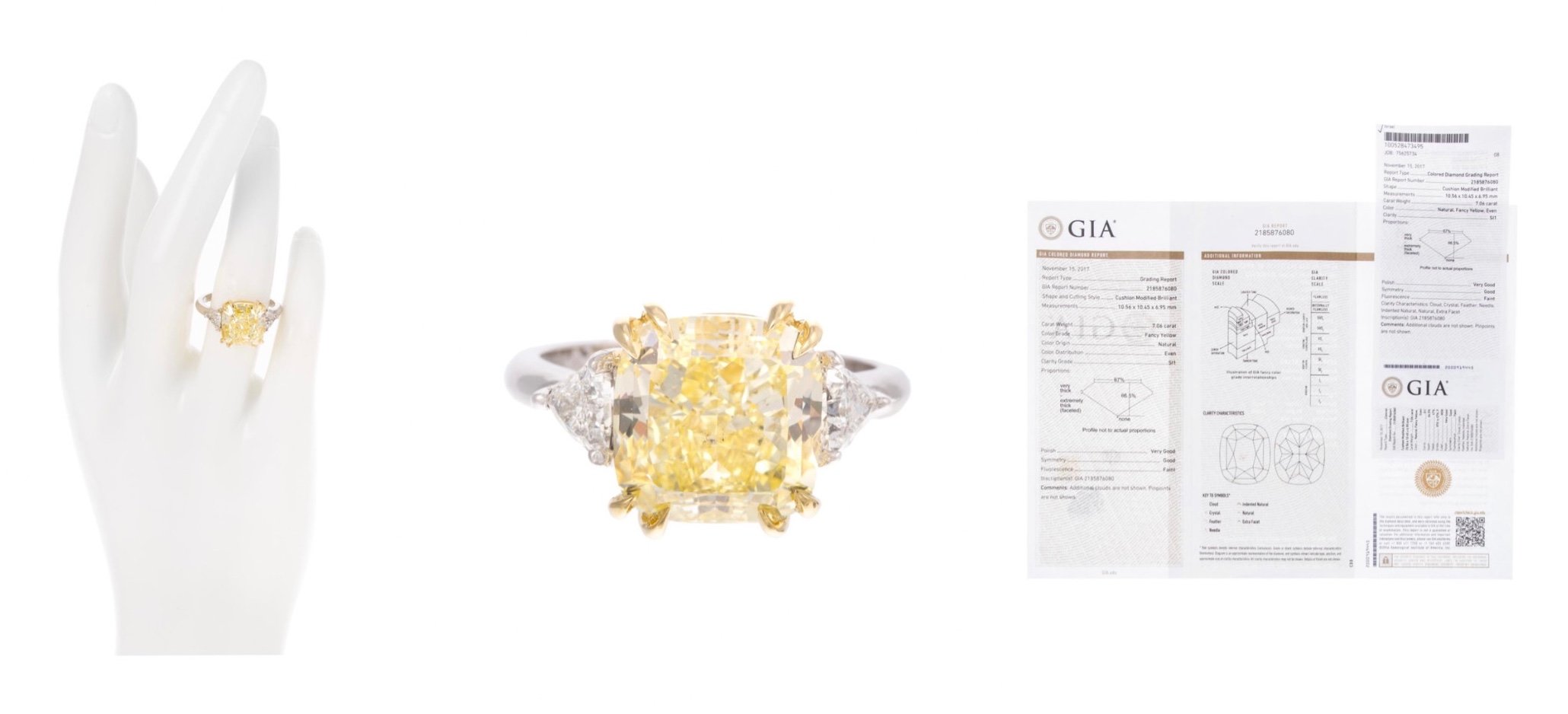 Lot 131A: A Rare 7.06 Carat Fancy Yellow Diamond Ring
What are Fancy Colors?
Most diamonds fall into what the Gemological Institute of America (GIA) has established as the D-Z color range, which refers to diamonds that go from colorless—graded closer to the D end of the scale—to light yellow, brown, and gray—graded closer to the Z end of the scale. For diamonds in the D-Z range, a greater value is assigned to diamonds with the least amount of color because colorless diamonds are rarer. GIA grades diamonds whose color falls outside of the traditional D-Z range as Fancy colors. In Fancy Yellow diamonds, the yellow color is more saturated, evenly distributed, and vibrant than a Z color diamond. Much rarer than normal D-Z range diamonds, only one in every 10,000 carats of diamonds mined is a Fancy color.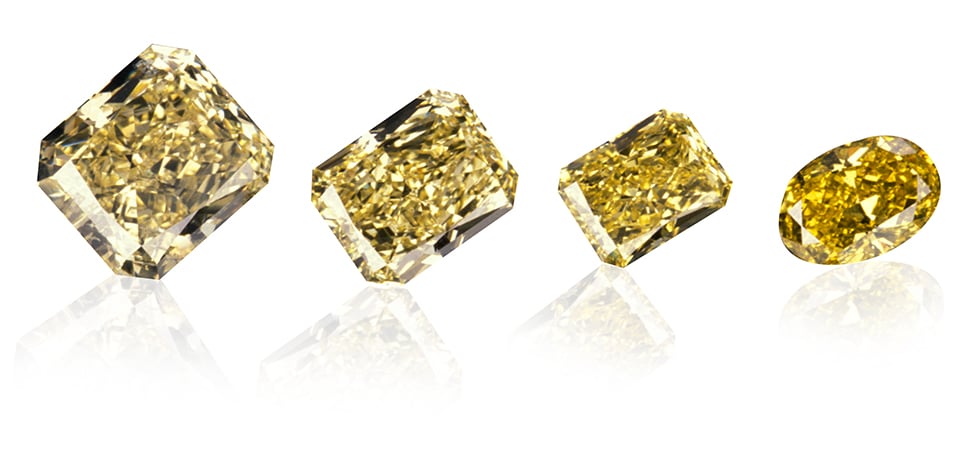 Fancy Yellow Diamond Grade Range, image c/o the Gemological Institute of America
Fancy colors span a broad range of hues, including pink, purple, blue, yellow, green, orange, and red. The cause for each Fancy color is different; Fancy Yellow colors occur when trace amounts of nitrogen are evenly dispersed throughout the diamond crystal. GIA grades Fancy Yellow diamonds according to the color's intensity and places them one of six categories: Fancy Light Yellow, Fancy Yellow, Fancy Intense Yellow, Fancy Dark Yellow, Fancy Deep Yellow, and Fancy Vivid Yellow. A Fancy color diamond's value increases as its color saturation and purity strengthens.
Famous Fancy Yellow Diamonds
Diamonds with intense yellow colors—also called canary diamonds—were not often seen or used in jewelry until the 19th century diamond rush in South Africa. In 1867, a 15-year-old boy found the first authenticated South African diamond along the banks of the Orange River: a 21.25-carat yellow rough crystal called the Eureka Diamond. Later fashioned into a 10.73-carat cushion-cut brilliant diamond (not unlike Lot 131A!), the Eureka Diamond is currently on display in the Mine Museum in Kimberly, South Africa.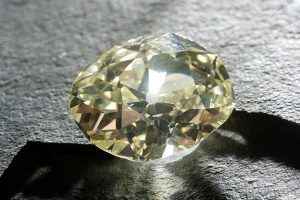 The Eureka Diamond, image c/o De Beers Group and www.gia.edu
Ten years after the discovery of the Eureka Diamond, miners in Kimberly, South Africa, unearthed what came to be known as the Tiffany Yellow Diamond. Originally weighing an extraordinary 287.42 carats, the rough diamond crystal was purchased by Charles Tiffany, founder of Tiffany & Co., and cut into a cushion shape of 128.54 carats. The Tiffany Yellow Diamond has been used in various important settings over the years. One of legendary jewelry designer Jean Schlumberger's iconic "Bird on a Rock" brooches featured the gemstone in 1995, and necklaces boasting the diamond have been famously worn by Audrey Hepburn, Lady Gaga, and Beyoncé.

The Tiffany Yellow Diamond, images c/o The Adventurine and Tiffany & Co.
Fancy Yellow Diamond Rings
If you're searching for a colored diamond for an engagement ring, or want to upgrade your current gemstone, a Fancy Yellow diamond might be the perfect option for you. While incredibly rare and special, Fancy Yellow diamonds are also the most affordable of all Fancy colors. And, with a Fancy Yellow diamond engagement ring, you'd be in good company!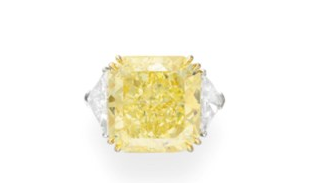 Elizabeth Taylor's 27.42-carat Fancy Intense Yellow Diamond Ring, image c/o Christie's
Elizabeth Taylor's 27.42-carat Fancy Intense Yellow diamond ring, designed by jeweler-to-the-stars, Lorraine Schwartz, sold at Christie's 2011 Legendary Jewels auction for 2 million dollars. Model and TV personality, Heidi Klum, once sported a 10.00-carat oval cushion-cut Fancy Yellow diamond engagement ring also created by Schwartz—who just won best Jewelry Style at last week's GEM awards.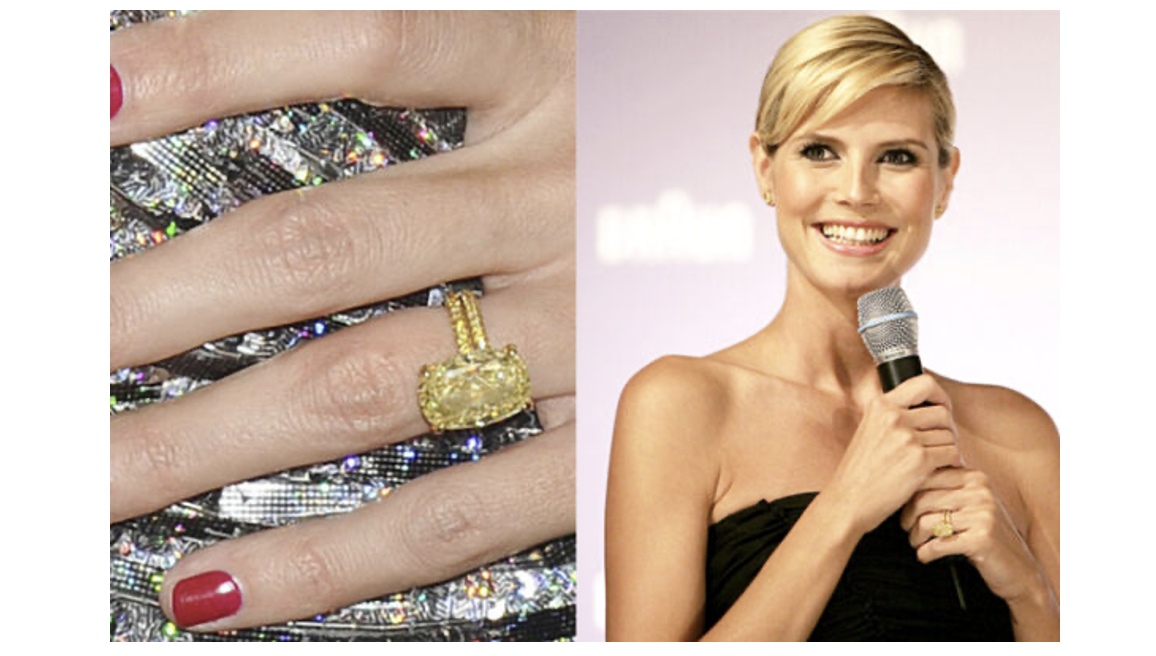 Heidi Klum's yellow diamond engagement ring, image c/o www.cosmopolitan.com
More Yellow Diamonds
For more yellow diamond jewelry, check out Lot 182, an impressive wide, three-row bracelet featuring 22.32 carats of yellow diamonds and 8.89 carats of white diamonds!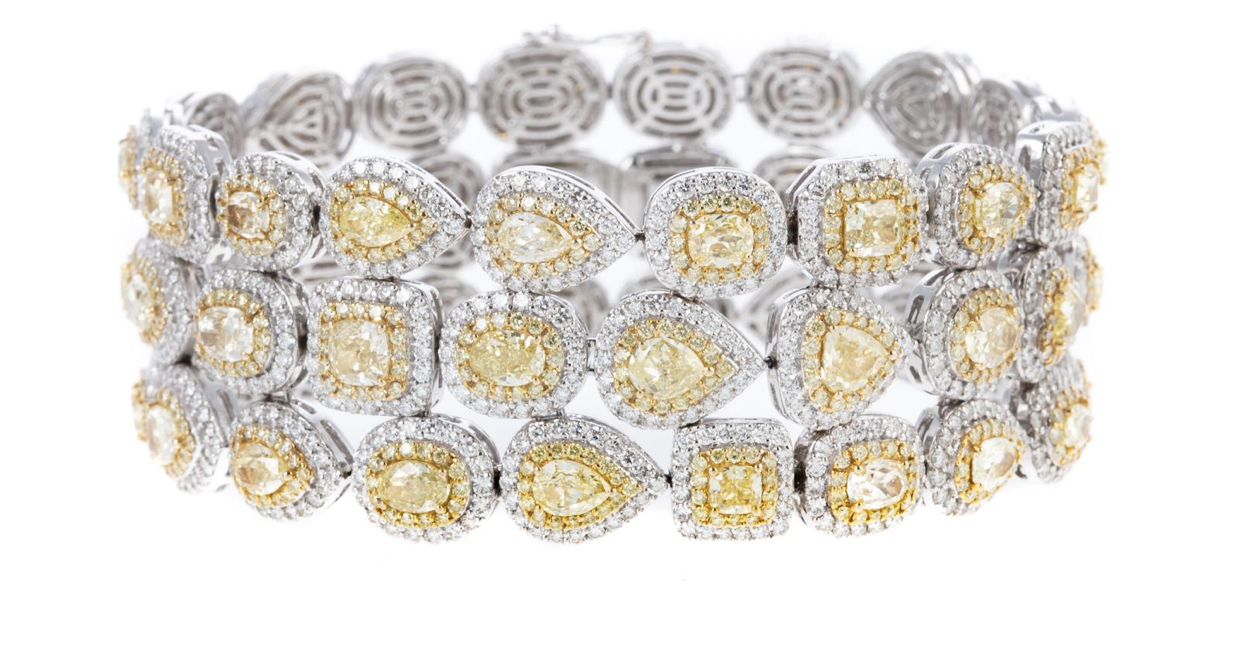 Lot 182: A 31.21 Carat-total-weight Yellow & White Diamond Bracelet in 18K
Lot 182 pairs well with Lot 182A, a pair of yellow and white diamond earrings in 18-karat gold.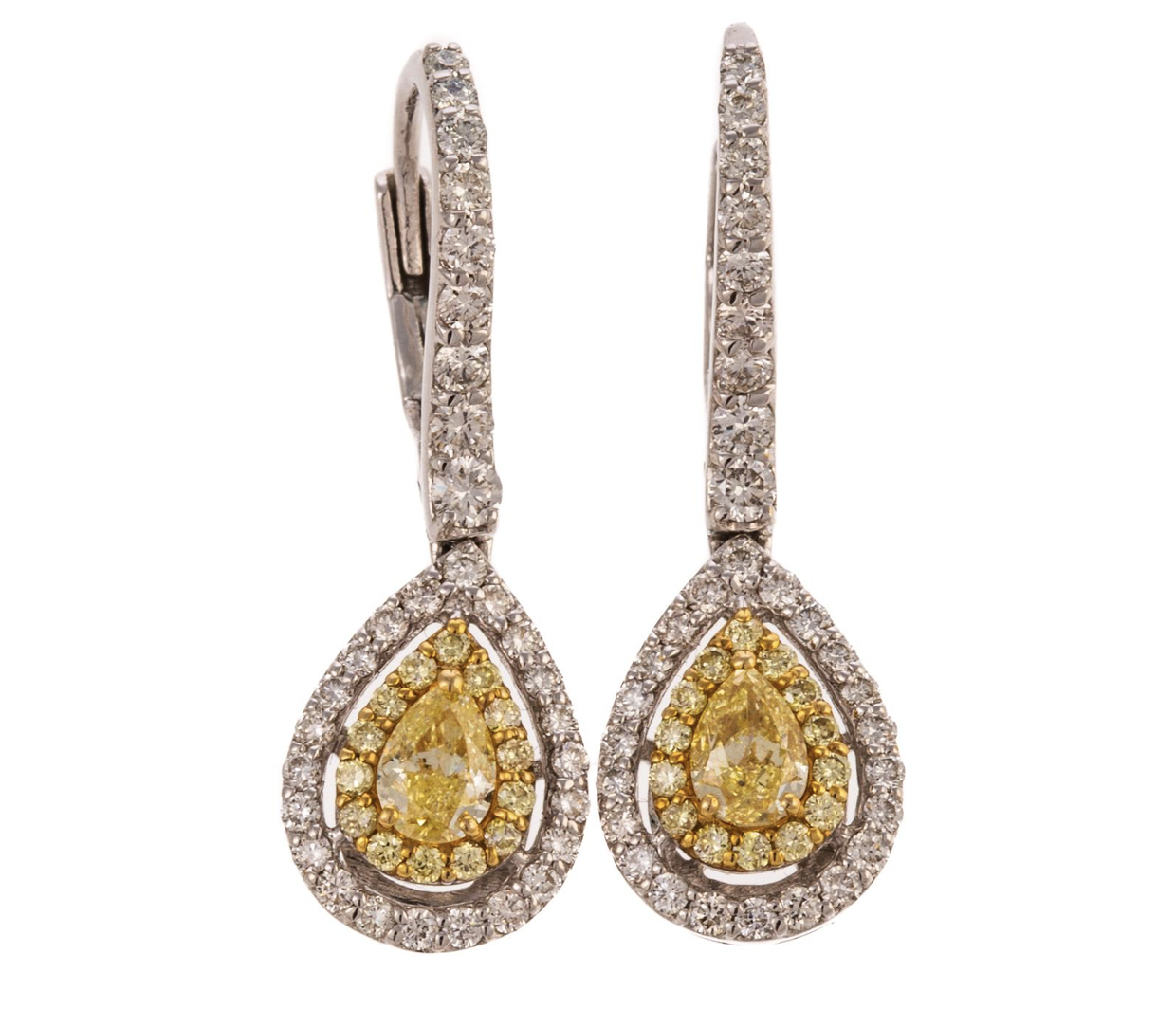 Lot 182A: A Pair of Yellow & White Diamond Earrings in 18K
Browse our auction catalogue for more jewels from the April 7th Gallery Auction.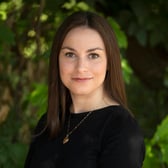 Erin Riggins-Hartlaub
Specialist, Fine Jewelry, GIA AJP & GD
erin@alexcooper.com