Tone Vigeland's jewelry is precise, highly repetitious and ranges primarily in hues of silver to black, while being intensely focused on moving with the contours of the body. She sits at the apex of jewelry and sculpture, transcending the appellation of jeweler for that simply of artist. She is revered in her homeland of Norway. Represented during her career by Electrum Gallery, London; Artwear, New York; and held in museums including the MOMA, New York; the Victoria and Albert Museum, London; LACMA, Los Angeles, in thein the Helen Williams Drutt Collection at Museum of Fine Arts, Houston, and having had a retrospective exhibition at The Design Museum, Munich, she is quite possibly the Norwegian artist most widely represented in museums outside of Norway*.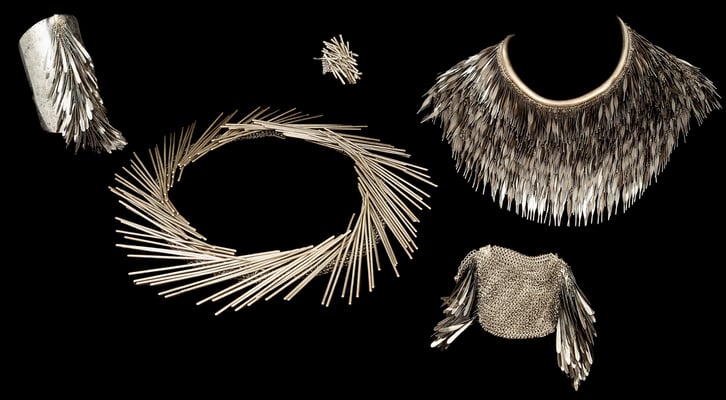 Lots 203 through 206 from our June 8th Gallery Auction
In the mid-1990s Ms. Vigeland stepped away from her jewelry and entered a new phase of artistic creation. She embarked on the sculpture of objects evolving in ever increasing size, culminating in her recent large-scale commission of Sculpture 1, 2022 at the Kristefos Museum. Her unique, handmade jewelry is limited by its very nature and its acquisition, a coup for the serious collector. Lots 203 to 206 in our June 8th Gallery Auction offer a selection from arguably Tone Vigeland's most exciting period of jewelry production, each piece delicately constructed, yet with immutable presence.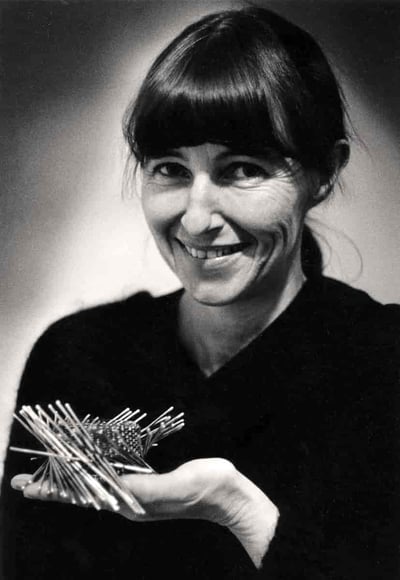 Tone Vigeland with one of her pieces (Photo credit: Arne Ove Bergo / NTB Scanpix)
Born in Oslo, Norway in 1938, Tone Vigeland descends from a venerable family of artists. The great niece of noted sculptor Gustav Vigeland, and niece, granddaughter, and daughter to painters, from a tender age Tone focused her creative energy in the realm of jewelry. She attended the Norwegian College of Art, Crafts and Design and the Olso Vocational school where she studied goldsmithing, with immediate accolades following her student exhibition. She followed this formative success with an apprenticeship at the PLUS Center for Arts and Crafts in Fredrickstad. Here, surrounded by a collective of artists, Tone produced Scandinavian Modern jewelry intended for the commercial market, characterized by unadorned, minimal, and elegant brightly polished forms.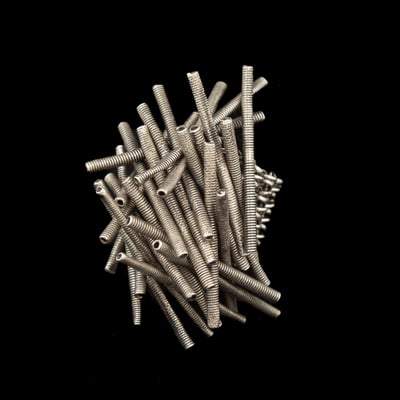 Lot 203a, A Tone Vigeland Silver Mesh & Rod Ring. For a similar unsigned ring see the Art Gallery of South Australia, Adelaide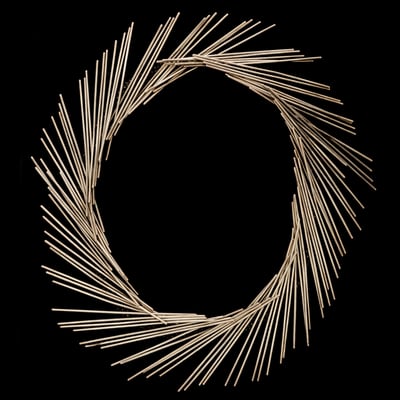 Lot 203, An Impressive Tone Vigeland Silver Necklace
In the early 1960s she established her own studio. Now unconstrained by the commercial market, a new style emerged. Hammer marks, delicate tooling and an exploration of small chain links reflect a new suppleness. Her jewelry became increasingly concerned with following the contours of the wearer, while drawing inspiration from her homeland. Concurrently the art world itself underwent a radical period of change, redefining the role of the artist, process, and concept. Jewelry, not for the sake of decoration, but as original art became more accepted, from which the idea of "wearable art" emerges. This allowed for a break from convention and increasing experimentation.
"Her dedication to creating wearable jewelry using the body to sculpt them is remarkable. Thanks to the way they are made, constructed out of a single element, endlessly repeated, her pieces follow every curve and line of the body and seems nearly inseparable from the people who wear them." - Cecile Malm Brundtland, on Tone Vigeland
She looked to European and Japanese medieval chainmail and traditional Indian jewelry, not in a bid to recreate a known process, but for the sinuous flexible qualities they invoked**. Vigeland utilized metals in her jewelry, both precious and humble, almost to the exclusion of all other materials. At once transformed and bending to the will of the artist, her patience and penchant for highly precise repetition, form the jewelry into a sinuous piece of wearable art. It is in fact, the nail which becomes a veritable trademark for Tone Vigeland's jewelry.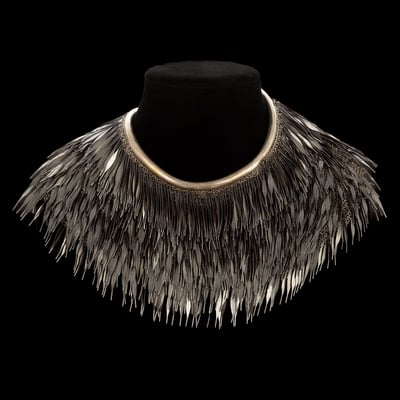 Lot 204, An Important Tone Vigeland Feather Necklace
"The way I got the idea for the feather series was pure luck. A friend from Bergen came to me with a set of black iron nails. I found that when I hammered them flat, they had a lovely character – almost like black feathers. So, in this case, first I discovered the material, and then I found the design to suit it."***
This is precisely what we see in lots 204 through 206, found objects reforged and painstakingly adhered to precious silver, while lots 203 and 203A display threaded rods floating across silky mesh chain. At once associated with, but not made for the Punk movement, her jewelry was worn by stars such as Marianne Faithful. Yet her inspiration is organic, stemming from the Norwegian landscape and Nordic culture. The wearer is imbued with the spirit of Vikings, at once armored and protected. Her jewelry is immediate and commands notice. It is as at home on display in an art collection, as it is against the skin.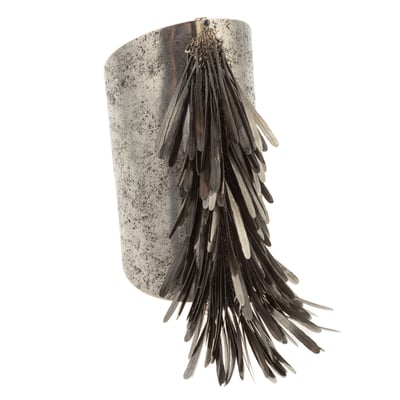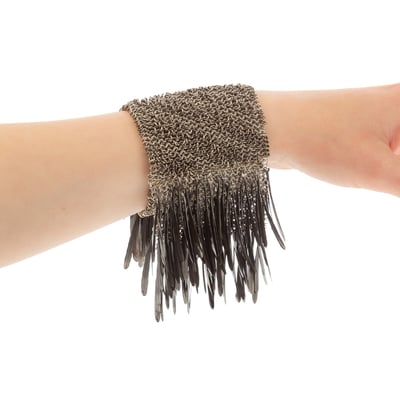 Lot 205, A Tone Vigeland Silver Feather Cuff and Lot 206, A Tone Vigeland Silver Feather Bracelet
In New York city Robert Lee Morris outfitted the brightest and boldest personalities and stars of the time with the indomitable jewelry he stocked at Artwear, including Bianca Jagger, Madonna, Oprah, and the list goes on and on. Regarded not as boutique jewelry, yet too Avant Garde and precious to be classified as costume, this new genre of jewelry pushed boundaries and invited patrons to literally wear art. Tone Vigeland was a key artist represented in that hallowed gallery in Soho.
Similar examples of the lots offered can be found in Cecile Malm Brundtland's book, Tone Vigeland: Jewellery + Sculpture, Movements in Silver, 2003, Arnoldsche Art Publishers.
For questions, direct all enquiries to Christine:
Christine Apostolou
Specialist of Jewlery
* The Royal House of Norway, https://www.royalcourt.no/nyhet.html?tid=165140&sek=27262#:~:text=Die%20Neue%20Sammlung,represented%20in%20museums%20outside%20Norway. September 20, 2018.
** Malm Brundtland, Cecile. Tone Vigeland: Jewellery + Sculpture, Movements in Silver, 2003, p.25-26
*** Asman, David. "Bringing Drama to Jewelry." Scanorama, the Magazine of SAS, July-August, 1983, p.82