Hanau silver has an unusual and complicated history. Emerging in the 19th century German city of Hanau, the silversmiths made silver objects in the earlier Continental period styles of the 16th-18th centuries, often reinterpreting the extravagant and ornate decoration. To the unfamiliar eye, the decoration and marks resemble actual pieces of the earlier styles. At first glance, it's easy to be fooled by a piece made in the early 20th century, but presenting in the 18th century Rococo style, with marks that resemble French silversmiths. The Hanau silversmiths worked outside of the conventional standard of guilds and official hallmark system, leaving their unregistered marks difficult to attribute to their makers. Scholars have spent years comparing marks and pieces to one another to create a catalogue of makers.
Many silver collectors and dealers who appreciate Hanau silver are attracted to the ornate decoration and unusual history. The craftsmanship and knowledge of period styles is notable. Although not particularly rare, the pieces can command good prices at auction based on their distinct history and look. Alex Cooper Auctioneers has sold several pieces including a pair of figural bon bon dishes in the Rococo style. Modestly estimated at $400-600, they sold for $1,100 in April 2022.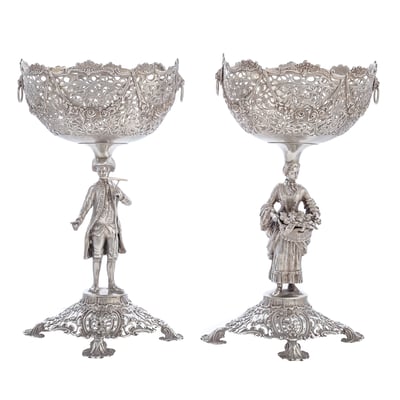 Lot 401, A Pair of German Silver Figural Bon Bon Dishes sold in Alec Cooper's April 7th 2022 Gallery sale.
From that same auction was a tea caddy with Hanau marks, lot# 413. It demonstrates that Hanau silversmiths worked across a variety of forms.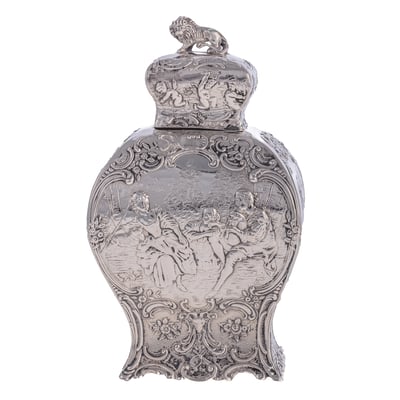 Lot 413, German Silver Repousse Tea Caddy sold in Alec Cooper's April 7th 2022 Gallery sale.
The June 8, 2023 auction has a pair of candlesticks with Hanau pseudo marks. These candlesticks were made at the turn of the 20th century but reflect the Neo Classical style of the early 19th century, with elegant swans and applied portrait medallions.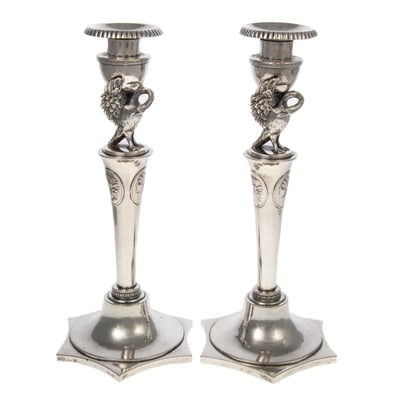 Lot 416, A Pair of Continental Silver Candlesticks
Familiarizing oneself with the artistry and marks of Hanau silver objects takes some study, but over time the pieces will reveal what makes them special, even with their unusual history.
Lisa Jones
Director of Silver and Decorative Arts