You know that Alex Cooper is well known for selling the work of the world's most famous artists. But, did you know that we also like to feature work by artists of more regional acclaim? The Maryland Institute College of Art, located in Baltimore, has gifted the city with a steady flow of amazing art and artists for generations. Having a nationally recognized art school in our midst has resulted in a thriving arts community. The December Auction presents an almost "Who's Who" of the Baltimore art scene. There are so many lovely pieces to choose from, but the following are my top picks.
If you have been following our auctions, you know that we have been selling the Estate of Artist, Nathaniel K. Gibbs, for a few years, including successfully placing his portrait of Thurgood Marshall at the Maryland Center for History and Culture. Passion and Purpose – Maryland Center for History and Culture (mdhistory.org) In addition, you can see a reproduction of his work on display at the United States Botanic Garden in Washington, DC, as part of the "Cultivate: Growing Food in a Changing World" exhibit. While we are nearing the end of his collection, four lots of his work are coming to auction. Don't miss lot 1322, "Trio of Self Portraits." Each one has a different perspective and expression and I can't choose which self-portrait I like the most. Take a look and see what you think.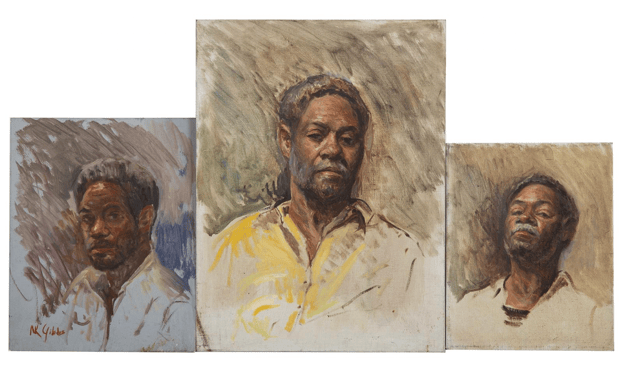 LOT 1322: NATHANIEL K. GIBBS. TRIO OF SELF PORTRAITS, OIL
Robert Seyffert has been showing work in and around Baltimore since the 1970's. His work appears in the collections of the National Portrait Gallery, the Courthouse of the City of Baltimore, University of Maryland, Bank of America and Towson University among others, including various private collections. Oil Painting - Lively, Original Artworks (robertseyffert.com) I love lot 1312 "South Baltimore." This oil on canvas depicts the quintessential row house neighborhood found all over Baltimore. I love the use of color and the evening shadows. I especially love the patch of snow on the lower right corner.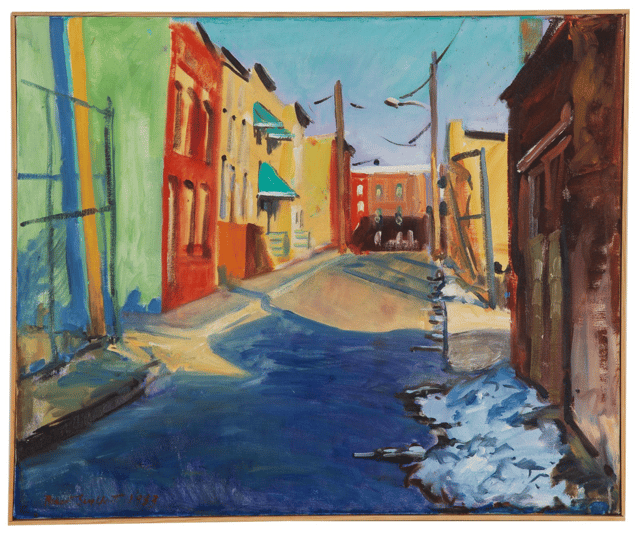 LOT 1312: ROBERT SEYFFERT. "SOUTH BALTIMORE," OIL
Recently deceased artist, Brent Crothers, has two of his wood sculptures in the auction. Crothers, was a prize-winning sculptor who began his career in his family's plumbing business and later received a scholarship to the Maryland Institute. Crothers works are constructed from fallen trees, trunks and branches, as well as other repurposed objects. In 2014, the artist went on to win the distinguished Baker Artist Award. Of the artist, former director of the Baltimore Museum of Art, Doreen Bolger, said, "Brent Crothers created such amazing work that is both visually appealing and significantly meaningful."
Lot 1309, "History Is Never Behind" is a mixed media wooden sculpture with brass elements. It also comes with the artist's storage box which is covered in his writings and renderings. Brent Crothers's portfolio | Baker Artist Portfolio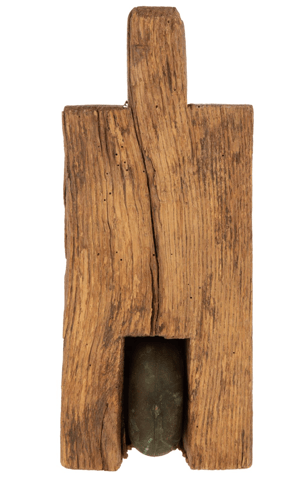 LOT 1309: BRENT CROTHERS. "HISTORY IS NEVER BEHIND," MIXED MEDIA
My final favorite lot is lot 1252 which offers a pen and ink drawing along with a bronze by artist, Reuben Kramer. From the Estate of Lois Hoffberger Blum Feinblatt, these two works would be a lovely addition to any collection. I love the bronze of a standing nude female holding flowers. It stands 15 inches tall and is dated and signed. Kramer, often cited as Maryland's most celebrated sculptor was known for his depictions of the human figure. Reuben Kramer - a life in bronze; Sculptor: The artist shaped his art in Baltimore, scattering his works throughout a grateful city. – Baltimore Sun The pen and ink work is compelling as it shows a man looking at his reflection, aptly titled "Man and Mirror."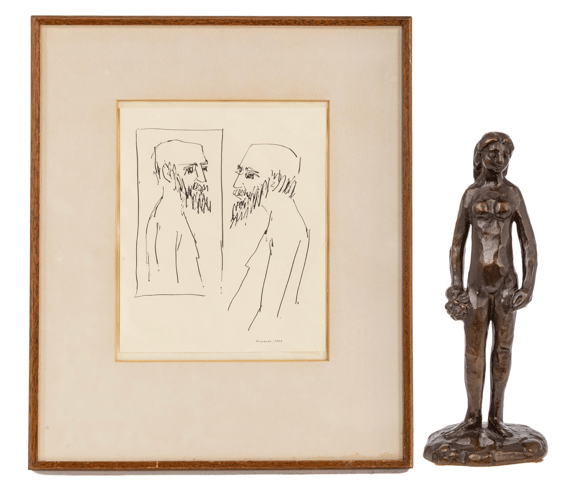 LOT 1252: REUBEN KRAMER. TWO WORKS, BRONZE AND PEN AND INK
Although these are my favorites, don't miss all the amazing works in the auction, including the ones by Baltimore artists.
As always, happy collecting!
Kathleen Hamill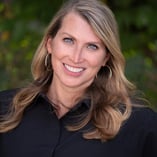 Director, Modern and Contemporary Art
Fine Arts Appraiser, USPAP
kathleen@alexcooper.com