In celebration of Black History Month, Alex Cooper is pleased to be offering a number of exceptional works by notable African American Artists in the upcoming February Art Auction. The auction headliner is a remarkable oil painting by Edward Mitchell Bannister, arguably one of the most renowned African American Artists.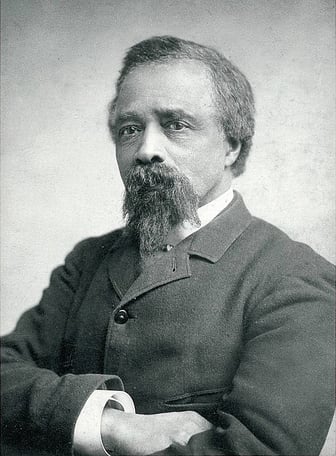 Photo of Bannister-Gustine L. Heard, public domain via Wikimedia Commons
Born in New Brunswick, Canada, Bannister relocated to the United States in the 1840's and settled in New England. He rapidly became part of the region's artist community, despite the adversity of racism. Since Bannister's formal artistic studies were limited, it was remarkable that five years upon arrival in Rhode Island, one of his paintings, Under the Oaks, was accepted in the Philadelphia Centennial Exposition of 1876 where it received first prize. Of the moment the prize committee discovered he was a black man, Bannister said, "An explosion could not have made a more marked impression." Unfortunately, the location of the painting has not been known since the turn of the century.
Bannister has been described as being influenced by the Barbizon School, painting quiet landscapes with a soft hand and a limited palette of muted colors. His works contain little social or racial overtones, despite him being committed to freedom and equal rights for African Americans. His work has been largely ignored and forgotten by art history for almost a century, primarily due to racial prejudice. Bannister went on to become an original board member of the Rhode Island School of Design and a founder of the Providence Art Club. It is such an honor to bring one of his works to the auction market.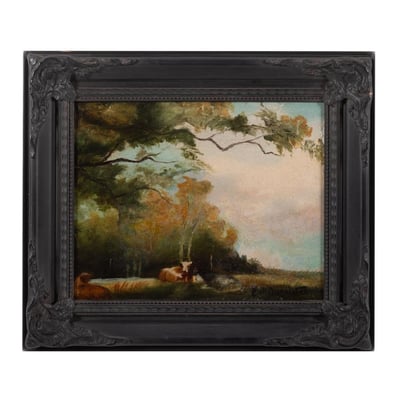 Lot 1221, Edward Mitchell Bannister. Cows in Landscape, oil
Formally untitled, but described as Cows in Landscape, this diminutive landscape depicts a moody sky behind a group of resting cows. The painting has been lovingly cleaned and restored by Twistback Art Conservancy in Oxford, PA. The piece appears at lot 1221 with and auction estimate of $10,000-$20,000. Cows in Landscape presents an opportunity that cannot be missed.
Of the piece, conservator Margaret Jayne Rosen said, "The painting by Edward Bannister is a lovely, peaceful, pastoral scene with cows, and a pastel sky interrupted by leafy branches of unseen trees. The painting is a fine example of Bannister's ability as a student of fine art composition, and the accomplished artist that he was."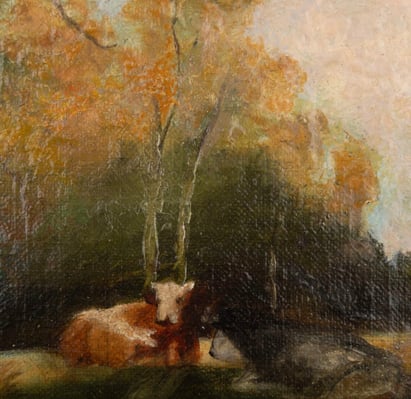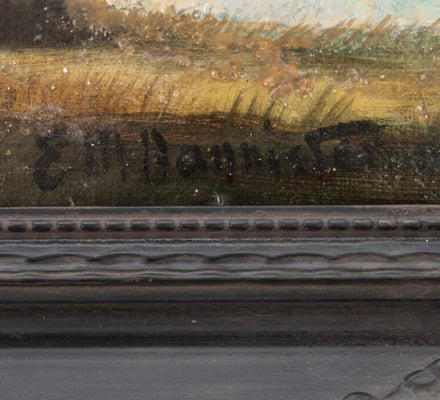 Close ups of Lot 1221, Edward Mitchell Bannister. Cows in Landscape, oil
In addition to the Bannister, there are other important pieces to mention. Nathaniel K. Gibbs has a selection of drawings and watercolors, including a grouping of early sketchbooks. His stately oil painting, Lions Den, at lot 1319 depicts the biblical scene of Daniel and the lions den and the use of light and shadow is exquisite.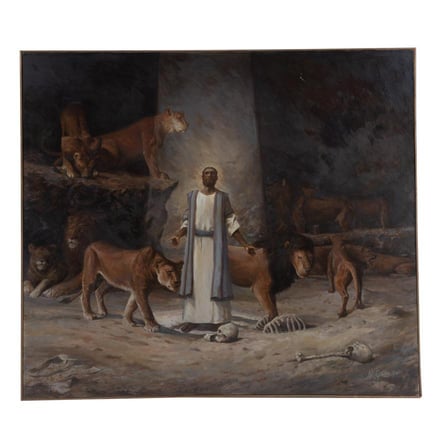 Lot 1319, Nathaniel K. Gibbs. "Lions Den," oil
A number of pieces from the collection of Washington, DC, artist and activist, Evangeline J. "EJ" Montgomery, are also featured. My favorite from her collection is lot 1314, Portfolio One, by Tom Feelings that includes a selection of nine lithographs in the original portfolio inscribed to Montgomery by Feelings. Coincidentally, EJ was just featured in the Artsy Blog, 28 Overlooked Black Artists to Discover This Black History Month by Ayanna Dozier.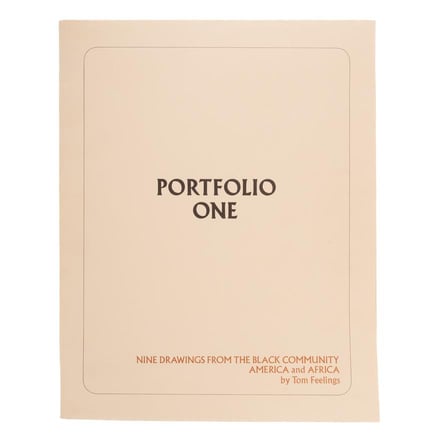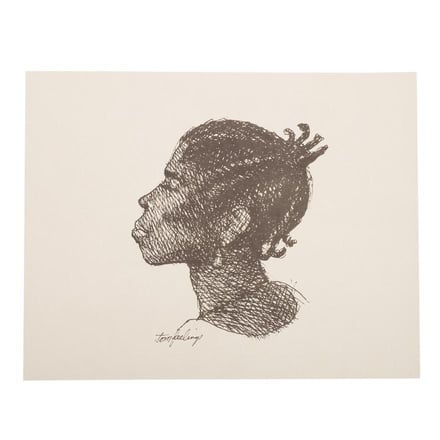 Lot 1314, Tom Feelings. "Portfolio One," lithographs
Other artists represented in the auction include Kenneth Gatewood, Margo Humphry, David Phillip Bradford, Bernard Brooks, James Denmark and Charles Bibbs. For more information about the Bannister, or any of the other artists or works, please visit bid.alexcooper.com or contact kathleen@alexcooper.com.
Happy collecting!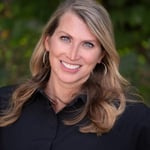 Kathleen Hamill
Director, Modern & Contemporary Art
kathleen@alexcooper.com