In celebration of Black History Month, I am honored to be offering a number of exceptional pieces by notable African American Artists. I am in awe of the breadth of talent and the variety of genre, medium and point of view. The auction is headlined by an exceptional abstract bronze by the Chicago sculptor, Richard Hunt, (lot 1212) and comes from a very prominent Baltimore private collection.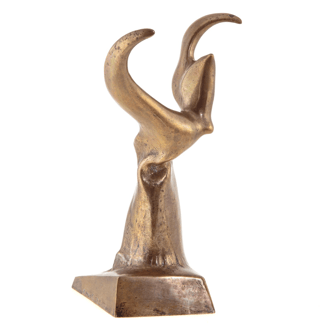 Baltimore artists are well represented with a stunning mixed media piece by Carl Howard Greene, Jr., (lot 1204), "Her New Dress," a charming oil by Thomas Stockett (lot 1220), a striking a minimal serigraph, "Natural Rhythm," by Larry Poncho Brown (lot 1205) as well as a selection of works by Nathaniel K. Gibbs. I love lot 1249a which features two watercolors of Baltimore Arrabers and while we have offered numerous oils on canvas by Gibbs, these little watercolors are a rare treat.

Star Wars fans won't want to miss Billie Dee Williams' (lot 1218) exciting portrait of Aretha Franklin. These notable works, and more, are part of our upcoming Gallery Auction which runs until March 6th.
Kathleen Hamill
Director, Modern and Contemporary Art
kathleen@alexcooper.com