The December Art auction, along with all the other amazing pieces, presents the second part of the Collection from the Estate of Debra Joseph Diamond. A self-described "former Wall Street money manager and artist who left a high profile life to pursue a life of purpose and spirituality," Diamond was a clairvoyant, a medium, an author, and an artist, notably profiled in the Wall Street Journal, Forbes, The Washington Post, The San Francisco Chronicle, and The Baltimore Sun and exhibiting at DC's Touchstone Gallery, among others. Diamond amassed an impressive art collection including a large amount of impressive work by female artists, several of them affiliated with Baltimore and the Maryland Institute College of Art (MICA).
The collection includes works by female artists Leslie Machinist, Tammra Sigler, Betsey Heuisler, Suzanne Caporael, Gladys Goldstein, Minda Hess, Gloria Cesal, and a piece by Diamond herself, as well as two standout works by Richard Serra and William Gear.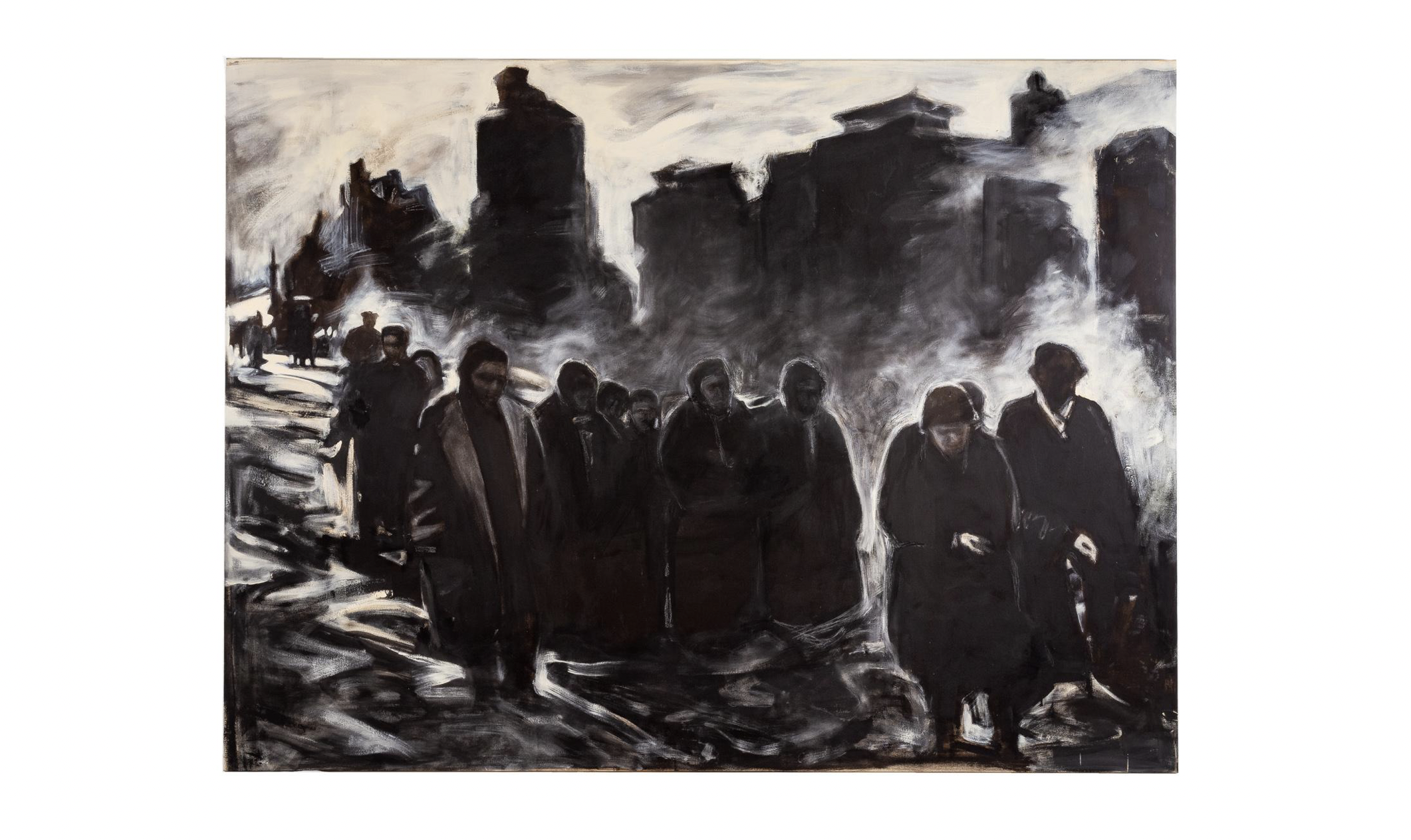 One of the most striking works from the collection is lot 1234 "Expulsion (London)" by Leslie Machinist. This monochromatic oil on canvas measures a stately 73 ¾ x 99 ½ inches. About the piece, Machinist states, "I painted Expulsion in 1989 - oil on canvas. All my work was black and white. That piece referenced several photographs taken by photojournalists documenting the Bombing of London during WW2. My work was largely about social commentary, but also very much about formal issues - I was very interested in light and shadow, and abstractly painting the figure that ultimately appears realistic. I actually remember making that painting because I had to find a way to use paint in I way I hadn't before. I think it was one of my best pieces."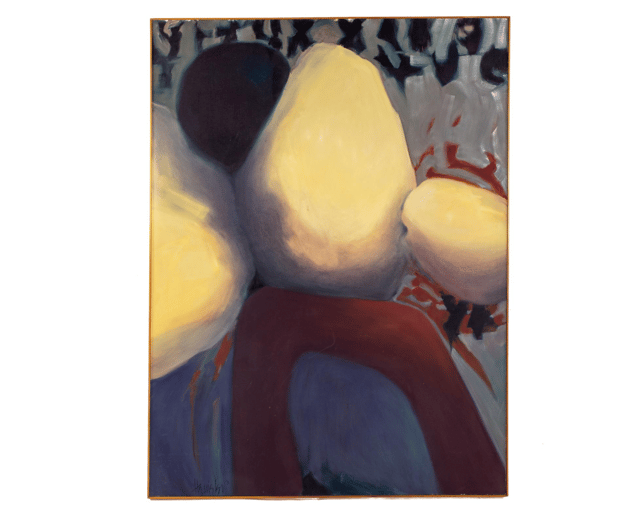 Another standout work is lot 1236, "Eggs," by Betsey Heuisler. Heuisler, died of cancer in 2020 and donations in her memory went on to fund a scholarship at MICA. Her husband, Stan Heuisler reflected in her MICA obituary, "In 1969, while she was still a graduate student at MICA, Betsey Heuisler's serigraph "Soaring Red" was selected to hang in the Baltimore Museum of Art's prestigious Biennale. Later she taught painting and drawing at MICA, and created and taught the school's summer program in San Miguel de Allende, Mexico. Her son and daughter-in-law both graduated from MICA and her daughter-in-law works in the school's admissions department. The school was a lodestone for Betsey in selling paintings coast to coast and teaching art to students from high school to graduate medical schools." While she was later known for her work reflecting hand formations, we are pleased to be offering this work that Diamond unofficially titled "Eggs."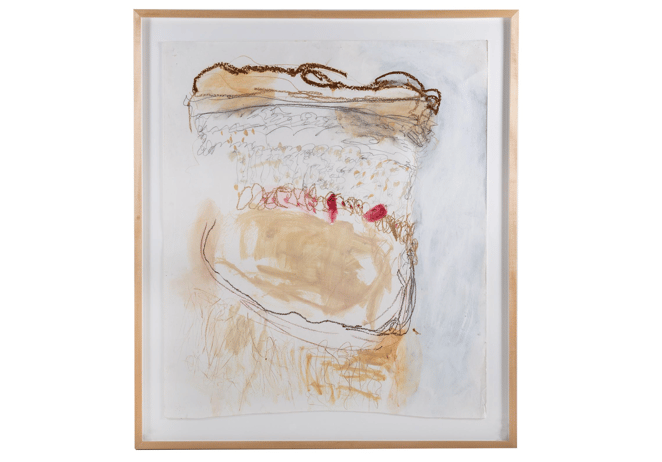 Lot 1240, "Birthday Cake," is a mixed media work by Diamond, herself. The work features an organic, whimsical cake form surrounded by free form "words." Much of Diamond's work includes text, many of it legible but many of it appears random and stream of consciousness. Look for more of Diamond's work in the Spring as we bring her personal body of work to auction.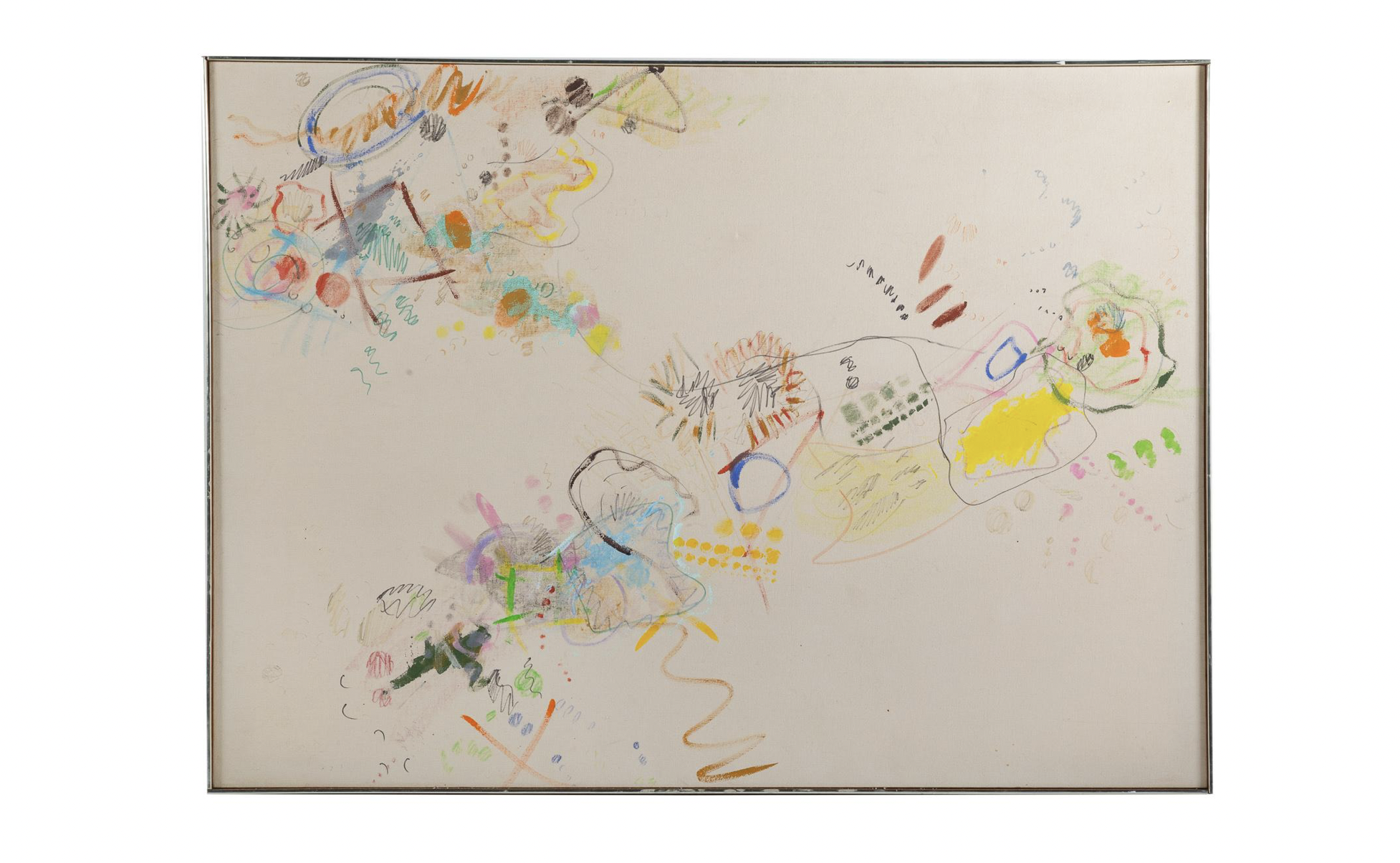 Lastly, my favorite piece is lot 1243, "Etep," a mixed media piece by Minda Hess. The American artist is new to the auction scene, her previous piece, "Napaj" sold at Doyle New York in 2016. I can clearly see why Diamond would have been drawn to Hess's work. "Etep" is playful with its childlike drawings but the composition is clearly intentional. This piece is not to be missed.
For more information on these pieces, others in the Diamond Estate Collection, or the rest of the auction, please click here.
Happy Collecting!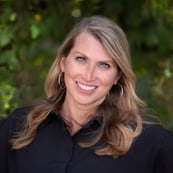 Kathleen Hamill
Director, Modern and Contemporary Art
Fine Arts Appraiser, USPAP