Diamond's allure has endured centuries. By 100, AD, diamonds were regarded as objects of beauty and desire. The Roman philosopher and naturalist, Pliny the Elder, claimed, "Diamond is the most valuable, not only of precious stones, but of all things in this world." The earliest known diamond engagement rings date back to the late 14thcentury. Hollywood jewelry icon Elizabeth Taylor's love of diamonds is legendary. From her 29.4 carat emerald-cut diamond engagement ring from Mike Todd (which she affectionally called her "ice-skating rink") to her 33.19 carat "Taylor-Burton" Asscher-cut diamond ring, Taylor knew the true wonders of the gemstone, famously declaring, "Big girls need big diamonds."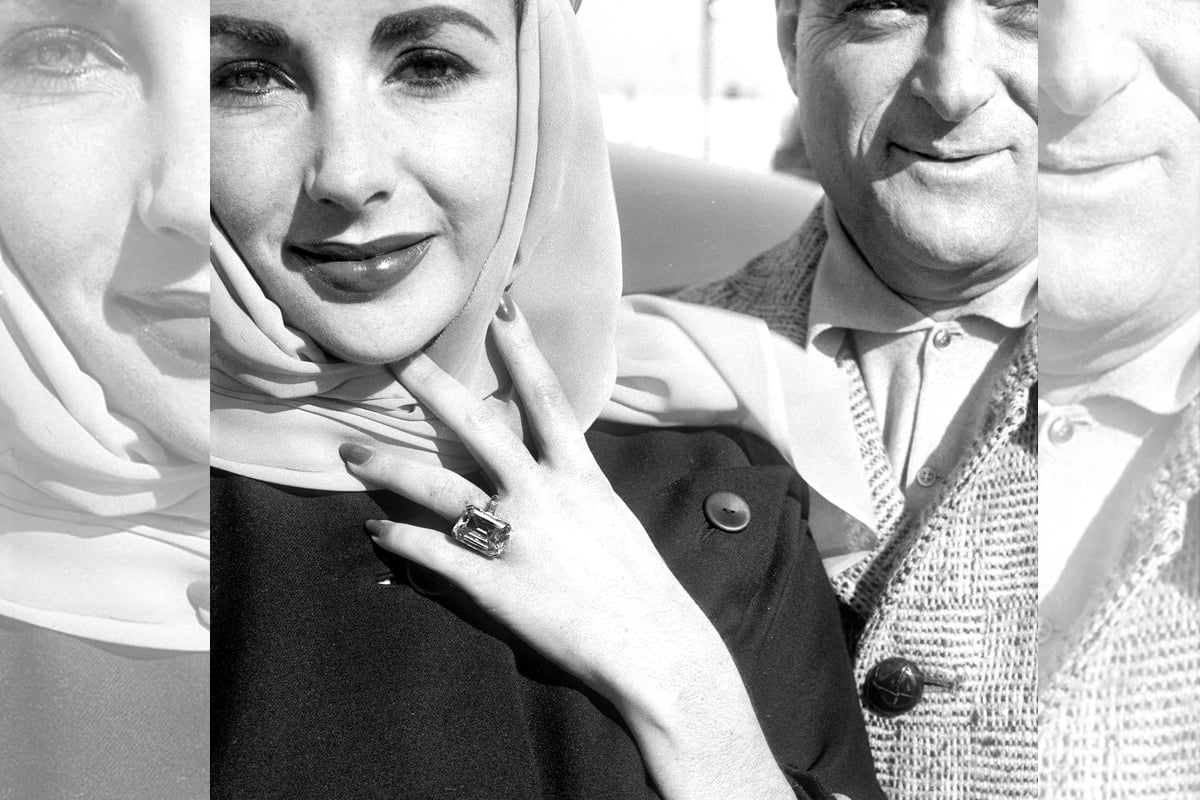 Elizabeth Taylor's 29.4 carat diamond ring in 1956, image c/o Katerina Perez
Rare marvels of nature, diamonds formed deep in the earth well before the human fascination with them began. Predating the dinosaurs by 2.85 billion years, the oldest known diamonds, recovered from Canada's Diavik and Ekati mines, have been determined to be 3.3-3.5 billion years old. In addition to their remarkable age, diamonds are incredibly tough, withstanding tremendous amounts of heat and pressure to make them the most durable and sparkly of all gemstones.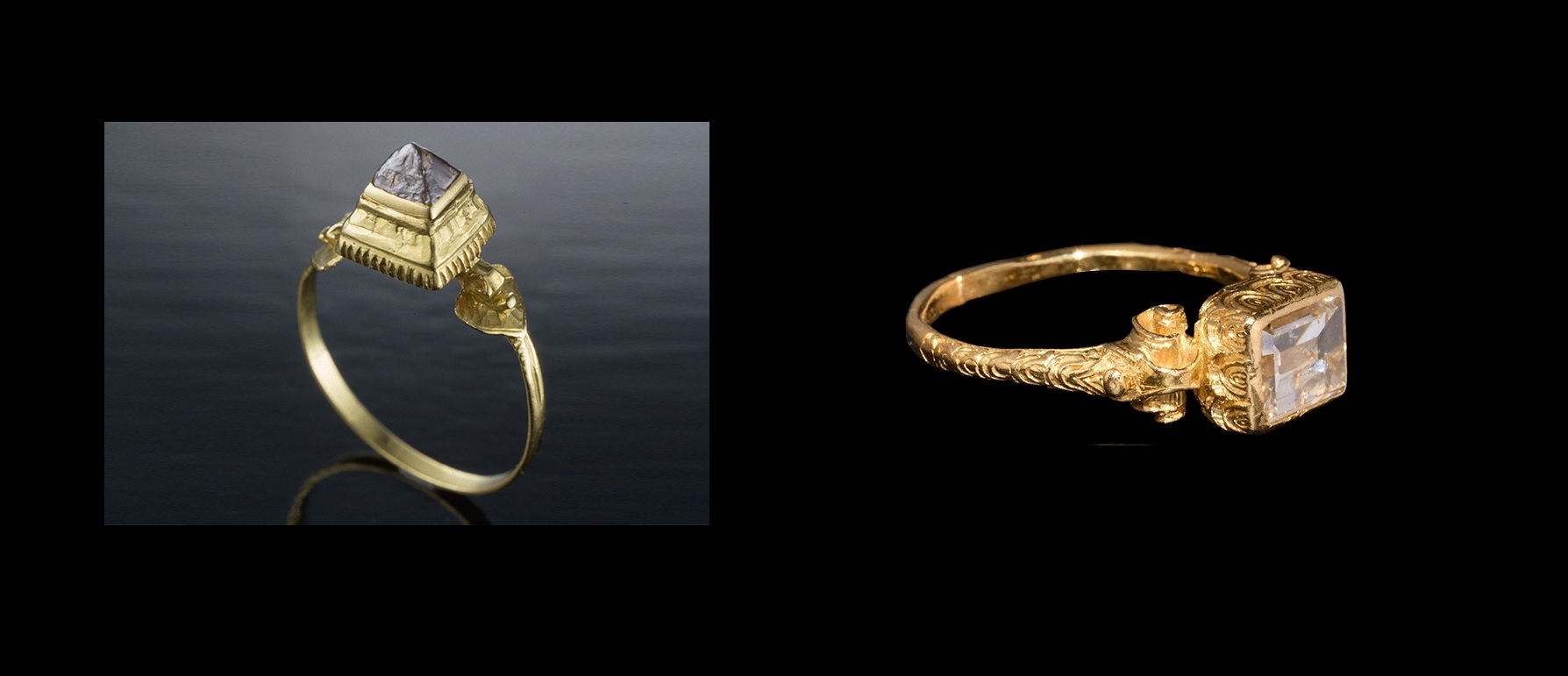 Late medieval uncut diamond ring, image c/o The Gemological Institute of America. Renaissance table-cut diamond ring, c. 16th-17th century, image c/o Timeline Auctioneers.
Alex Cooper is privileged to present several exceptional 3.00+ carat solitaire diamond rings featuring various cutting styles that span a century in the December 9 Gallery Auction. And, with a broad range of additional fine jewelry available at a variety of price points, our December sale is the perfect place to find one-of-a-kind holiday gifts.


Lot 172 is an impressive antique ring centering a 3.20 carat old European-cut diamond surrounded by a halo of 16 additional round-cut diamonds. Old European cuts date to around the late 19th – early 20th century and feature high crowns, deep pavilions, and open culets—meaning that the bottom tip of the diamond has an extra circular facet that is visible through the diamond's table. Most early old European diamonds were cut by hand before the introduction of mechanized cutting techniques, making each diamond truly unique.


Lot 135a, a beautiful 3.40 carat pear-shape diamond ring, recalls a well-known engagement ring style called the Classic Winston. Made fashionable in the late 1950s – 1960s by "jeweler to the stars" Harry Winston, the Classic Winston uses tapered baguettes to complement the elegant proportions of a pear-shape diamond. Along with its graceful pear and baguette-diamond design, the Lot 135a's sturdy platinum setting is ideal for this timeless engagement ring to be passed down for generations.


The round brilliant cut diamond has long been another popular choice for engagement rings. Lot 170 boasts a stunning 3.03 carat round brilliant diamond accompanied by a grading report from the Gemological Institute of America (GIA), establishing the diamond's SI clarity and I color. The grading reports issued by GIA are recognized internationally as the most respected and reliable grading documentation in the diamond industry. When purchasing a diamond with a GIA report, you can be sure that the diamond's quality has been confirmed by impartial, world-renowned diamond experts.


The December 9 Gallery auction also features a fabulous 3.20 carat round-cut diamond ring (lot 207) with an ornate yellow and white diamond floral setting by Los Angeles-based jewelry designer Jack Kelege. Known for their exquisite craftsmanship, Kelege's artisan team comprises talented jewelers who have each benefited from at least 20 years of his mentorship. Kelege deems each of his unique, hand-crafted pieces of jewelry an "heirloom in the making."
For more noteworthy diamond jewels and sparkly holiday gifts, browse our December auction catalogue here.
Erin Riggins-Hartlaub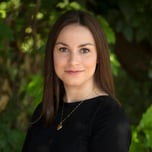 Specialist, Fine Jewelry, GIA AJP