Alex Cooper is pleased to feature an impressive masonic ring, a masonic Hamilton watch, and other masonic jewelry in the upcoming July 22nd auction.
Freemasonry is a fraternal organization whose medieval origins can be traced to stonemason guilds of the late 13thcentury. This centuries-old "secret" society aims to uphold moral virtues of brotherhood and charity through acts of philanthropy, and is also known for its high-profile members. Though membership was traditionally shrouded in secrecy, it has been confirmed that about one-third of all U.S. presidents were freemasons—including Master Mason George Washington. However, men from fields as varied as art, music, science, and sports have been freemasons, with members ranging from Mozart to Martin Luther King, Sr. to Shaquille O'Neal.
Given the society's craft-oriented roots, it comes as no surprise that art and symbolism are central to masonic identity. Freemasons regard their organization as a "beautiful system of morality, veiled in allegory and illustrated by symbols." Accordingly, jewels bearing masonic symbols play an important role in establishing a freemason's image.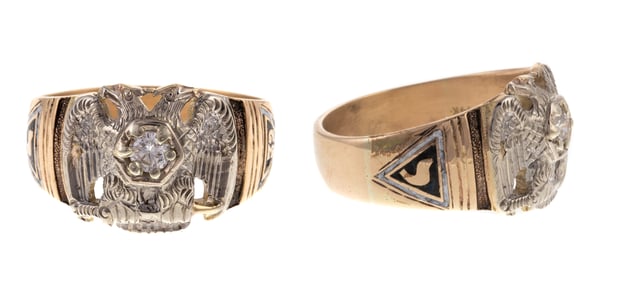 The masonic ring in lot 216 (pictured above) features a round cut diamond set in the center of the double-headed eagle emblem crafted in 14K white gold. The double-headed eagle symbolizes the Ancient and Accepted Scottish Rite of Freemasonry. With "32" designated in the enameled equilateral triangle on the shoulder, this Scottish Rite ring signifies the initiation of its wearer to the 32nd degree of freemasonry.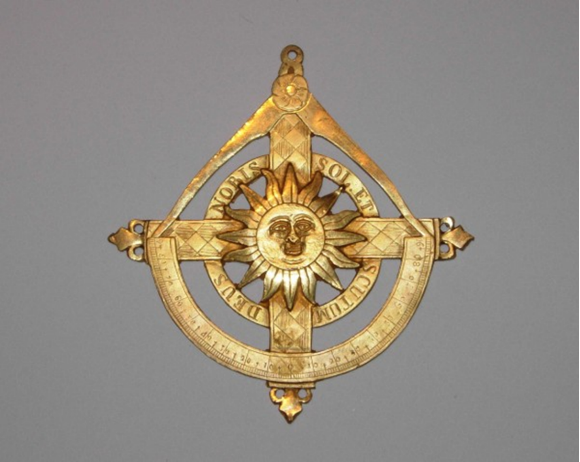 Collar Jewel, c. 1890, image c/o Masonic Museum of Maryland
Freemasonry has a strong presence here in Maryland. Located with the Grand Lodge of Maryland (est. 1787) in Cockeysville, the Stephen J. Ponzillo, Jr. Memorial Library & Museum houses a very fine collection of masonic artifacts, including the collar jewel pictured above. The piece centers a sun framed by a compass and square—the most widely recognizable masonic symbols. Of these foundational symbols, masonic literature says, "The square, to square our actions; the compass, to circumscribe and keep us within bound with all mankind." The central circle is inscribed with the Latin phrase "Deus est nobis sol et scutum," which translates as "The Lord is our sun and shield."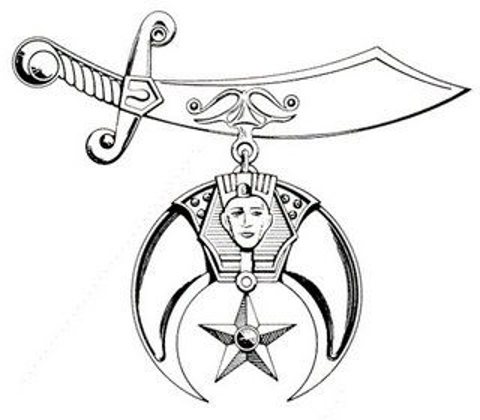 Shriner's emblem featuring crescent and scimitar symbols
The collection of masonic jewelry in lot 252 broadly displays the Shriner's emblem (pictured above), representing what is known as the Ancient Order of Nobles of the Mystic Shrine. In this emblem, the scimitar symbolizes the brotherhood; the crescent stands for the order's philanthropy; and the five-pointed star represents the children helped by these philanthropic acts.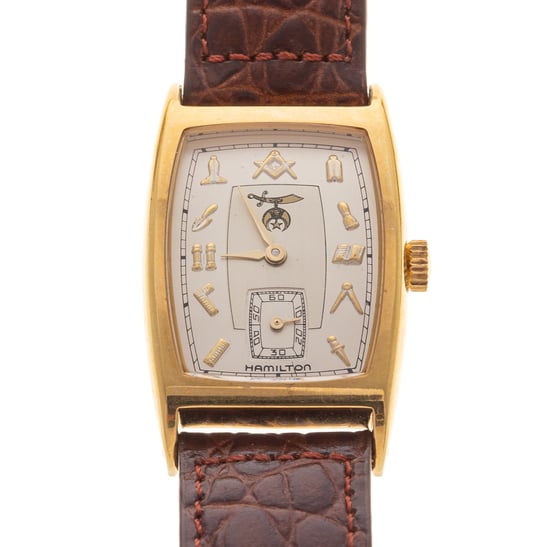 Lot 252, Masonic Hamilton Watch
Lot 252's masonic Hamilton watch features the Shriner's emblem in the center of its dial, as well as other masonic symbols—such as the compass, square, and trowel—as hour markers. The lot also presents a matching cufflink and tie bar set, tie clips, and pins emblazoned with the emblem, as well as other masonic items, including a 1935 Maryland Manual of Ancient Craft Masonry.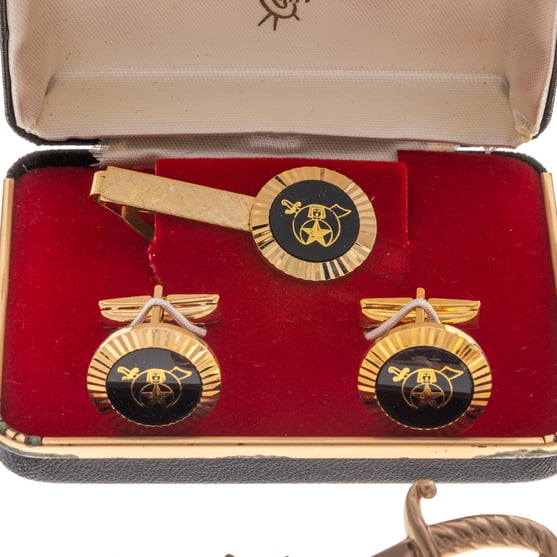 Lot 252, cufflink and bar tie set
Steeped in history, masonic jewelry carries forward the rich symbolism of medieval freemasonry and preserves these symbols for future masons. Browse these and other historically significant jewels in our July 22nd auction HERE.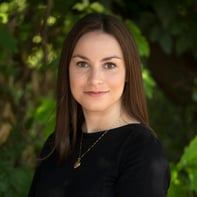 Erin Riggins-Harlaub
Specialist of Fine Jewelry, GIA, AJP
erin@alexcooper.com