Eleanor McMillan, a Baltimore, Maryland-born conservationist and traveler worked at the Smithsonian Institute for over 30 years. She was the great-granddaughter of President Theodore Roosevelt, and was not only an exemplary example of what it means to be a renaissance women; she also made important contributions in her own right as a consumer advocate and champion for animal rights.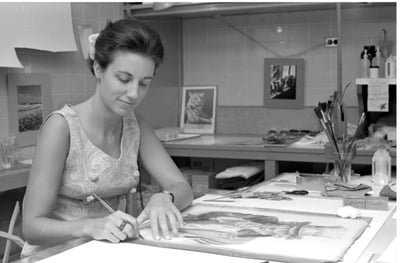 Photo courtesy of the Smithsonian Institute. "Eleanor McMillan spent her life working in conservation in the United States, but on the international scene she served two terms for the council of International Institute of Conservation of History and Artistic Works.
Alex Cooper Auctioneers is honored to be working with her estate ahead of her passing in 2021. Through her collection of over 300 lots, we can discover not only the fascinating life she lived but also the incredible work she did in conservation.
Beginning on March 27th, Alex Cooper Auctioneers will host an online-only Specialty Auction, "The Life and Travels of Eleanor McMillan" with over 300 lots from this fascinating woman's collection and life's work. She was one of a kind. The International Institute of Conservation of History and Artistic Works perfectly described her in the wonderful essay, "Remembering Eleanor McMillan." Excerpts follow below.
On April 1st, "The Life and Travels of Eleanor McMillian Gallery Auction" will present a selection of her favorite items.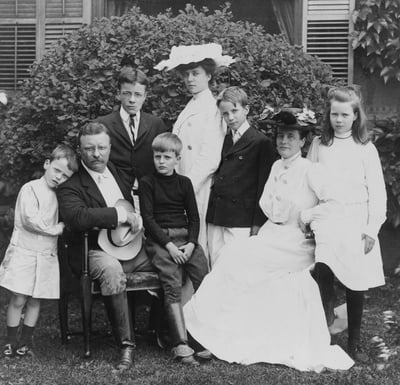 Pictured above: Theodore Roosevelt Jr. and President Theodore Roosevelt, Eleanor's grandfather and great-grandfather.
Eleanor McMillan was born in Baltimore on 11th December 1937, her parents being William and Grace McMillan. She grew up on Sunny Hill Farm in Glyndon, Maryland, was schooled in Maryland and Virginia, and studied for a BA at Radcliffe College in Cambridge Massachusetts, graduating in 1960. From 1960 to 1963 she attended the Art Student League in New York. She served an internship with Elizabeth Packard at the Walters Art Museum in Baltimore in the summer of 1962, and then in 1963 she was hired by Charles Olin of the Museum of History and Technology which opened in January 1964.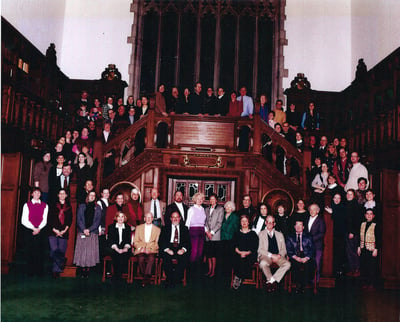 Photo Credit: Dunn Photographic Services, Washington, DC. The 30th Anniversary Photo of the Washington Conservation Guild taken in the Great Hall at the Folger Shakespeare Library in December 1996. Seated in the front row from left to right are Dare Meyers Hartwell, Robert M. Organ, W.T. (Tom) Chase, Eleanor McMillan, Maurice Salmon and Stanley Robertson. Standing center are Martha Goodway and Carolyn Rose. All are past Presidents of the WCG.
In 1967 she studied paper conservation with Marilyn Kemp Weidner in Philadelphia and became the first paper conservator at the Smithsonian Institution. She was a founding member of the Washington Conservation Guild in 1967, becoming president in 1979, and served on the board of the American Institute for Conservation and, after she had retired, the council of the International Institute for Conservation for six years in the nineties.
In 1969 she was sent to Florence for four months as part of a large international effort to rescue and conserve books and prints damaged by the tremendous flood of 1966 when the River Arno burst its banks and flooded many churches and museums, as well as secular buildings. In 1976 she was promoted to head of conservation at the Conservation Analytical Laboratory of the Smithsonian Institution (CAL) where she oversaw conservation projects, taking particular interest in training programs towards the end of her career. She retired in 1994 as the chief conservator at CAL.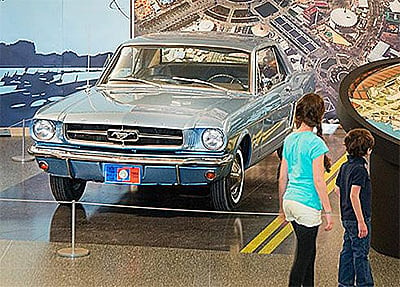 Photo Credit: Smithsonian Institute, Washington, DC
Eleanor McMillan's background meant that she was a woman of means, and among her philanthropic activities was the donation in 2004 of her iconic powder-blue 1965 Ford Mustang to the Smithsonian Institution. Folklore has it that in 1976 Eleanor was stopped in this car on the highway and fined for having an inflatable man sitting beside her in an attempt to illegally use the express lanes around Washington DC. It certainly fits with her outlook on life!
She also provided initial funding for the Smithsonian Center for Archives Conservation, and in 2009 she funded a conservation window at the Walters Art Museum to enable the public to see conservation work in progress.
She will be remembered as a fun figure with a characteristic chortle and a determination not to let her ailments get in the way of a full life. She died on 21st July 2021.
Eleanor McMillan is survived by her brother and two nieces. She never married but had a legion of good friends and will be greatly missed."
By Andrew Oddy with acknowledgments to The Washington Post, the Washington Conservation Guild, Leonard Streckfus, Barbara Busch, and Pickett Randolph.
Learn about the origins, history, and importance of Eleanor McMillan's legacy with a look at her travel collections and the conservation projects she managed during her time at the Smithsonian Institution at Alex Cooper Auctioneers.