2021 is finally here, and one thing is certain: Valentine's Day is right around the corner! Alex Cooper's January 28th Gallery Auction has you covered with one-of-a-kind pieces of jewelry for your loved one.
Lot 168, a 5.01 ct oval diamond ring, is the January auction's show-stopping crown jewel. The center stone, a GIA-certified F SI2, is beautifully set in platinum with a very fine full cut diamond halo. Current market trends establish oval cuts as the most desirable and sought-after diamond shape in today's jewelry industry. With the same basic properties, oval cut diamonds exhibit the sparkle of a modern round brilliant cut with the added sophistication of the elongated shape. In recent years, celebrities have come to favor the oval cut diamond—especially for engagement rings. Ryan Reynolds proposed to Blake Lively with a stunning rose gold oval cut diamond engagement ring by jewelry designer Lorraine Schwartz. And Katie Holmes donned a 5.00 ct oval cut diamond halo ring by Fred Leighton when she was married to Tom Cruise. An oval cut diamond is an elegant choice for any ring setting, and, I think, a particularly classy option for a Valentine's Day gift.
For a truly unique gift, I recommend lot 152, a vintage opal peacock ring. This 14K yellow gold ring depicts a finely detailed peacock with an 8 mm round opal and round cut sapphires, emeralds, and diamonds set throughout the feathers. With a $300-$500 estimate, you can't beat the price point!
The heart-shaped rubellite tourmaline ring in lot 133 offers a more literal expression of affection. The tourmaline's deep violet-pink hues, paired with its large heart shape, make this ring a fun and romantic option. A fabulous statement piece, the ring's bold design also features twelve baguette diamonds on the shoulders.
For a gift your love one will treasure, I suggest lot 119, a double disc ring by iconic Baltimore studio jeweler Betty Cooke. A gift both art and jewelry, this mid-century modern ring features Cooke's signature geometric discs crafted in 14K yellow gold and sterling silver. The Walters Art Museum's forthcoming retrospective of Cooke's work, Betty Cooke: The Circle and the Line, make pieces by the Baltimore jeweler all the more collectible and beloved.
You can't go wrong with a classic diamond line bracelet on Valentine's Day! Featuring double rows of round brilliant cut diamonds set in 14K yellow gold, lot 115 is 12.50 cts of sparkle. This chic bracelet will class up any look, both formal and casual. Lot 175A is another dazzling diamond line bracelet boasting a more modest 4.80 cts set in platinum.
Browse more gift options from the January 28th auction here.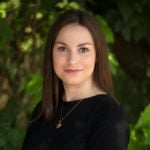 Erin Riggins-Hartlaub
Jewelry Specialist
erin@alexcooper.com