It's not every day that you see a Kashmir sapphire—even if you're a jewelry specialist. Mined in a remote region of the Himalaya Mountains only between the years 1882-1887, Kashmir sapphires are the rarest sapphires in the world. Collectors from around the globe seek out these sapphires for their prized velvety blue color. Pair a Kashmir sapphire's rich blue hue with an icy diamond in a Bulgari ring, and the result is stunning.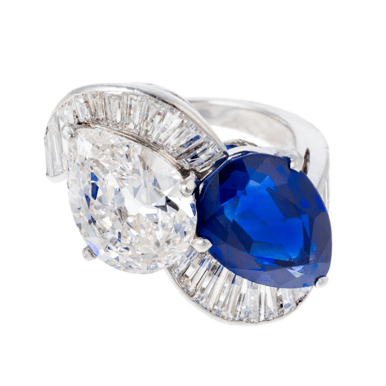 Lot 155: A Bulgari 5.10-carat Kashmir Sapphire & Diamond Ring
That's exactly what fine jewelry collectors can expect from Alex Cooper's September 29th auction. Among the finest and most exciting pieces to cross my desk, lot 155 was crafted by Bulgari in the early 1990s. The ring boasts a 5.10-carat, pear-shape Kashmir sapphire certified by the American Gemological Laboratories (AGL) and Gübelin Gemological Laboratory. Adding to its rarity is the sapphire's lack of heat treatment, which means that its impressive uniform color is completely natural. A GIA-certified 2.50-carat pear-shape diamond complements the sapphire in an elegant bypass design contoured by two opposing rows of channel-set baguette diamonds. Jewelry descriptions can sometimes sound hyperbolic, but it's no exaggeration to say that this ring is spectacular.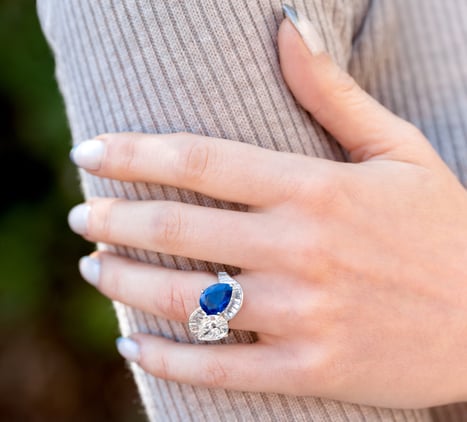 Photo credit: Vivian Marie Doering
Bulgari is known for finely crafted, bold jewels, and lot 155 is no exception. Founded in late 19th-century Rome, the jewelry house has acquired a high-profile clientele, ranging from Prince Umberto of Italy and Elizabeth Taylor to Euphoria actress Zendaya. Serious collectors and celebrities from around the world covet Bulgari jewels for their distinctive designs, such as the ever-evolving Serpenti style from the iconic eponymous collection.
While Alex Cooper regularly features fine gemstone jewelry, this auction presents a rare collecting opportunity. As collectors continue to keep Kashmir sapphire jewelry within families, passing it down through generations, the market will see fewer and fewer examples in years to come. Lot 155's appeal lies not only in the Kashmir's remarkable velvety color, but in its notable size—weighing in at over 5.00 carats. And the masterful Bulgari design and craftsmanship make this ring a truly exceptional find.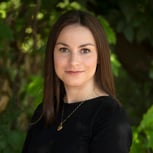 Erin Riggins-Hartlaub
Specialist, Fine Jewelry, GIA GD & AJP
erin@alexcooper.com