In 1955, a group exhibition, "Life in Baltimore" at the Peale Museum made headlines over the censorship of art and resulted in a slander lawsuit. Baltimore artist, Glenn Walker, presented a painting "In the Room," which depicted a nude woman and a man lying in bed with the man smoking a cigarette. The subject matter proved too racy for the people of Baltimore and led to then Mayor, Thomas D'Alesandro, Jr, (father of Speaker of the House, Nancy Pelosi) marching into the exhibition and demanding the immediate removal of the piece branding it both "obscene" and "morally objectionable." In a bold move, the director of the Peale, Wilbur H. Hunter, removed the piece from the wall, but placed it on display in a separate room for private viewing. Predictably, attendance at the exhibition and interest in the piece skyrocketed. Thanks in part to this attention, Walker's work went on to be found in all of Baltimore's major art galleries.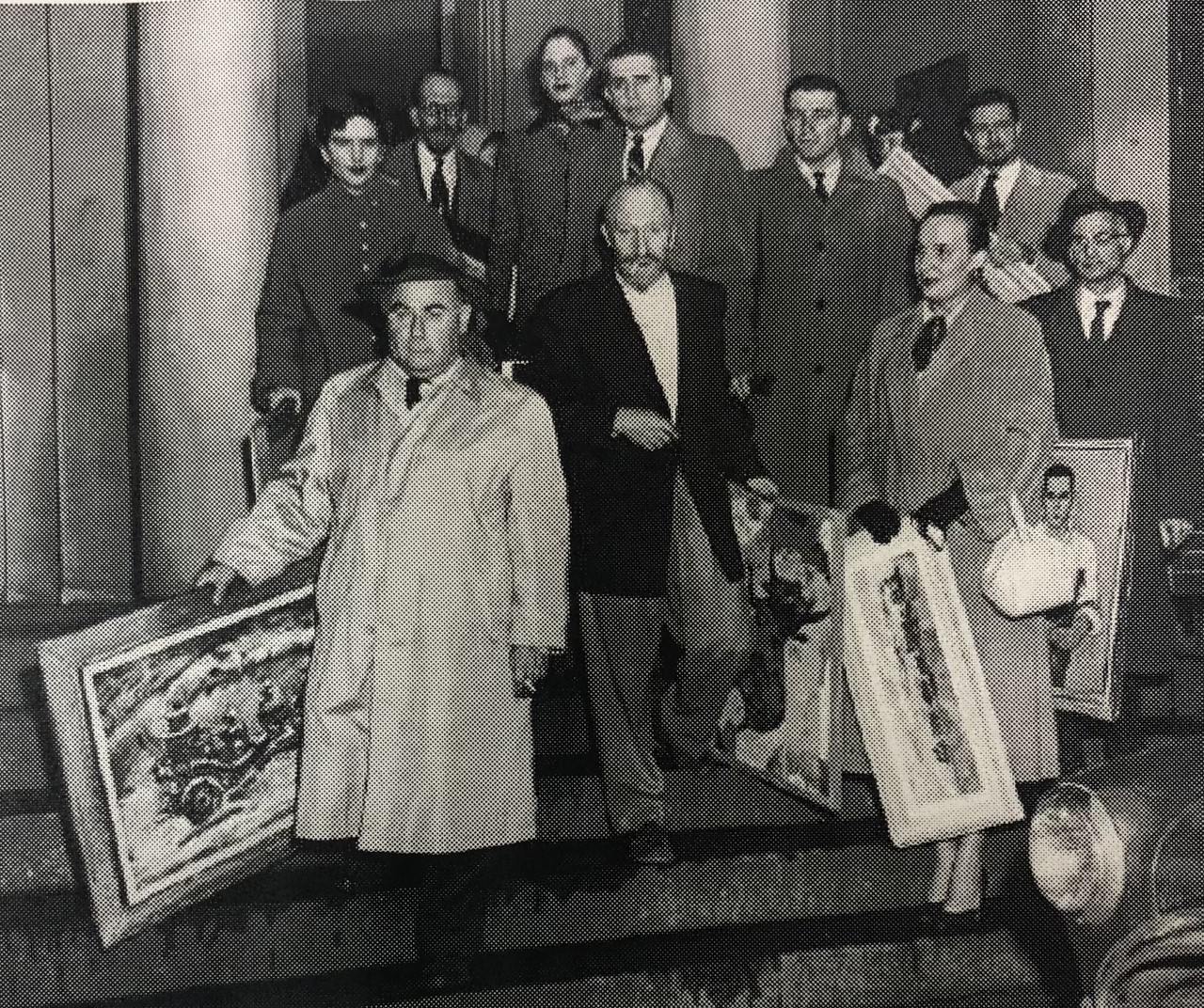 "These artists withdrew their pictures from the Peale Museum protesting the banning of a painting after Mayor Thomas D'Alesandro called it 'obscene.' Credit AP wire photo, Baltimore Sun archives.
In a 1975 interview with The Sun, Walker said of the painting, "It's a picture of boredom. I was thinking about a guy smoking in bed. That's the only thing I ever saw obscene about it—the guy was smoking a cigarette on a straw bed."
The work was later purchased by Bernard "Ben" Adler, who displayed the piece both at the Eagle Tavern in Bolton Hill and at Adler's Place Restaurant in Baltimore. It was finally acquired by local art collector, Leonard Skolnik, who was a friend to local artists Glenn Walker, Jack Bonsal and Leonard Skorko and remained in his collection until his recent passing.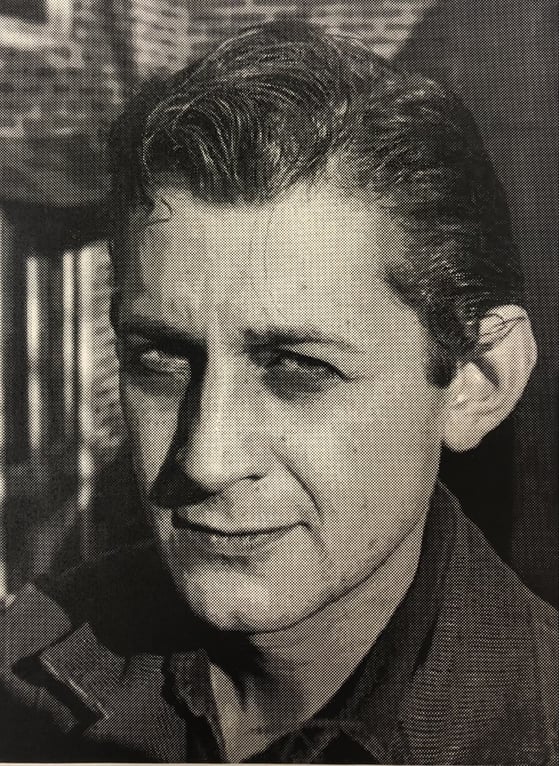 Photo of Glenn Walker by Richard Stacks/Sunpapers, November 17, 1957
"In the Room" (lot 1213) proudly comes to auction on October 1st, and it is hung on the wall for all to view. Relatively mild in subject to today's viewer, the history of the piece makes it an important addition to any art collection, or Museum. Walker eventually sued Mayor D'Alesandro to no avail, but the early controversy was just the beginning in a long line of art censorship.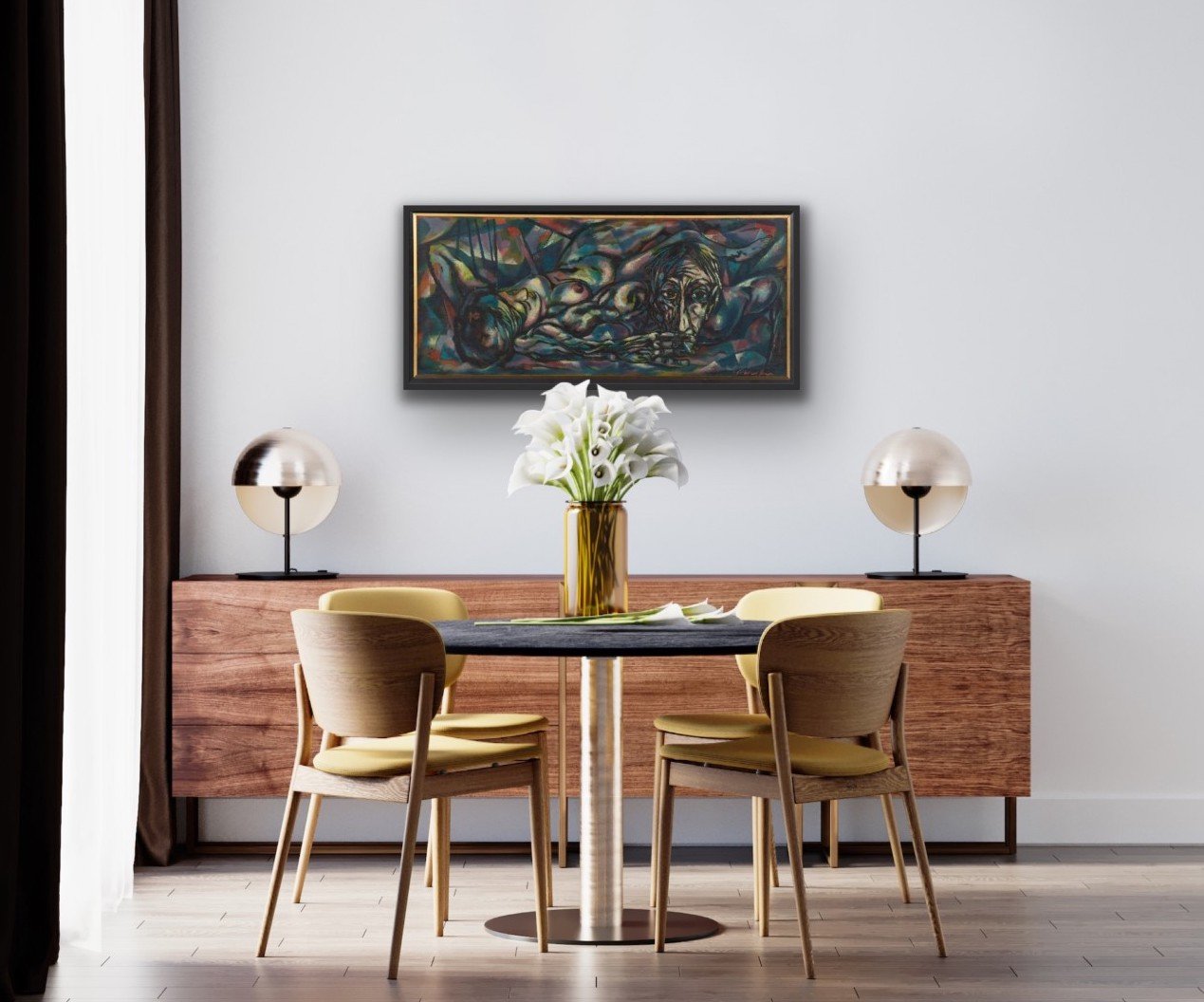 In addition to the painting, we are also offering four more pieces from Skolnik's Estate, including a sculpture by Walker, two paintings by Jack Bonsal and a gorgeous landscape by Leonard Skorko.
Don't miss the chance to put "In the Room" in your collection. Happy Collecting!

Kathleen Hamill
Director, Modern & Contemporary Art
kathleen@alexcooper.com