Calling all watch collectors! Alex Cooper is pleased to present a wide variety of rare vintage watches from a prominent Baltimore watch collector and other distinguished collections in the January 27th Gallery Auction. Featuring important brands like Omega, Jaeger-LeCoultre, Rolex, Longines, Illinois, Hamilton, and Elgin, the January 27th Auction offers a unique collecting opportunity for both novice and experienced watch collectors.
Lots 184 is a late 1940s 18K yellow gold Jaeger-LeCoultre (known in the U.S. during this time as LeCoultre) wrist watch with rare distinctive lugs, a second-hand sub-dial, and brown alligator strap.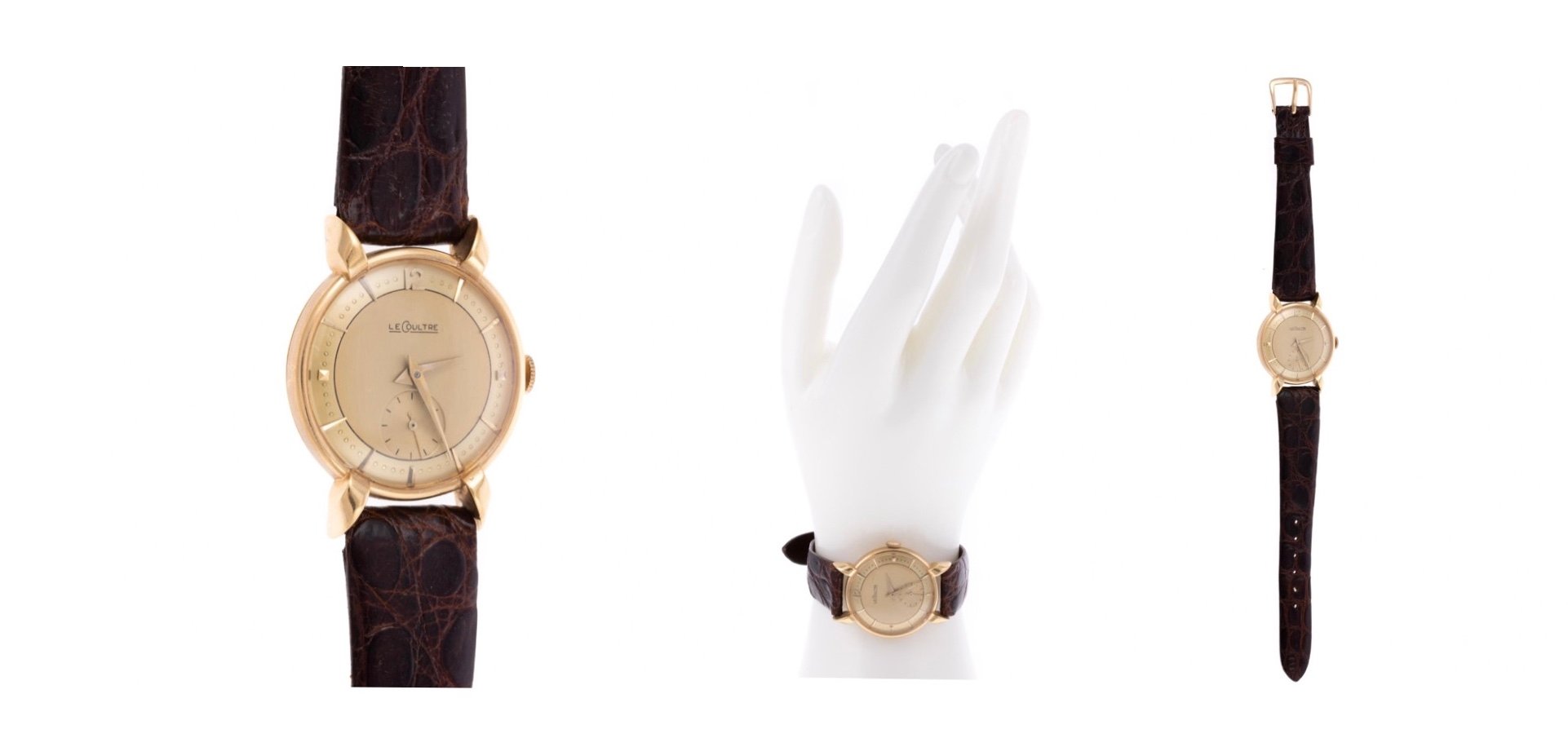 Lot 184: A Late 1940s LeCoultre Wrist Watch in 18K, $800-1,200
With over 1,000 different movements, approximately 400 registered patents, and hundreds of other timepiece innovations to their name, Jaeger-LeCoultre is one of the most highly collectible luxury watch brands on the market. Jaeger-LeCoultre retail prices typically range from $4,000 - $20,000+, making auctions the most economical option for collecting these iconic watches
Swiss-based watchmaker Antoine LeCoultre founded the LeCoultre studio in 1833. By the beginning of the 20thcentury, the LeCoultre workshop was manufacturing most of the movement blanks for the prestigious watch company Patek Philippe. LeCoultre later joined forces with Edmond Jaeger, watchmaker to the French Navy, after working for years together as the exclusive makers of Cartier watch movements, officially becoming Jaeger-LeCoultre in 1937.
Paramount to Jaeger-LeCoultre's legacy are the many original watches they created and manufactured over their nearly 200-year history. In 1907, Antoine LeCoultre's grandson, Jacques-David, created the world's thinnest pocket watch: the LeCoultre Calibre 145—with movement measuring only 1.38 mm thick. Jaeger-LeCoultre's 1931 watch, the Reverso, is the one of the crowning timepiece achievements of the Art Deco era. With a case that turns around to protect the crystal, the Reverso was designed to withstand the raucous hits of a polo match.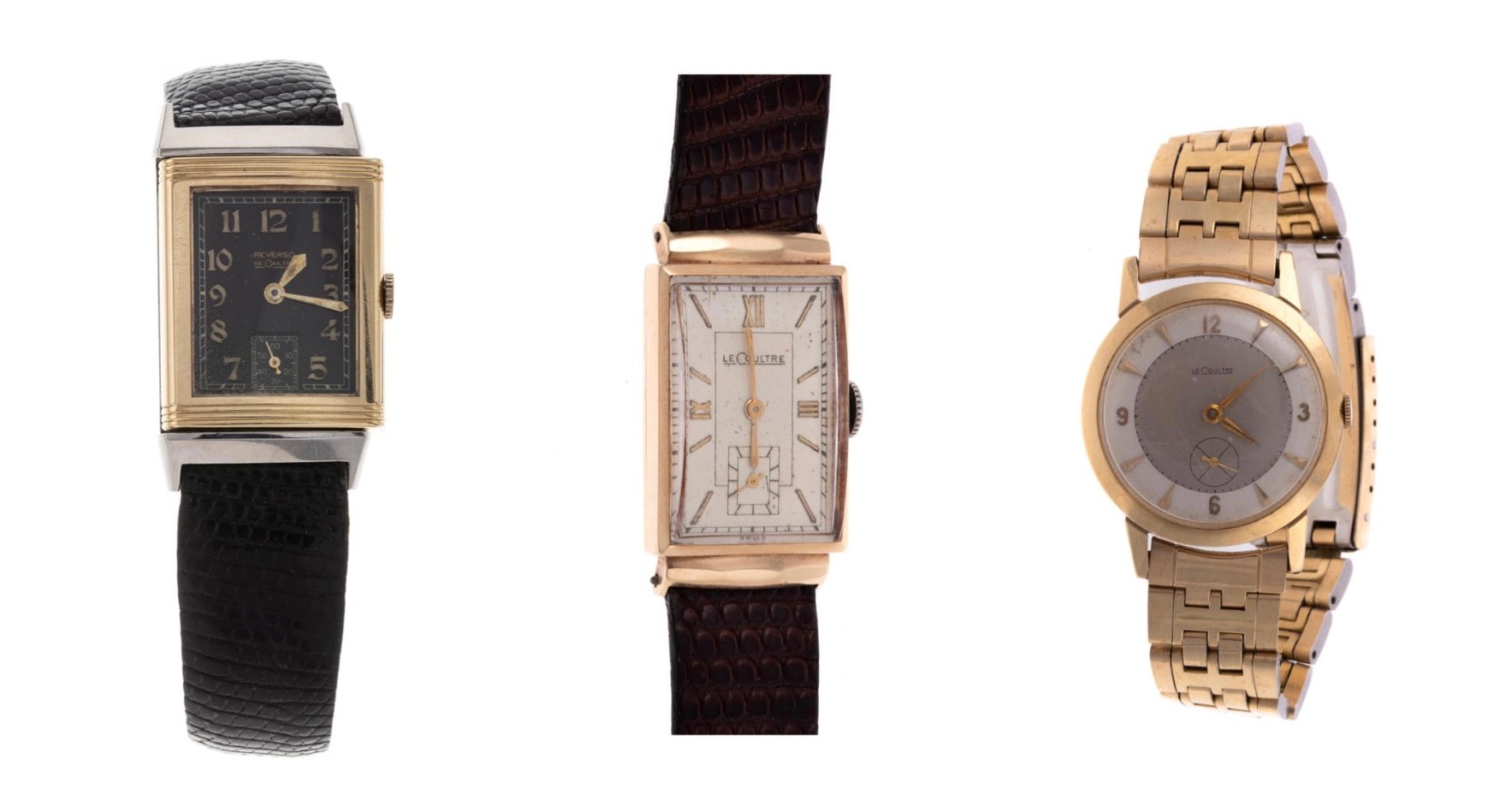 A 1935 Two-Tone LeCoultre Reverso Watch, sold in Alex Cooper's January 28th, 2021 auction.
The January 27th auction also features a 1940s LeCoultre tank wristwatch (Lot 182) and a 1950s LeCoultre wristwatch in 14K (Lot 196).
Lot 230, a 1950s mystery-dial watch by the esteemed Longines watch company, would be a unique addition to any watch collection. A mystery dial refers to a watch in which the hands keep time while appearing to float in midair above the dial's surface. French watchmaker-turned-magician, Jean-Eugene Robert-Houdin, invented the mystery-dial clock in the late 19th century and used it to mesmerize audiences in his magic shows. Known as the "father of modern magic," Robert-Houdin inspired Erik Weisz to take the stage name Harry Houdini in the 1890s. The secret to his mysterious clocks is the use of transparent dials to make the hands move, powered by mechanisms hidden in the base of the clock.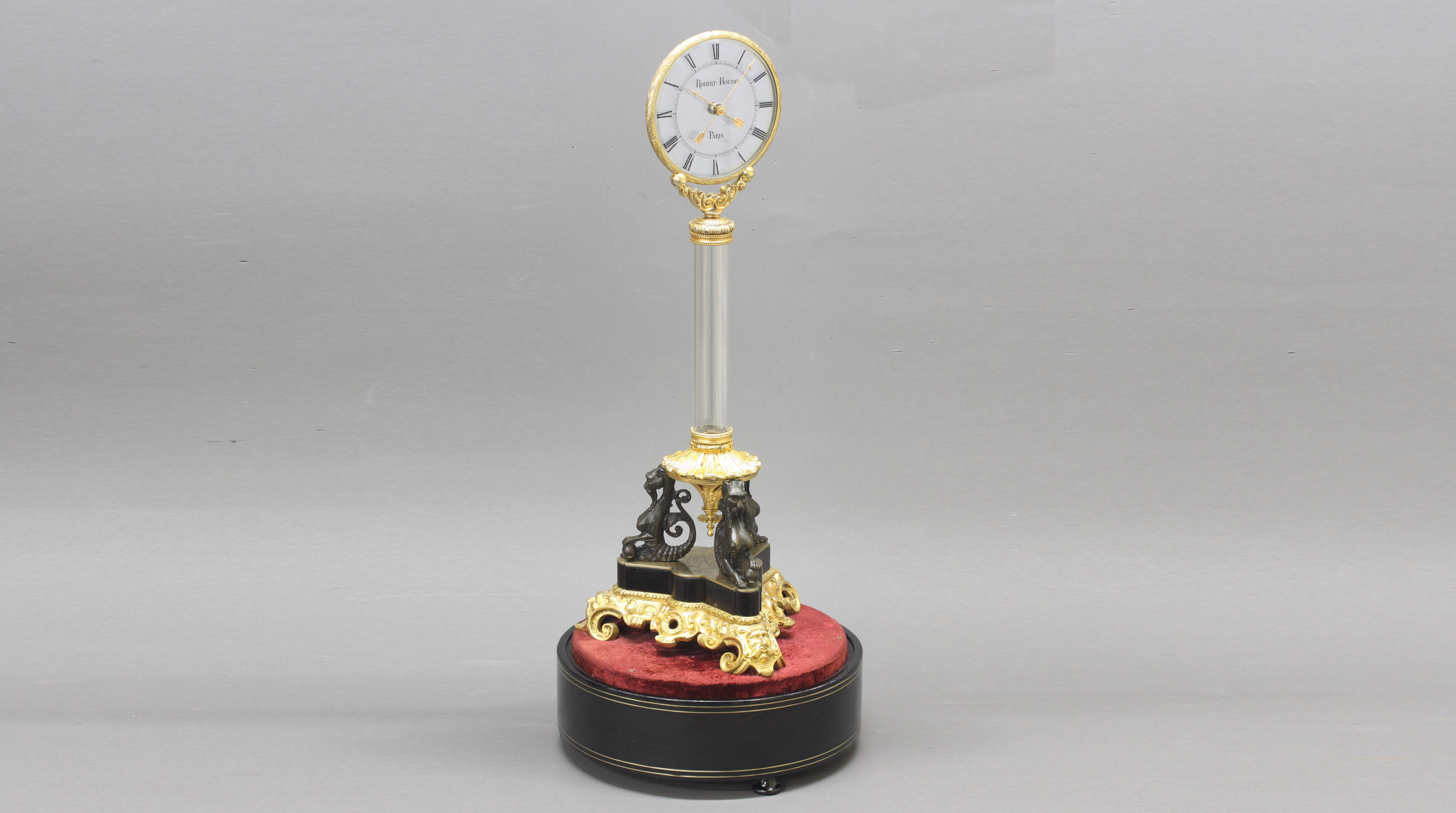 Mystery Clock by Jean-Eugene Robert-Houdin, Image c/o Jacques Neve
By the mid-20th century, Longines and other watchmakers adopted the technology for wristwatches. The mystery of lot 230 lies in the hour hand, which appears to magically hover above the outer edge of the dial as it rotates along the hour markers.
Lot 230: A 1950s Longines Mystery Dial Watch in 18K, $800-1,200
Lot 234 is an antique minute repeater pocket watch by E. Bourquin & Sons. Rare masterpieces of sophisticated engineering, minute repeaters are highly sought after by serious watch collectors all over the world. A repeater is a mechanical watch that chimes the time when a slide lever is activated. Due to perhaps the most complex of all watch mechanisms, minute repeaters can chime the time down to the minute, using low tones to signal hours, a two-tone sequence to indicate quarter hours, and a high tone to note the minutes.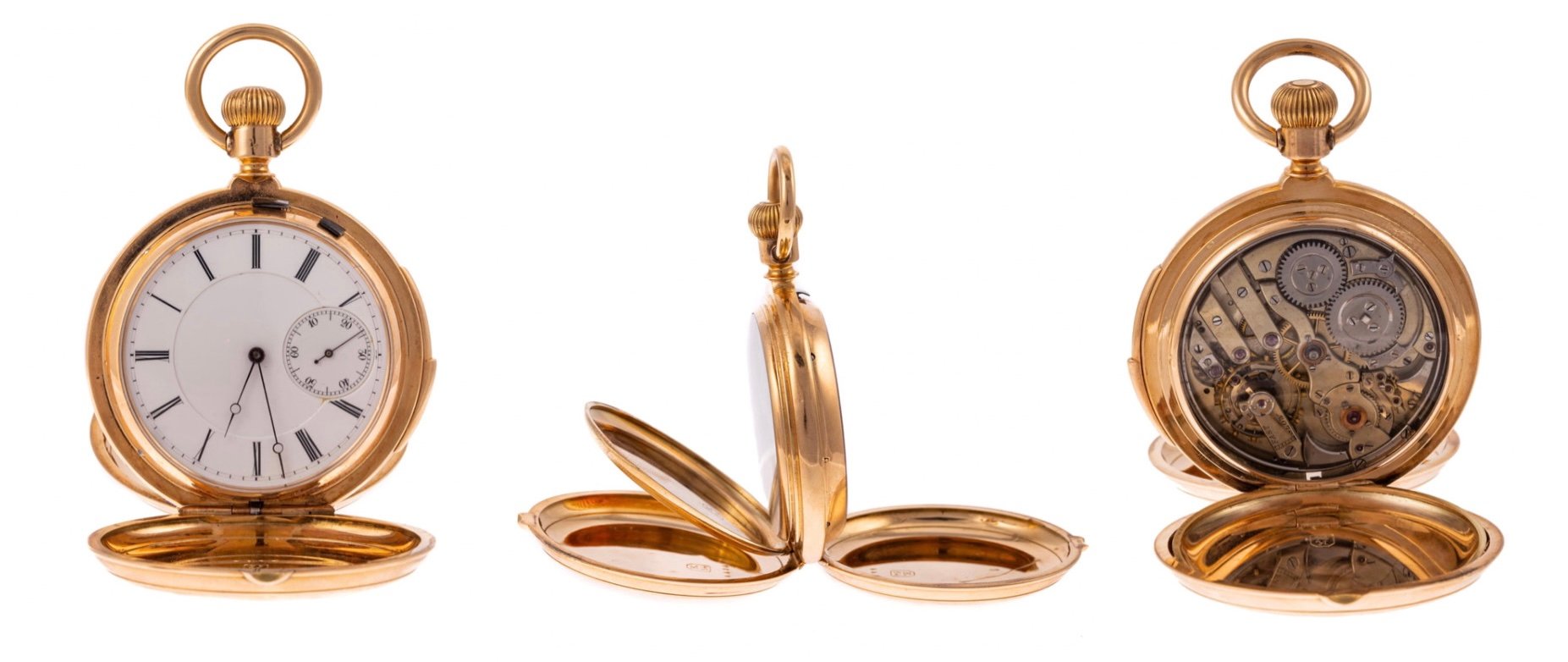 Lot 234: An Antique Minute Repeater Pocket Watch in 14K, $1,500-2,500
Other collectible watches in the January 27th Auction include several Art Deco and vintage diamond cocktail watches, an Omega tank wristwatch, a Rolex Oyster perpetual datejust watch, and an early 20th century 14K Elgin pocket watch with diamond crescent moon and star accents.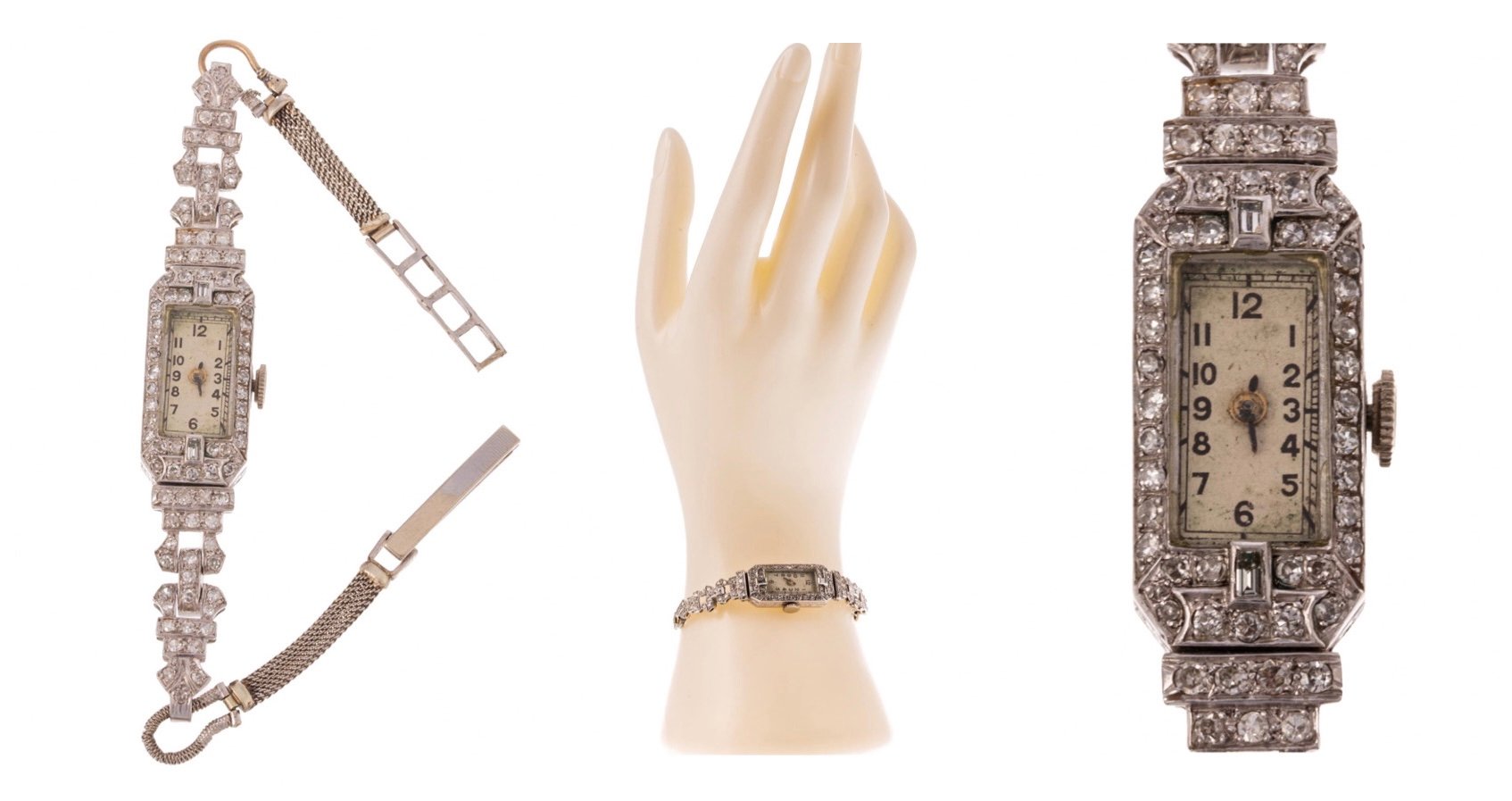 Lot 240: An Art Deco Diamond Wrist Watch in Platinum, $500-700
For more vintage watches, browse our auction catalogue here.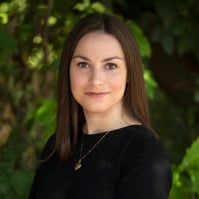 Erin Riggins-Hartlaub
Specialist, Fine Jewelry, GIA AJP & GD
erin@alexcooper.com