The Glamour of 1950s American Jewelry & Film
The 1950s were a time of flamboyance and glamour across American jewelry, fashion, and cinema. After the austere war years, the United States' budding middle class was ready for flashy new designs and iconic film stars. New women's fashion trends ushered in by Christian Dior's 1947 "New Look"—a French couture collection which aimed to liberate women from constrictive early 20th century corsets—featured tight-fitting jackets with padded hips, petite waists, and A-line skirts. The "New Look" also popularized plunging necklines perfect for showcasing spectacular jewels. Similar to the Art Deco era, big diamonds set in platinum or white gold came back into favor—but the rigid geometry of Deco designs were replaced with sweeping, curvilinear motifs, such as those seen in the 1950s Van Cleef & Arpels Diamond Necklace sold by Alex Cooper in the December 17, 2020 Gallery auction. During this time of general prosperity, bracelets and necklaces with thick gold mesh or elaborate gem-set clasps could elevate any woman to movie-star status.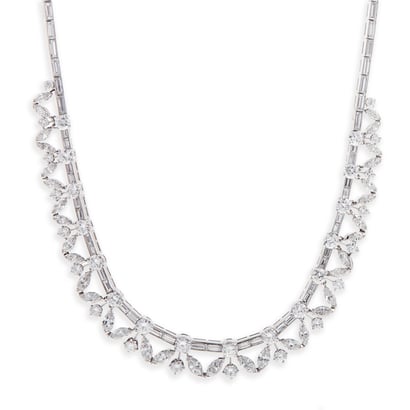 A 1950s Diamond Necklace by Van Cleef & Arpels, sold in Alex Cooper's December 17, 2020 auction, photo credit: Alex Cooper Auctioneers
At the tail end of Hollywood's Golden Age, 1950s films were characterized by big, bold jewels and over-the-top costumes. Marilyn Monroe said it best herself when she sang the famous song "Diamonds are a Girl's Best Friend" in the 1953 film Gentlemen Prefer Blondes. Perhaps the biggest jewelry icon in Hollywood history, Elizabeth Taylor took 1950s glamour to an entirely new level with the lavish, diamond-encrusted tiara she wore to the 1957 Oscars.

Elizabeth Taylor in the tiara given to her by Mike Todd, 1957, photo credit: The Court Jeweller. Audrey Hepburn in Breakfast at Tiffany's, photo credit: Gothamist.
Breakfast at Tiffany's opening scene takes movie-goers directly to the source: standing with a pearl-clad Audrey Hepburn before a Tiffany & Co. display window. Pearls became an important 1950s jewel when they were championed by Grace Kelly, who said, "I favor pearls on screen and in my private life." Sets of matching jewelry, known as parures or demi parures, gained popularity during this time and Prince Rainer of Monaco gave Kelly the ultimate pearl and diamond parure to celebrate their 1956 wedding. The parure comprises an elegant triple-strand pearl necklace with two diamond swirl accents, pearl earrings with baguette and marquise diamonds in a swirl design, a diamond blossom ring with pearl center, and a triple-strand pearl bracelet with diamond blossom motifs.

Grace Kelly's pearl and diamond parure, photo credit: The Adventurine. James Stewart and Grace Kelly wearing pearl earrings, a choker and the famous pearl charm bracelet in Rear Window, photo credit: Paramount Pictures.
Later in her life, Kelly claimed, "A woman needs ropes and ropes of pearls." And ropes of pearls we have with lot 100 in the upcoming August 26 Gallery auction! This superb 1950s pearl and diamond bracelet could have been plucked directly from a Hollywood movie set. The bracelet boasts an impressive 3.25 ctw diamond bow clasp and its multi-strand look recalls Kelly's notorious pearl charm bracelet from the 1954 mystery thriller Rear Window.

Lot 100: A Spectacular 1950s Diamond & Pearl Bracelet, photo credit: Alex Cooper Auctioneers. Lot 116: A Tiffany & Co. Five Strand Pearl Bracelet, photo credit: Alex Cooper Auctioneers. Lot 150: An 18K Pearl Collar Set with Gemstones, photo credit: Alex Cooper Auctioneers.
For a more contemporary and affordable take on the multi-strand pearl bracelet, we have lot 116, a Tiffany & Co. five-strand pearl bracelet in sterling silver. Lot 150, a graceful pearl collar set with various gemstones, also offers another more contemporary pearl option. For more star-worthy jewels, browse our August 26 Gallery auction catalogue here.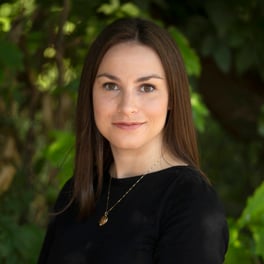 Erin Riggings-Hartlaub
Specialist of Fine Jewelry, GIA, AJP
erin@alexcooper.com