Each piece of jewelry sold at Alex Cooper has a unique history, and the pieces to be offered in the October 1 Gallery Auction are no exception. Whether created by a talented designer, or part of a famous collection, the story behind a piece of jewelry always warrants a closer look. Below, we explore what makes several of our October pieces particularly noteworthy.
Lot 111, a 3.50ct Asscher Cut Diamond Ring in Platinum, is one of the October sale's main attractions. Joseph Asscher invented the Asscher cut in 1902 for the Royal Asscher Diamond company. Founded in Holland in 1854, the company is still run by 5th and 6th generation Asschers today. To create his namesake diamond cut, Joseph Asscher modified many aspects of a traditional emerald cut. A square shape, larger step facets, a higher crown, and a smaller table enhance the Asscher-cut diamond's brilliance while maintaining substantial carat weight. The cut's classic straight lines and clean geometry made it perfect for Art Deco pieces and a popular cut among early 20th century elites. After waning in popularity in the late 20th century, Joseph Asscher's great grandnephew updated the cut for a more modern design, raising the crown and adding an additional twenty facets. Lot 111 features the updated Asscher cut with two trapezoid and four baguette cut diamonds for all the sparkly bling you will ever need!
Lot 145, a gold Greek mythology ring, was created by Italian jeweler and sculptor, Germano Alfonsi. Born into a prominent family of jewelers and artists in 1926, Germano is known for jewelry that portrays Classical themes inspired by the Italian Renaissance and its revival of antiquity. Germano used a traditional lost wax casting method for most of his jewelry and sculptures in which a wax original is used to create a plaster mold for gold, silver, or bronze casting. Wax models allow for more intricacies and detail, while the plaster mold's limited capacity for re-use makes for one-of-a-kind pieces of jewelry. For Lot 145, Germano used this method to depict "Leda and the Swan," a Greek mythological subject favored by Italian Renaissance masters in which Zeus, in the form of a swan, seduces Leda. This exquisite ring is beautifully crafted in solid 18K yellow gold and highly wearable for any occasion.
De Vroomen Design created the stunning 18K gold necklace in Lot 107. London-based jewelry designers Leo and Ginnie de Vroomen founded the de Vroomen Design company with fellow designer Gisele Moore in 1976. De Vroomen Design is best known for their distinctive repoussé and enameling techniques and even offer workshops in the methods used in their London studios. Prior to starting the company, Leo de Vroomen taught jewelry design at the Central School for Art, where his lectures advocated big and bold designs. Indeed, Lot 107 is not for the faint of heart. Featuring large, finely crafted interlocking wave links with a hammered gold finish, this formidable necklace is sure to turn heads!
Lot 184, a Victorian amethyst necklace in 14K, is a fine example of antique jewelry that will be featured on October 1. Dated c. 1870, this necklace is in the swag style from the Grand period of the Victorian era (1837-1901). The style takes its name from decorative pieces of cloth, ribbons, or flowers known as swags, that are fastened to hang in a dropping curve. Accordingly, swag necklaces feature draping chains, beads, or metal fastenings as part of their design. Jewelers began making swag necklaces in the Georgian period (1714-1836), but the style became most popular in the Victorian and Edwardian periods. Lot 184 has gold chain swags and boasts large oval amethyst drops with delicate Etruscan wire work detail around the frames. A true conversation piece, this impressive necklace elegantly captures the essence of late-nineteenth century England.
To see all of the lots from the upcoming October 1st Gallery Auction, click here.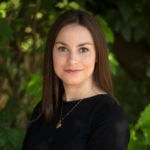 Erin Riggins-Hartlaub
Auction Coordinator & Jewelry Specialist