There is something to be said for art in its rawest form. Ever since the dawn of time, people have created things simply to create. Art has developed and become a practice in its own right – which is wonderful. But, with the popularization of art, the sheer wonder of creation in an untouched environment has pretty much disappeared.
However, there are exceptions.
Children create art simply to create art. Self-taught artists who fixate on art privately. Sometimes one with little exposure to the art world will just start creating because they like it. This is known as Outsider Art. While the term feels a tad demeaning, I cannot help but feel it should be known as one of the purest forms of art. At Alex Cooper, one of the most common things sold on auction is just that – Outsider Art.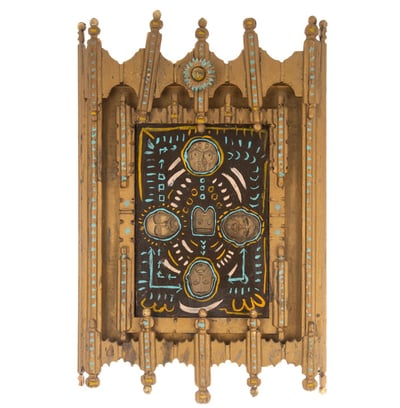 Lot 1325, Louis E. Thompson. Tlingit Masks, wall hanging
Art that finds its way to auction is does not have to be particularly renowned. This does not reflect a piece's quality, no, it simply means the artist is largely unknown. When receiving art from all sorts of walks of life, you get familiar with the uniqueness of the personal practice of art.
There is truly nothing quite like the differing personalities that come from Outsider Art. Any artist we do not know much about currently would serve as a great example for this point, but presently we have someone well worth mentioning on auction.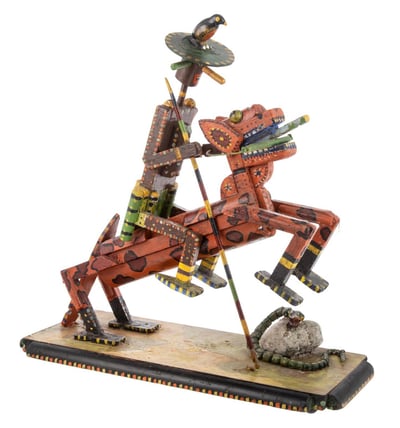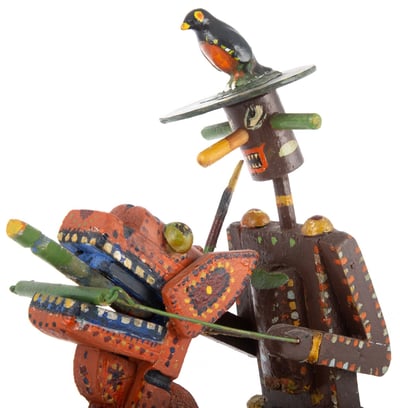 Lot 1322, Louis E. Thompson. Horse and Rider, sculpture
Louis E. Thompson is an artist that is largely unknown. The only way recorded knowledge of his life is from a document that was included with his work. Even then, it only seems to tell of a general synopsis of his life.
We know that he was a lifelong resident of Maryland. We know he was born in 1894 and died in 1963. At some point he worked as a schoolteacher. With that and his wide array of interest and education displayed in his works, we can assume that he was quite the scholar.
That's it.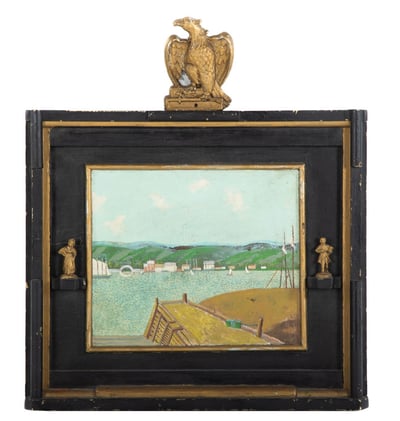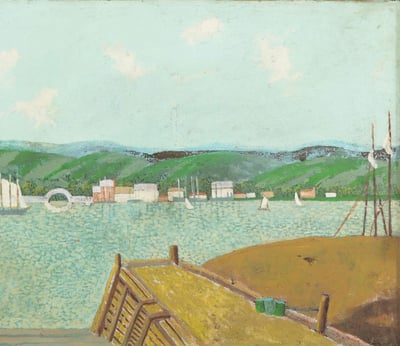 Lot 1329, Louis E. Thompson. "Georgetown, Wash." mixed media
There is no indication of formal art education, no trace of his personality, all we have now is his art. This may seem a little melancholic, but through his work he lives on, and shows us his artistic vision.
This is perhaps the best example of outsider art to exist. We know nothing about this artist and everything about the pieces he left behind. Even today, his style continues to be as unique as it was all those years ago.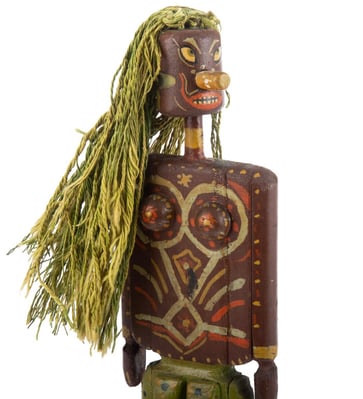 Lot 1323, Louis E. Thompson. Witch Doctor, sculpture
Be sure to check the auctions live right now at bid.alexcooper.com, or, arguably even easier, download the Alex Cooper Fine Art app available on:
iPhone Users - The App Store
Android Users – The Google Play Store
Thanks for reading!
Cormac Jensen
SCAD Class of 2025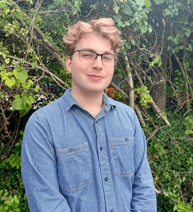 If you like what you read, pass it on and share on social media! – Facebook & Instagram