The United States government restructured the national postal system in the mid-1840s. They increased the network's reach and reliability and dramatically reduced the cost of postage, following the example of Great Britain. The British had done a similar reform in 1840. They introduced the first postage stamp, the "Penny Black," to indicate that postage had been paid. Similarly, the United States created two stamps for letters in 1847. These were a 5c. stamp with a portrait of Ben Franklin, first Postmaster General, and a 10 c. stamp with a portrait of George Washington. Because they are the first, and fairly scarce, collectors prize them.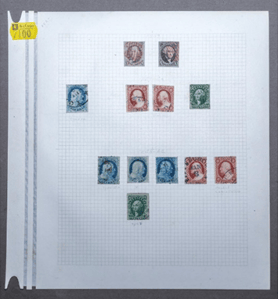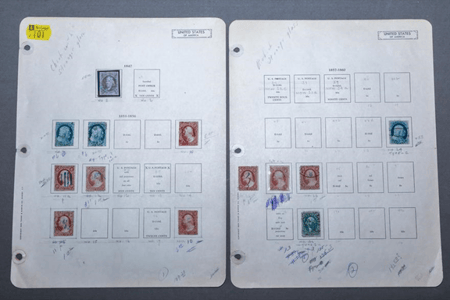 Left to Right: Lot 7100, Selection of U.S. Postage Stamps, 1847-'60 and Lot 7101, Group of Classic U.S. Postage Stamps, 1847-'60
Alex Cooper's current Collectors' Discovery auction will feature postage stamps and other philatelic material from several old collections. Two lots, 7100 and 7101, include examples from this first issue, together with other beautiful early issues. A Penny Black, the first postage stamp, is included in Lot 7146. There are also valuable selections of U.S. Air Mail stamps, Confederate States, Revenues, and other American "back of book" material. Europe and colonies are also well represented, including a fine offering of German states, colonies, and occupation stamps documenting the First and Second World Wars and their aftermath.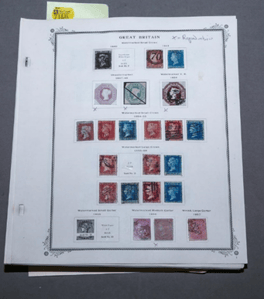 Lot 7146, Collection of Postage Stamps of Great Britain
Stamps offer a window into history, culture, and geography. They are beautiful objects, often marvels of printing technology. Collectors are attracted to these aspects, but having stamps and covers, sometimes even the original letters, connects with faraway places and events. Over time, stamp collectors develop a level of connoisseurship similar to coin collectors. There's also a fellowship among collectors that can be very rewarding. The possibilities are endless.
The sale is published on our website, bid.alexcooper.com beginning with Lot 7100 and continuing through Lot 7190. There is a public exhibition, but all bidding takes place online. Bidding on each lot starts at $20. Lots will begin to close at 7 pm. on November 16.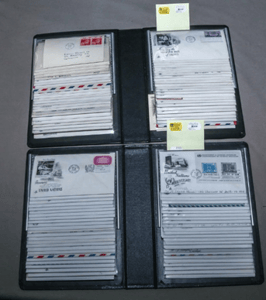 Lot 7190, Collection of U.S. & U.N. First Day Covers
Richard Hall
Specialist of Rare Books & Ephemera