Best Way to Sell Your House Fast:

Short Answer:
Real estate auction is the quickest way to sell a home for the most money. Other options can either get you more money or take less time, but a real estate auction is the way that gets you the most money in the least amount of time (about 21 days).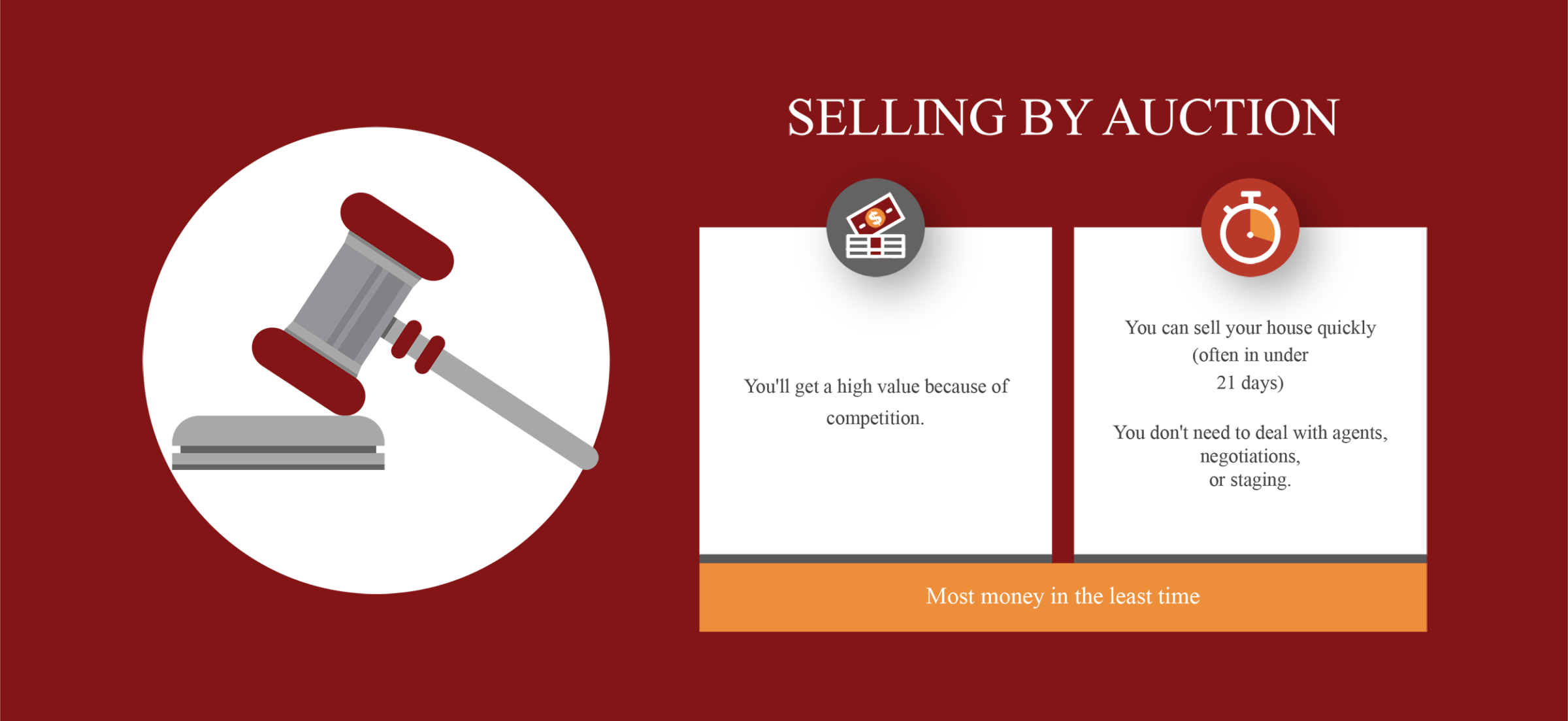 What Every Seller Should Know About Selling a Home Fast for Cash whether the house is sparkling clean or they're selling a house as is.
Cash Offer Websites
Cash offer websites like We Buy Ugly Houses (https://www.webuyuglyhouses.com/) are the fastest ways to get money for your house. But you'll almost certainly pay for that kind of speed.
These companies are generally run by investors who are leveraging your need for quick cash against their desire to buy property below market value. If you accept a quick cash offer for your house, expect to get much less than what it's worth.
Unlike auctions, cash offer websites only match your house with one buyer. One person will offer as little cash as he thinks you will accept for your property.
How Quickly Do Cash Offer Websites Pay for Houses?
You will then get paid in cash in about 21 days. This is often the exactly the same or only a few days quicker than selling at auction where you can get a lot more money for your property.
Why Selling Your Home at Auction is Better Than Accepting a Quick Cash Offer
Auctions make qualified buyers bid against one another to offer you the maximum amount of money for your house right now. Unlike cash offers that give you only one buyer, auctions make buyers compete for your property. That means you walk away with more money.
Similar to cash offers, auctions make buyers pay all of the fees. Unlike selling a house through a traditional real estate agent, you don't have to pay anyone for the right to sell your own home.
Here's a list of 10 Advantages of Selling Your Home at an Auction from the National Association of Realtors
There's no limits on the selling price of your home.

Pre-qualified buyers; you'll only get serious offers on your home.

You'll avoid lengthy negotiations.

There's more chance that your home will be sold at its true market value.

Increased exposure to buyers.

The terms of sales will be established by you, the home seller.

Sells your home relatively quickly.

Cuts out guessing the asking price.

You don't need to stage your home, or show your home to prospective buyers.

Puts you in the driving seat of marketing your home.
How Quickly to Do Auctions Pay for Houses ?
Depending on your circumstance (if you have any outstanding liens or not) Houses often sell ad pay out at auction in 21 days. Sometimes it can take more time, but you can generally expect your house to see return within 45 days at the most.
Selling a House with a Real Estate Agent
Research by brighthome.com shows that agents' "listings generally sell for more money", certainly more than FSBOs (For Sale By Owners'). They found that in 2017, long before corona, that home owners who were helped by an agent, sold for "30% more (at an average $250K, than homes sold by the owner (on average $190K)"
A good realtor will understand your needs, and will to guide you through selling your home, while getting the best deal possible.
A good real estate agent will be able to advise you on:
Ideally, your agent should be able to handle delays and walk you through how to deal with mishaps during escrow.
The negatives:
The success of selling your home depends on the health of the economy, and is dependent on how fast homes sell in your area and mortgage rates. In a more expensive area, it can be difficult to sell your home.
Despite more homeowners going to a real estate agent, there are pitfalls. Agents can make up to 5-6% commission on the total sale of your home; it won't come from the profit you make.
Ideally, your agent should be your trusted friend, but it doesn't always work like that. Like many of us, agents are busy people, so deadlines for selling your homes may get missed. If they are busy, your home may not get the attention from buyers that it deserves.
To a degree, how quickly you sell your home depends on your agent's priorities. For whatever reason, it may not suit them to sell your home quickly.
Rating: Pluses for money, but not for time.
For Sale By Owner (FSBO)
You may think, why pay an agent 5-6% commission if you can do it yourself? Maybe you have a lien or reverse mortgage you would like to deal with on your own.
Recognize that even if you are schooled well in the ins- and- outs of real estate, you may still have to deal with a buyers agent. Remember, this agent may or may not be interested in selling your home off fast, if it doesn't suit their client – the buyer. The buyer's agent is also better schooled than you in everything from pre-listing a home to closing a sale.
The successful FSBO (For Sale by Owner) is likely because the seller sold their home to someone they know well like a family member, friend or neighbor. Consider, also, that it is likely that FSBO sales will be at a discounted price. Rather than getting a profit, you'll be making less than your home is worth
To make a success of For Sale By Owner (FSBO) you also need to be an excellent negotiator and be able to tackle bureaucracy, and be prepared to do a lot more work yourself. On top of that you'll need a trustworthy attorney to make sure your paperwork is in order. If this is you, go for it! But, if it's not – stay well clear because It will just end up costing you time, money and extra stress. Plus, you will be back where you started- left with a house that you can't sell!
Rating: Not great for time or money!
How to Sell Your House Fast and Get the Most Money:

The Bottom Line
A real estate auction is the fastest way to get the most money for your home. A professional real estate agent may be able to get you more money, but it may require a greater investment of money, and almost certainly a greater investment of time.