At Alex Cooper we have the distinct privilege of auctioning a wide array of items every auction. We are given a unique glimpse into the lives and history of our clients. And, from time to time , if we are really lucky, we get to follow the path of an item and watch it have a life of its own. In 1975, on the birth day of our Executive Director, Jamey Levinson, Alex Cooper had the pleasure of auctioning an exquisite table by Baltimore furniture maker, Finlay.
It was purchased by Albert Sack for roughly $10,000 whereby he immediately sold the table to Andy Warhol. Baltimore interior designer, Stiles Colwill, recalls, "It remained in Andy's collection, where I saw it in his townhouse in the second floor front parlor numerous times surrounded by other fabulous neoclassical furniture and paintings. "
The Finlay table remained in the Warhol collection until it was sold as Lot 3194, April 30, 1988, for $75,000 to the Brooklyn Museum. At this point the Museum had a very active curator of American Furniture and the Finlay table can be found amongst many other notable Baltimore pieces. Our President, Paul Cooper, stopped in his tracks when he saw the table on exhibit during a recent trip to New York, and the story of the Finlay table came full circle.
Andy Warhol, who would have celebrated his 90th birthday on August 6th, is a favorite of the Art Department at Alex Cooper and this personal connection to the artist is particularly thrilling. We are excited to offer the following Warhol lots in our upcoming August 25th Gallery Auction.
Lot 900: Andy Warhol. Butterfly Shoe, lithograph

Lot 900a: Andy Warhol. Pink Shoe, lithograph

Lot 903: Andy Warhol. "Ingrid Bergman 314 (The Nun)"

Lot 921: Andy Warhol. "Kiku," screenprint

Lot 934: Andy Warhol. "Golda Meir," screenprint on felt

For full details and auction listings, click here.
Or to consign art from your personal collection, please contact: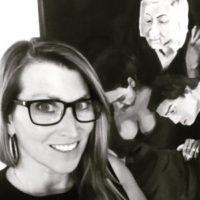 Kathleen Hamill
Director, Modern & Contemporary Art
kathleen@alexcooper.com